Since the Mac Mini does not come with a keyboard or even a mouse, you can either get the heavily priced Mac magic keyboard and mouse or explore reasonably priced alternatives.
Fortunately, the mac mini supports all types of keyboard or mouse that either has USB or Bluetooth support.
After testing over 30 different Mac Mini compatible keyboards, my team at TheMiniBlog have shortlisted 10 keyboards that are designed to work with your Mac Mini. These keyboards were further put through a series of tests to determine that:
The best Mac Mini compatible keyboard in the market today is the Logitech MX Keys. It's an all-round great keyboard that provides you with multi-device connectivity and is equipped with low-profile keys that enhance your overall experience. It is also one of the few keyboards in the market that lets you customize the function keys and use them for different shortcuts in different apps. Priced under £100, it's one of the best alternate keyboards to buy for your Mac Mini.
Today, we'll cover the top 10 Mac Mini compatible keyboards that work quite well with the Mac Mini.
Logitech MX Keys
Apple Magic Keyboard
Logitech Easy-Switch K811
Satechi USB Wired Keyboard for MacOS
Logitech G815
Das Keyboard 4 Professional
Logitech K750 Solar Mac
Logitech K380
Obinslab Anne Pro 2
iClever GK-03 Wireless Keyboard and Mouse
Recommended Read: Best iPad Magic Keyboard Alternatives
Top 10 Mac Mini Compatible Keyboards
10 Mac Mini Compatible Keyboards
Features
Best For
Logitech MX Keys
Scissor Switch Keys;
3 Device Pairing;
USB-C Charging Port;
10 Days Battery Backup
Overall Best Mac Mini Compatible Keyboard
Apple Magic Keyboard
Low Profile Keys;
Designed for Mac;
Built-in Rechargeable battery;
Automatic Pairing
Best Apple Mac Mini Keyboard
Logitech Easy-Switch K811
3 Device Pairing;
iPhone, iPad, Apple TV Compatible;
Dedicated Apple Function Keys
Best Compact Mac Mini Compatible Keyboard
Satechi USB Wired Keyboard for MacOS
Scissor Switch Keys;
USB-A Wired Cable;
Dedicated Apple Shortcut Keys;
Aluminum Body
Best Functional Mac Mini Keyboard
Logitech G815
Customizable Macros;
5 Dedicated G-keys;
High-Performance Mechanical Keys;
USB-A Wired Cable
Best Gaming Mac Mini Keyboard
Das Keyboard 4 Professional
Dual Device Connectivity via USB 3.0;
Dedicated Media Controls for Mac;
High-Performance Mechanical Keys with 50 Million Keystrokes
Best Media Oriented Mac Mini Keyboard
Logitech K750 Solar Mac
2.4GHz USB Dongle;
Solar Powered with Battery Life of 3 Months;
Mac Keypad Layout;
Compatible with macOS X10.5 or higher
Best Solar Powered Mac Keyboard
Logitech K380
Bluetooth Connectivity;
3 Device Pairing;
Scissor Switch Keys;
Programmable Apple Function Keys
Best Budget Mac Mini Keyboard
Obinslab Anne Pro 2
Mechanical Keys;
4 Device Pairing;
Bluetooth/USB Dongle;
Customizable Macros
Most Versatile Mac Mini Compatible Keyboard
iClever GK-03 Wireless Keyboard and Mouse
Mac Keyboard Layout;
High-Quality ABS Body;
Scissor Switch Keys;
Adjustable DPI;
Auto Sleep/Auto Power Off System
Best Mac Mini Compatible Keyboard and Mouse Combo
Logitech MX Keys
One of the best keyboards under £100 that's Mac Mini compatible is the Logitech MX keys. It's a great office keyboard for Mac and is built from metal and is actually extremely thin. It's fully compatible with macOS and most of the keys can be customized based on your preference.
This Mac Mini compatible keyboard comes equipped with scissor switches that offer a light but responsive typing experience. It can be paired with up to 3 devices at a time and comes with a USB-C port for you to recharge the keyboard and can last up to 10 days on a single charge.
Apple Magic Keyboard
No matter what people say, the Apple Magic keyboard is by far the best keyboard you could possibly use with your Mac, it's designed for the Mac, it is clean to look at, compact and is probably the ONLY keyboard for a Mac Mini that doesn't need any pre-configuring.
The newer models of the Magic Keyboard come with improved scissor key mechanism and has less space between the keys allowing it to be slightly smaller than before. The best part about the keyboard is that it does everything that you would want it to do and though it doesn't offer much customization, the Magic Keyboard is both user friendly and a logical choice.
Logitech Easy-Switch K811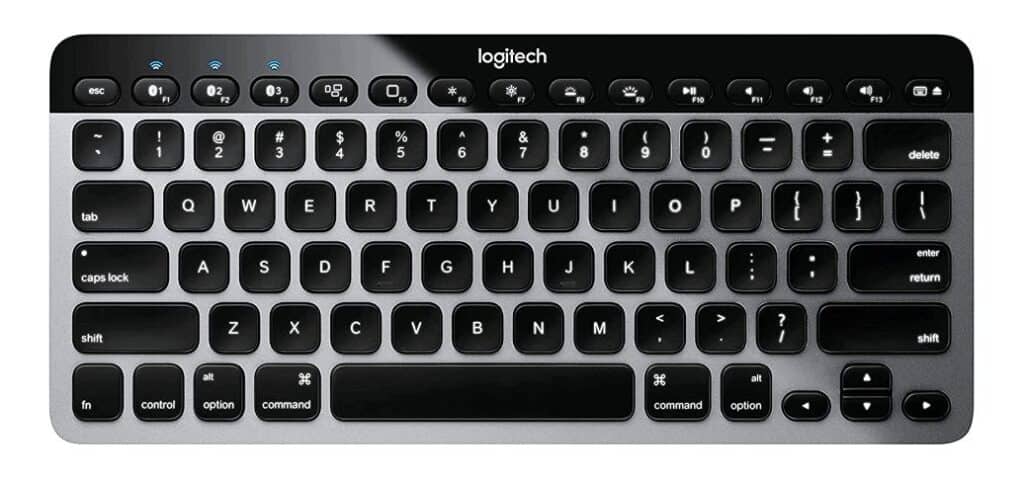 Logitech has been producing keyboards, mice and other PC/Mac accessories for a long time now and they surely have owned this space in terms of Mac Mini compatible keyboards, one of the most sought after keyboards from Logitech is the Easy-Switch K811. It's a compact keyboard that's designed to compliment the Mac and offers plenty of additional features.
This Mac Mini compatible keyboard allows you to connect it to up to 3 devices and toggle between them by simply pressing a button. You can even control devices such as your iPhone, iPad or your Apple TV and navigate the home screen or control your music playback. It's great to own and is a favorite of many Mac users around the world.
Satechi USB Wired Keyboard for MacOS
This keyboard is quite similar to the Magic keyboard in terms of appearance and functionality. This keyboard comes with a numeric keypad and stands with a slight slant for extra comfort. It even uses scissor switch keys that offer a high-response rate. The keyboard comes with a USB-A cable that sits comfortably in your Mac Mini and there are no extra drivers to install so the overall experience becomes smooth.
It's equipped with convenient shortcut keys that have been specifically designed for Mac's allowing you to easily switch between apps, take a screen-shot, reduce or increase the brightness and more. The design is pretty modern and sleek, it is crafted from aluminum and is available in silver or space gray – perfectly compliments your Mac Mini.
Logitech G815

Logitech's G815 is a sophisticated keyboard designed for advanced and professional gamers but retains an affordable price tag making it ideal for those on a budget. It comes with high-performance mechanical keys that provide you with a nice clicky feedback with every button you press. This Mac Mini compatible keyboard is crafted with aircraft-grade aluminum alloy allowing it to be lightweight but sturdy and rigid.
This keyboard comes with 5 dedicated G-keys that can be programmed with custom Macros based on the application or game you're going to operate. There are dedicated media controls and an endless volume wheel giving you easy control over your media. The cable is a dedicated USB cable that powers the keyboard and it does not come with any wireless option, so there's no lack or drop in signal.
Das Keyboard 4 Professional
The Das Keyboard 4 Professional is Amazon's choice as one of the best keyboards in the market that's compatible with Mac Mini's. This keyboard uses mechanical keys and you can choose between two variants depending on how loud you want the keyboard to sound. It comes equipped with dedicated media controls including a large volume knob and a number pad for convenient control over everything you're doing.
You get two USB 3.0 ports allowing you to use this keyboard simultaneously on two separate devices. The keys are made from high-grade alloy and offers up to 50 million keystrokes. The key caps are laser etched and provide a great typing experience. There's a magnetically detachable foot bar ruler that let's you raise the angle of the keyboard by 4 degrees.
Logitech K750 Solar Mac

The Solar Mac from Logitech is a low-profile keyboard that is Mac Mini compatible and features a large solar panel at the top of the keyboard that keeps it charged for at least 3 months on average. It comes in an ultra-slim design that measures 1/3″ thick and carries the Mac key pad layout so you know where lies what while typing or activating the commands.
This Mac Mini compatible keyboard would require macOS X10.5 or later to run and connects to the device via the wireless advanced 2.4GHz USB dongle. It does not come with palm rest or have illuminated keys so it's best not to use this keyboard in dim lighted rooms.
Logitech K380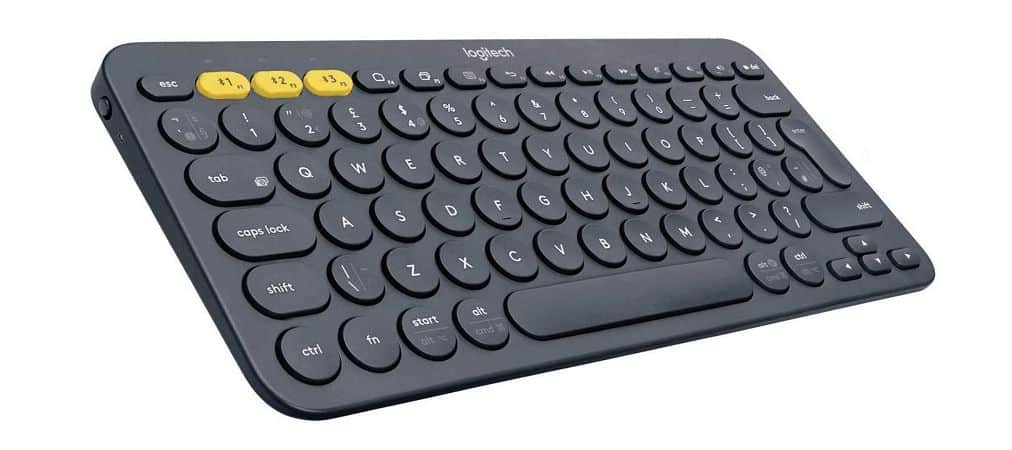 The K380 is considered to be the best budget keyboard for Mac that is quite reliable thanks to its ergonomics and build quality. This keyboard is low-profile making it easy to use for typing and connects well via Bluetooth. You're even able to pair this keyboard with up to 3 other devices at the same time and switch between the three by pressing a button.
The typing experience is great and responsive with scissor switches that have a slight bump. It's lightweight and quiet to use with a whole array of buttons and a couple of programmable function keys. Unfortunately, there is no back-light so using this keyboard in the dark is frowned upon and quite difficult to do. But all in all, considering the price-tag and compatibility there's no better keyboard you can get that's cheaper than the K380.
Obinslab Anne Pro 2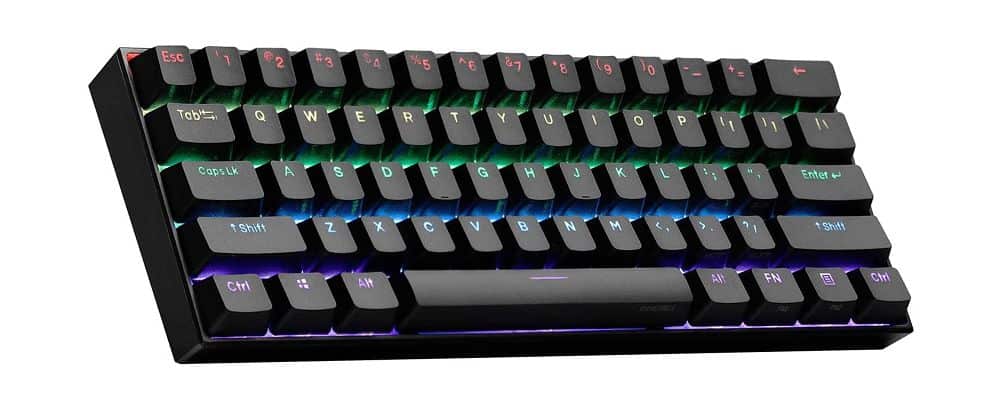 The Anne Pro 2 is a mechanical keyboard that's rated more versatile than the Magic Keyboard from Apple and is available in a wide array of mechanical switches. It is built-well and comes with a few great features like RGB lighting and programmable keys. A great thing about the Anne Pro 2 is that you can either connect the keyboard to your Mac Mini via Bluetooth or by using the USB receiver. You can even pair up to 4 devices at a time to the Anne Pro 2 and is entirely compatible with macOS.
This keyboard comes with a revamped Obinslab starter software that allows you to customize your key layout, create Macros and even adjust your RGB lighting.It has a 'Magic Fn' key that makes it easier for you to use the function keys on the keyboard.
iClever GK-03 Wireless Keyboard and Mouse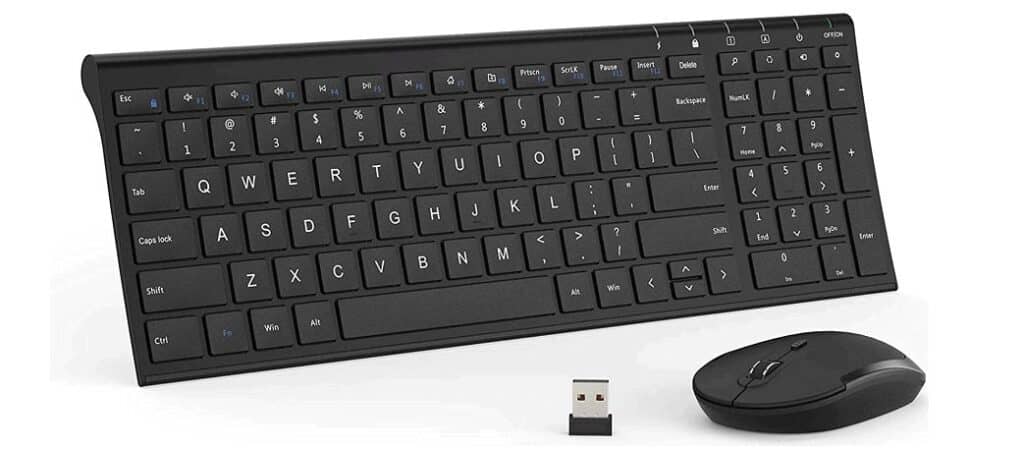 The iClever GK-03 is a wireless keyboard and mouse combo that's fully compatible with macOS and lets you use the Mac keyboard layout depending on your preference. It is made of high-end ABS on the front and metallic mineral alloy for the rear end of the keyboard. It comes equipped with scissor keys and stays quiet when in use.
This keyboard uses an intelligent sleep and auto power-off system that helps manage the battery life well when not in use. The mouse is customizable and allows you to tweak its sensitivity settings and adjust the DPI levels in order to receive a pleasant experience.
Mac Mini Compatible Keyboard – Buying Guide
While searching for the top 10 Mac Mini compatible keyboards, I happened to learn that there are a few things you must keep in mind before buying a keyboard for your Mac Mini.
Since all keyboards are not created alike, there are a few differences between Mac compatible keyboards and those designed for Windows PC's. You will have to keep these points in mind while searching for your ideal Mac Mini compatible keyboard.
They are:
macOS Support – The function keys on the Mac's native keyboard are there to help you easily adjust the brightness, access mission control, your launchpad and others like this. Also, while using the keyboard on your Mac Mini, you are able to change and switch your function keys and set them accordingly. However, if you're not using a keyboard that's compatible with macOS then you will not be able to make these changes.
Mac Key Caps – It's ideal to have a keyboard that is either neutral or one that comes with native Mac key cap prints as well. Choosing something that has the same key caps as the Magic keyboard will be beneficial as you won't get confused with the keys and what they stand for.
Mac Keyboard Layout – It's best to go in for a keyboard that features the Mac native layout, the primary difference between the Mac keyboard and the Windows keyboard is the CMD key and the alt/opt key will be interchanged. The best keyboard will be one that is built for Mac with the native layout.
Connectivity – A wired keyboard will always provide you with the best connectivity. But if you're not a person who's into wire's then you can opt for one that runs on Bluetooth. The problem here is that those third-party Bluetooth keyboards are kind of unpredictable and it's better to use one of Logitech's products that use a radio-based frequency and not Bluetooth.
Takeaway
While the Apple Magic Keyboard is the best Mac Mini compatible keyboard out there, it might not be the best for everyone.
Keep in mind what to look for in a keyboard if this is the first time you're going to buy one for your Mac Mini as those pointers will help you decide which keyboard is best suited for you – whether you're a gamer, a working professional or if you just like the way mechanical keys feel.
Read also:
Tyrone Young is an award-winning author, researcher and the founder of TheMiniBlog. He has been a content marketer for over 10 years and his main goal is to provide readers with quick hacks, guides and reviews on everything Mini. Based out of the UK, Tyrone likes to take long walks on the beach and take care of his two puppies when he's not busy writing for