Apple AirTags: How Do They Work?
If you've recently either pre-ordered the AirTags or bought them from the Apple Store, you might wonder how they work and what they can do for you.
Well, these small and circular tags are designed to be attached to your bunch of keys or can be placed in your wallet so it goes wherever you go. This allows you to track these items via Apple's Find My application on your iPhone or iPad.
In line with the company's other product lines like the AirPods, the MacBook Air, and iPad Air, which seems to suggest that these products are going to be sleek, lightweight, and full of Apple's premium innovation.
Today, I'm going to cover the topic Apple AirTags: How Do They Work. This is going to be a complete guide on everything you need to know about the Apple AirTags.
Read also: Fake Airpods PRO that WOW
Let's get into this! Here is everything you need to know about how Apple AirTags work.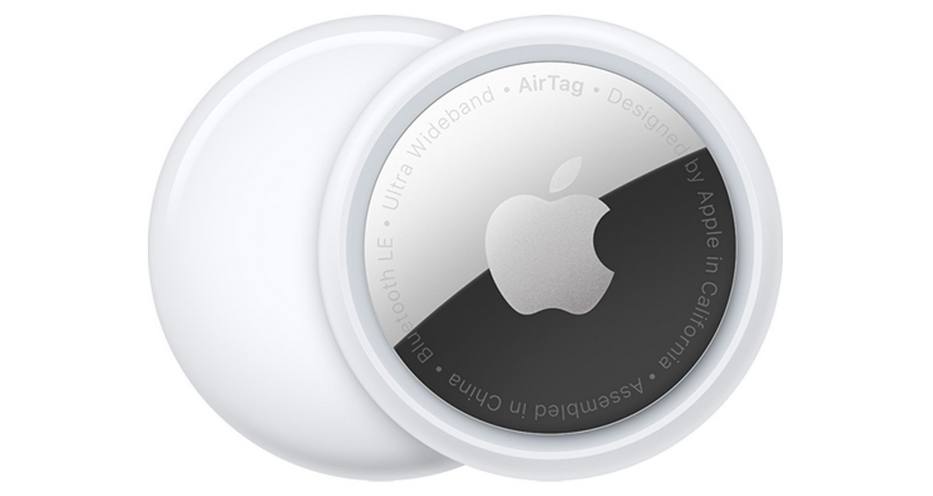 Apple AirTags: How Do They Work?
Apple AirTags are Apple-brand tracking devices that can be attached to certain items to make sure you always know where to find them.
Using a combination of wireless technologies like GPS, Bluetooth, and the new UWB (ultra-wideband) technology which we'll go into later, Apple AirTags are set to revolutionize the tracking device industry with all sorts of features and optimizations for the Apple ecosystem to set it apart from the competition.
AirTags can be set up in the similar fashion as you would setup your AirPods. It's a simple one-tap function and you're good to go. When the AirTag has been connected with your iPhone, you will be able to customize the AirTag by adding a name and description.
Speaking of the competition, Apple AirTags looks like they're designed to go toe-to-toe with the current market leader for tracking devices, Tile, which uses similar technology and use-cases as the upcoming Apple product.
But what will set Apple AirTags apart from other devices? How are the Apple AirTags any different?
Here are some features of the Apple AirTags that you will find pretty interesting.
Features of Apple AirTags
UWB Technology
UWB, or Ultra-wideband, is a new kind of technology that allows for powerful signal transmission with low power consumption. While Bluetooth tracking devices already work well, Apple AirTags are the first of its kind to use UWB, promising increased precision when you need to locate your valuables.
UWB capability was first seen in the Apple iPhone 11 and its variants, but with Apple AirTags, you can get the same, powerful tracking capabilities on any device you want to attach it to.
Augmented Reality
Tracking devices are built on simple technology – track a device using GPS, and transmit that location over Bluetooth or other wireless systems. Apple AirTags, however, utilize augmented reality to give you the most precise measurements possible. Especially when you need to find something nearby, utilizing a powerful technology like Augmented Reality will allow users to pinpoint the precise location of each of their devices.
'Find My' App Integration
Unlike other tracking devices that need to jump through all sorts of hoops to become fully compatible with the Apple ecosystem, Apple AirTags come with native iOS support, and that means you'll never have to worry about permissions and app controls. Apple AirTags will integrate seamlessly with the built-in Find My app on iPhones and other iOS devices. Plus, you'll be safeguarded by Apple's comprehensive policies on privacy.
Small Form-factor
Apple AirTags are smaller, sleeker, and more lightweight than its competitors – just like most Apple products. With a small form-factor, Apple AirTags can be used with just about anything – your phone, your wallet, your keys, and everything else that you don't want to lose – without weighing you down or adding too much bulk.
Audio Pings
For locating nearby devices, Apple AirTags come with the standard feature of being able to play sound to help you locate your device more easily. When tracking the device with the Find My app, audio cues will be provided to let you know when you're getting closer or farther to the device, with unique sounds to let you know precisely where to find your AirTagged item.
Lost Mode Feature
When you lose your device and it isn't somewhere nearby, Apple AirTags have a feature called Lost Mode. When Lost Mode is turned on, any other Apple device in proximity to your lost item will receive information that can help them contact you and return your device safely.
You'll also receive a notification when your device comes across any iOS device running iOS 13 or later, with Bluetooth stepping in to save the day and help you find out where you left your item.
Precision Finding – iPhones running on the U1 chip (iPhone 11 & iPhone 12) can take advantage of the new feature precision finding. Here, you will be able to locate your AirTag using AR, sound, and haptic feedback.
Returning a Lost AirTag – If by any chance you do come across a lost AirTag on the street, simply scan the AirTag using a smartphone that's equipped with NFC and this will bring up the owners contact information.
Safe Locations
With the Safe Locations feature that's available on the Apple AirTags, you'll be able to set geographic boundaries like your home or your office. When an AirTag is left at a safe location, the device will know that it's not lost, so you won't have to deal with notifications telling you otherwise. On the other hand, if a device does leave a safe location, you'll automatically get notified when it happens, alerting you of any possible theft.
Replaceable Batteries
Apple AirTags come with replaceable CR2032 batteries that have been designed to last approx one year. You will be able to swap out the battery when they have been drained by simply pressing and twisting the back panel of the AirTag.
Whenever your AirTags battery gets low, you will receive a notification informing you that it's time to change the battery.
Image from MacRumor
AirTags Range
As of today there have been no update on the exact range of the AirTags. When it comes to Bluetooth devices, the maximum range that's supported is 100m, so we're assuming that you will be able to track an AirTag within a 100m radius.
Apple AirTags Price
A single AirTag costs $29, whereas there are packs of 4 which are available off Apple's official store for $99.
Apple AirTags Release Date
The Apple AirTags were officially launched on Friday, April 30th but were available for Pre-order from Friday, April 23rd.
Apple AirTags Design
The AirTags are designed to resemble small buttons and have a glossy white front which can be customized to your liking. The back of the AirTag has a silver plate giving it a nice little elegant appearance.
They are designed around the CR2032 batteries and would require additional accessories to have them attached to an item of your choice. Each AirTag measures 1.26″ in diameter and has a height of 0.31″. They're also extremely lightweight and weigh hardly 0.39oz.
AirTags are designed to be water and dust resistant and carry an IP67 rating. This means that you can immerse an AirTag in up to 1 meter of water (3.3 feet) for approx 30 minutes. So you can rest assured that the AirTag will be safe in the rain or if water is accidentally dropped on it.
Will Apple AirTags Work With iOS 13 or Older?
The AirTags come with full native support for iOS 14, the latest version of Apple's flagship mobile operating system. However, if you don't want to make the upgrade or you're using older hardware, don't worry!
iOS 13 already has the building blocks for AirTags functionality and any device that can run iOS 13 (iPhone 6S and newer) will be compatible with the Apple AirTags.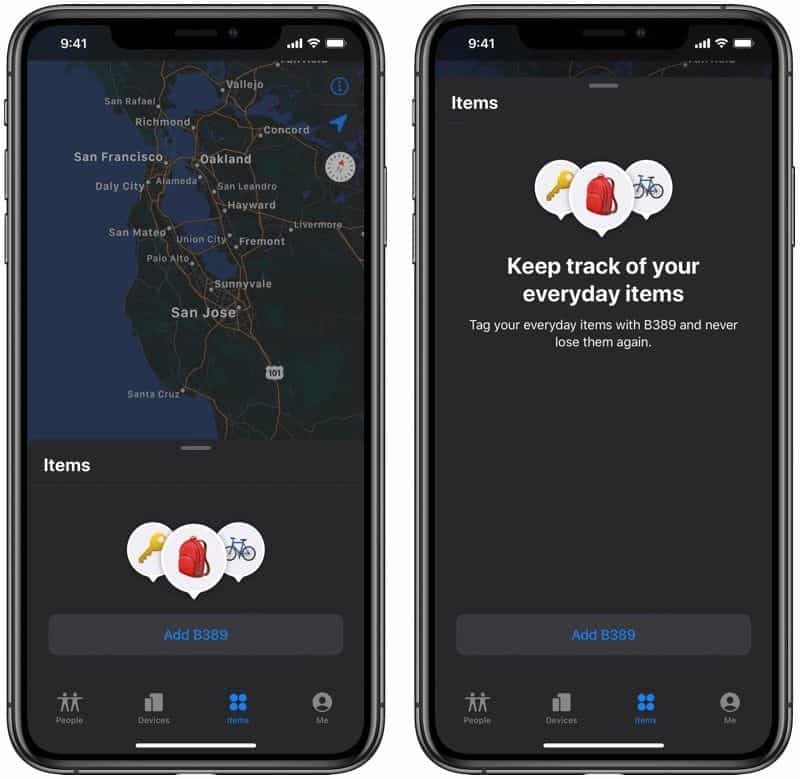 Apple AirTags vs Tile
The question on a lot of people's minds is "how is it going to be different from Tile?" In fact, this question has been asked so many times that some people are even beginning to wonder if they'll be any different at all. But this is Apple we're talking about, and each year they've delivered on innovation.
In terms of functionality, the Apple AirTags are going to be quite similar to Tile, the current market leader in tracking devices. However, if the leaks are to be believed, the AirTags are going to launch with an edge over the competition.
Unlike Tile and other tracking devices on the market, Apple AirTags are going to be UWB capable – which means better, more precise tracking across the board thanks to the cutting-edge technology that is ultra-wideband. AirTags might also be supplemented by Apple's Augmented Reality technology – something that Apple does better than any other company in the world.
Plus, for people who are already part of the Apple ecosystem, Apple AirTags will be able to provide unparalleled support and compatibility with your devices. They'll work seamlessly with the Find My app, which also means they'll receive new updates and features constantly along with iOS.
READ ALSO:
Tyrone Young is an award-winning author, researcher and the founder of TheMiniBlog. He has been a content marketer for over 10 years and his main goal is to provide readers with quick hacks, guides and reviews on everything Mini. Based out of the UK, Tyrone likes to take long walks on the beach and take care of his two puppies when he's not busy writing.