Apple Watch Series 6 Hidden Features
Whenever Apple releases something, it's always a cause for celebration. After all, they're one of the best tech companies in the world and their products are top notch with some pretty useful capabilities.
If you have recently picked up one of the new Watch Series 6, then you've come to the right place. The Apple Watch series 6 is by far the most popular and most powerful smartwatch on the planet, so if you have one then you're considered to be one of the lucky few to wear a supercomputer on your wrist.
Over the course of this article, I will take you through the Apple Watch Series 6 hidden features and once I'm done, I'm sure you will be able to do a lot more than you first thought possible.
Let's take a look at the Apple Watch Series 6 Hidden Features.
Apple Watch Series 6 Hidden Features
The Apple Watch Series 6 was launched hardly a few months ago alongside the watchOS 7 which is the latest OS for the Apple Watch Series. Not only is the Series 6 the best Apple Watch till date, coupled with the new update, you get access to a whole bunch of features that will enhance your wearable experience. 
My aim here is to educate those who own an Apple Watch 6 by showing you how you can take advantage of the device. Whether you're inexperienced or not, these hidden features will surely help you in the long run.
Track Your Sleep with the Apple Watch Series 6
With the release of watchOS 7, users are now able to natively track their sleep cycle. Though it isn't as detailed as you might expect it to be, it does offer your sleep time and this can be enabled by setting up the Bedside mode on the watch.
Bedside mode allows the watch to wind down to a point where it monitors the time you went to bed as well as the time you have spent sleeping. This data is then relayed back to your iPhone so you can view it on the big screen.
Wash Your Hands (watchOS 7)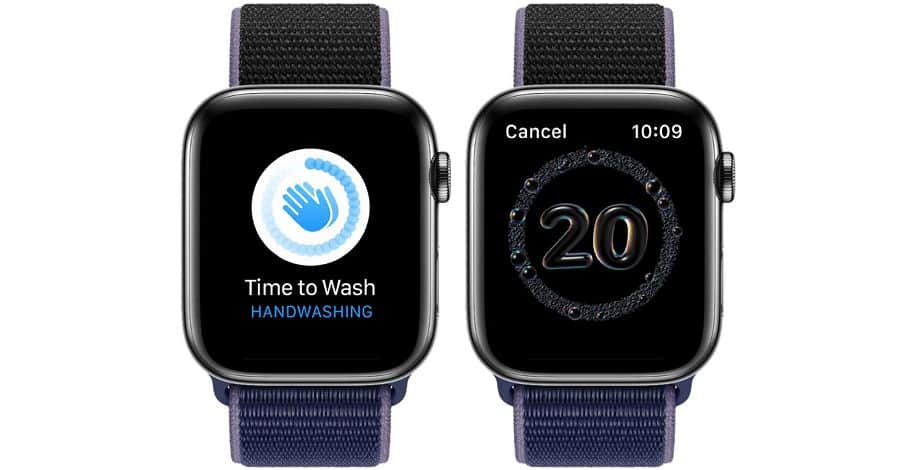 If you're running your Watch Series 6 on watchOS 7 then you will be able to enable the hand washing feature on your Watch. This will make sure that you spend the right amount of time washing your hands.
You can activate this function by opening the Settings App and navigating to General followed by Handwashing.
With this feature you will be reminded on a daily basis to wash your hands and when you activate this function a timer will start on the display and will countdown for a total of 20 seconds till your hands are nice and clean.
Check You VO2 Max (watchOS 7)
Another great addition to the watchOS 7 and Watch Series 6 is the ability to check your VO2 Max. Here you will be able to track your VO2 from within the Fitness App and it will provide your estimate based on the heart rate and your pace.
The Series 6 will notify you if the VO2 Max levels are low and will inform you that it's time to go out for a run.
Share Watch Faces (watchOS 7)

The Series 6 running on watchOS 7 is now capable of sharing your watch faces with family or friends. All you will have to do is hold on a watch face (similar to changing it) and tap on the share option.
Here you can select a contact and have it shared. You will even be able to dictate a message while sharing the watch face to someone. It's good to note that once you share a watch face, the configuration that has been saved including the watch face image will be shared with your friend.
Customize the Dock App
A dock is always a good feature to use because it gives you easy access to the most recently used applications. You are able to customize the dock app on your Apple Watch Series 6 to pull up the most recent apps used or to dock your favorite apps.
If you choose your favorite apps to be placed in the dock, then you can customize it by clicking the side button and 3D touching an app till it says "Keep in Dock".
If you're looking to remove the app from the dock simply swipe left and press the red 'X'.
Unlock Your Mac with Your Series 6
One of the best features to come out of the Series 6 is the ability to unlock your Mac (if you own one that is). This gives you the ability to skip entering your password and all you will need is any new-age Mac that runs on macOS Sierra 10.12 or later.
You will have to head to your Mac and click on System Preferences and then tap on Security & Privacy if you want to enable this feature. Here, you will be provided with an option to enable two-factor authentication and whenever you're within the vicinity of your Mac you will receive a notification on the Watch asking you if you'd like to Lock the device or Unlock it.
Add, Customize or Remove Watch Faces
Within the Watch App on your iPhone you're able to add, customize or remove faces easily. This is even made possible on your Apple Watch Series 6, though you might have to strain your eyes a little to see better.
In order to customize your watch faces you will have to press the display down for a couple of seconds till you feel the haptic feedback. Now you will be able to swipe left and right to select the most appropriate watch face and beneath each watch face you will have an edit option that allows you to customize it to your liking.
If you scroll all the way to the right you will see the option 'New'. Clicking this will provide you with a default watch face that can be customized accordingly.
Control Which Application Sends You Notifications
When you connect your Apple Watch to your iPhone, by default you will receive notification for all your applications. But if you're not the kind of person who likes receiving notifications every few seconds, then you can manually pick which notifications should appear on your Apple Watch Series 6.
To do so you will have to open the Watch App on your iPhone and click on the Notifications option. Now, you will be provided with a complete list of the applications you have installed. You can click on whichever app you're trying to limit the notifications for and click on Deactivate so they don't get displayed on your Watch anymore.
Change Your Calendar View
The Apple Watch 6 calendar app is pretty straight-up and will show you your upcoming appointments by simply opening the app. However, you're even able configure the view and choose one of the two stored calendar view modes.
With the watchOS 7 you will not be able to press down on the calendar but rather, you will have to access the Settings App on the Watch to have these changes implemented.
To do so, open the Settings App and scroll down till you see the Calendar option. Once you click on it you will see a Display option and within that you can select one of the 3 display view modes for the calendar app
Turn Off the Always On Mode
Since the release of the Watch Series 5, users have been given the option to have their display to stay Always On. You can deactivate the Always On mode from within the Apple Watch so that it turns on only when you tilt your wrist.
To have Always On turned off, go to the Settings app on your Apple Watch 6 and head over to Screen and Brightness. You will find an option named 'Always On', tap on the toggle to have it deactivated.
Find Your iPhone using the Apple Watch 6
Since you are going to be wearing your Watch most of the time, there are chances that you will be separated from your iPhone and would need some help locating it. With the Series 6, you get an additional function that allows you to locate your iPhone by triggering an alarm on it.
To find your missing iPhone, swipe up from the bottom of the screen on the Apple Watch and once you're in the Control Screen, click on the vibrating mobile icon. Once done, you will hear an alarm ring on your iPhone (hopefully it's nearby) allowing you to easily locate it.
Change the Text Size on your Watch Series 6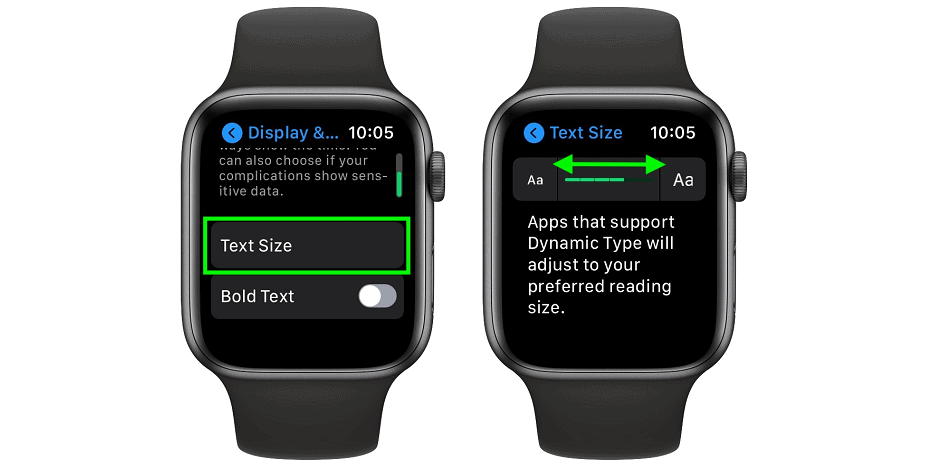 If the font size on your Apple Watch 6 is either too small or too big, you can have it adjusted from within the settings app. You're able to adjust the size and even make the font Bold depending on how you like it.
To do so, open the Settings app on the Apple Watch and then click on Screen & Brightness to access Text Size. Here you will be able to adjust the font size according to your requirements and you will be able to select Bold by tapping on the Bold Text slider icon.
Use Family Mode on Watch Series 6
Another key addition to the watchOS 7 is the ability to configure a clock belonging to a family member and being able to control it remotely from your iPhone. This is a helpful feature especially if you have children or elderly people living with you. You can limit access to payments, activate a class mode and track the location of the Watch at all times.
To have this feature enabled, open the Mobile app and proceed to All Clocks. Here, you will have to tap on Add Clock and then you will be able to choose the option that states 'For a family member'. Once stored, you can configure it according to your liking and set limits accordingly.
Place a Phone Call on Hold with the Apple Watch
When calling someone via the iPhone, you receive a vibration on your Apple Watch. With your Watch Series 6, you're able to answer the call and disconnect it as well. The most interesting feature here is that you're able to transfer the call to your iPhone and by doing so you will place the call on hold until you're done working on your iPhone.
In doing so, your caller will notice that they have been placed on hold because they will receive the hold tone on their end.
Use your Apple Watch Series 6 to Take Photos on your iPhone
If you're an avid photographer who's about to take a selfie, you can set a countdown timer via your Series 6 so you won't have to click any button on your iPhone. This remote control will allow you to take photos from a distance.
When you click on the application, your mobile camera will automatically open and you will be able to see if everyone is well within the frame. Within this page, you will have two options; you can choose to click on the main shutter button in the app or set a 3 second timer that will click the pic within 3 seconds (enough time to get everyone in the frame).
Some Interesting Hidden Features of the Apple Watch Series 5
Quite like the latest Watch Series 6, the Apple Watch Series 5 has some pretty decent hidden features that not many people know about.
While it's not limited to just these few that I'm going to list out for you, these are the important hidden features of the Series 5 that I'm sure you would love.
View Safari Websites on your Series 5 –  With the help of Siri, you're able to simply ask a question and have the results appear on your Series 5 display in a Safari browser tab. All you will need to do is press on the digital crown to activate Siri and ask the question you need to answer.
Calculate tips on the Calculator App – You can calculate tips within the calculator app on your Watch Series 5 by tapping on Tip and rotating the digital crown to adjust the tip percentage.
Hide Sensitive Information – From the Always On section in  the Settings App you will be able to hide sensitive complications and notifications. Enabling this option will limit the notifications you receive on your Watch when your wrist is facing down.
Setup Emergency SOS – You can enable Emergency SOS by opening the Settings app on your iPhone. Here you will find two options that should be enabled; Hold Side Button and Fall Detection. Enabling these will alert the ER team that you're in need of assistance.  
Set a Default Response –  If you're busy or can't reply to a particular text message, you can send across a default reply from your Apple Watch. When you tap on Default reply, you will receive a list of standard messages that can be sent out either when you're bust or outside driving.
Record Audio clips and Voice – The Watch Series 5 comes equipped with a new voice recording application that allows you to create, share and delete a voice recording from your wrist. 
Measure Noise levels – You're able to measure external noises and record their sound levels. This is great for hearing protection as you will be informed if the sound you're listening to is too loud for your ears to handle.
Locate your iPhone – Much like the Series 6, you're able to locate your iPhone using your Watch Series 5. Swipe up to view the control panel and tap on the vibrating phone icon. This will result in your iPhone playing an alarm so you're able to figure out where it is.
Takeaway
Apple has been taking some serious time and consideration to develop something that literally does everything. With the Apple Watch Series 6 you don't even need a smartphone on you for you to handle calls or surf the internet.
With impressive advancements in technology like this, we're bound to get more and more features in the months ahead.
Also Read:
Tyrone Young is an award-winning author, researcher and the founder of TheMiniBlog. He has been a content marketer for over 10 years and his main goal is to provide readers with quick hacks, guides and reviews on everything Mini. Based out of the UK, Tyrone likes to take long walks on the beach and take care of his two puppies when he's not busy writing.