Best CHEAP and Accurate Multimeter on AliExpress
Multimeters aren't a super popular product (they're definitely not as ubiquitous as our smartphones) but most self-respecting techies and electronics enthusiasts always make sure to have one handy in case they need to test electrical currents.
Now, you may not be an engineer or someone who works that closely with electronics, but multimeters definitely can come in handy. Whether you need to test a car battery, or check certain electronics to see if everything's working correctly, a multimeter is a tool with a multitude of uses and applications.
There are a lot of brands and manufacturers out there that make multimeters for a variety of purposes and budgets. Some can go for as much as $100 while the more basic models are available for as low as $5.
With all of the options available, it can get difficult for even professionals to figure out which multimeter on the market suits their needs best.
Here are the top 10 best CHEAP Multimeter on AliExpress:
MESTEK DM90 Digital Auto Range Multimeter
ANENG XL830L Digital Multimeter
BSIDE 9999 T-RMS Digital Multimeter
Junejour Digital Pocket Multimeter
Richmeters RM113D NCV Digital Multimeter
HABOTEST New Generation Smart Multimeter
Mayilon M9205A Digital Multimeter
GCDA 9999 Digital Smart Multimeter
EARU DT-830B Multimeter
ANENG AN113D Digital Multimeter
Best Multimeters You Can Buy on AliExpress
If you're looking for a high-quality multimeter at great prices, check out the ones available at AliExpress!
We've curated the top-performing multimeters available on the platform so that you don't have to sort through low-quality goods and get right to the best ones available.
This list includes a variety of multimeters – some better than others, but all effective – to suit just about any need or budget.
MESTEK DM90 Digital Auto Range Multimeter
The Digital Auto Range Multimeter from MESTEK is hands down the best multimeter available if you're looking for the ultimate price-to-performance ratio. High-end features and superb build quality and a budget to mid-range price tag combine in the MESTEK Digital Multimeter to create products that will serve you well on any occasion.
Rugged and heavy-duty, the MESTEK Digital Multimeter is capable of several kinds of accurate measurements, with features including meter counts of up to 6000, T-RMS, and Diode functionality for a truly smart multimeter for the more technically-inclined.
One of the best reasons to get the MESTEK Digital Multimeter over the other alternatives available is its unparalleled quality and value. The MESTEK DM90 Series also comes in three different models, which vary by price and available features.
The DM90E is the cheaper alternative, with the most basic features. If you want a more standard, professional device, the MESTEK DM90A offers a wider variety of features to cater to more professional needs.
If you want the ultimate multimeter from MESTEK, the DM90S offers the ultimate blend of performance and quality, and combines them into a device that you can rely on for even the most complex tasks and conditions.
Apart from standard VOM (volt ohm milliammeter) , the MESTEK D90 Digital Multimeter is also capable of Fire WIre and NCV, AC/DC Current Measure, Voltage Detection, Resistance Detection, Capacitance Detection and Frequency, and more!
ANENG XL830L Digital Multimeter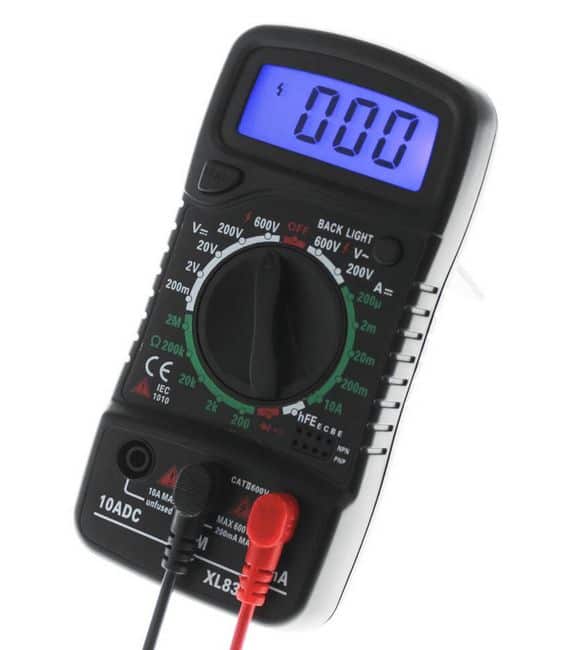 The ANENG XL830L Digital Multimeter is the best-selling multimeter on AliExpress, and for good reason. Featuring a great blend of quality, features, and budget pricing, this multimeter is undoubtedly one of the best multimeters you can buy online or anywhere.
The ANENG XL830L is a heavy-duty multimeter that's built to last, and designed for use in even the most challenging conditions.
It's rugged design helps it sit comfortably in your bag, your trunk, or your toolkit, so you don't ever have to worry about carrying it around with you wherever you go. In terms of capabilities and functionality, the ANENG XL830L holds its own even against pricier alternatives.
The bright backlit LCD Display is easy to read in all kinds of light conditions, with large fonts to better facilitate accurate readings.
With all kinds of modes and features that allows it to read AC/DC Voltage, DC Current, Resistance, Audible Continuity, Diode & Transistor Verification, and more, this multimeter is a great buy for anyone who wants a professional-grade tool at low, low prices.
Available on AliExpress for just $2.51 – although you can get it for as low as $0.01 depending on available sales and discounts – the ANENG XL830L Digital Multimeter is a professional tool that every bit deserves its spot as the best-selling multimeter on AliExpress.
BSIDE 9999 T-RMS Digital Multimeter
The BSIDE 9999 T-RMS Digital Multimeter is a TRS multimeter that can measure AC/DC voltage, diode, capacitance, continuity, resistance, Hz and perform live wire checks. Not only will it measure everything you need in your day to day affairs, but will also act as a professional teaching tool for those who are new to the field.
This multimeter is equipped with a large 3-line screen display that will show you voltage, frequency and analog results of the test you conducted. It comes with an automatic sensor that detects the type of measurement first and then automatically changes the settings to the required units.
It is a simple and easy-to-use multimeter that looks pretty much like a smartphone thanks to its sleek design and form factor. There is a flashlight function and hole that lets you test measurements at any time of the day/night and even if you're out doors in the rain.
There's no need to change any gear, simply click a single button to open the intelligent recognition and you're good to go.
It's made from ABS so you can rest assured that it's durable. The LCD screen size if 3.5″ which can display 9999 digits and the maximum voltage allowed at the measuring end if 600V DC or 600V AC (RMS)
Junejour Digital Pocket Multimeter
The Junejour Digital Pocket Multimeter was designed with portability in mind, and with its small form-factor, lightweight materials, and superior build quality, those looking for a multimeter that they can carry around in their pocket need not look any further.
Made by the same company that produces the ANENG XL830L, the Junejour Digital Pocket Multimeter prides itself in accurate measurements and reliable functionality. However, since its smaller and more lightweight, the Junejour Digital Pocket Multimeter does lack some more advanced features.
Despite its portability and suitability for all kinds of on-the-go measurements, this multimeter is more suited for beginners than professionals in the field.
That said, you can still get plenty of mileage from this device since it has most of features you would need to conduct professional electrical measurements, including Buzzer, AC/DC Current, Voltage, Resistance, Diode, and Triode, so if that's all you need out of a multimeter, there is no reason not get the Junejour Digital Pocket Multimeter for all of your testing needs.
Another reason why the Junejour Digital Pocket Multimeter is so popular among all kinds of customers is its user-friendliness. Unlike other multimeters that astound anyone who isn't too knowledgeable about electronics, this device comes with a plethora of features to make it more accessible and usable by even absolute beginners.
These features include the Low Voltage Alerts that automatically let you know when the power measurement is too low.
Richmeters RM113D NCV Digital Multimeter
While some professionals swear by certain brands for quality, durability, and reliability, a great many professionals working in the field agree that most multimeters are the same, so just get the one that you like most.
If you want a multimeter that's a great budget option, with all the features you'd expect from a pricier, higher-end model, then check out the Richmeters RM113D NCV Digital Multimeter.
Powered by a smart dual-core CPU, the Richmeters RM113D NCV Digital Multimeter is capable of so much and such high speeds, while maintaining accuracy and reliability in all of its measurements.
The Richmeters RM113D NCV Digital Multimeter can measure all kinds of important readings, including variable frequency voltage (VFC), T-RMS, ambient temperature, NCV, voltage, current, resistance, and more.
It even comes with a built-in lighting function, and several types of alarms and alerts to let you know exactly what's going on with what you're working with.
Available for just $4.80 on AliExpress, the Richmeters RM113D Digital Multimeter is an electrician's dream come true. With a low-budget price tag yet a whole bunch of big-budget features, the Richmeters RM113D has everything you need in a multimeter.
HABOTEST New Generation Smart Multimeter
If you're not afraid to spend big money on one of the smartest, most advanced, and most intuitive multimeters available, then it might be worth it to consider the HABOTEST New Generation Smart Multimeter.
While there's a lot going on under the hood – a lot of advanced features and functions – one of the most striking things about this multimeter is how it looks and handles exactly like a smartphone.
Featuring a sizable 2.88" display while managing a super-slim form-factor that's only 1.9-cm thick, the HABOTEST Smart Multimeter comes with all of the standard functions you need from a multimeter.
It even comes with some great high-end features like non-contact voltage detection, easy battery replacement, and a built-in LED flashlight for use in any situation.
The HABOTEST Smart Multimeter has all the bells and whistles, and is definitely the next step in multimeter technology, with design aspects borrowed from the way we use smartphones today.
However, with its higher brand of technology, the HABOTEST Smart Multimeter is also one of the more expensive multimeters available, so don't forget to check it out on AliExpress where you can get the best deals and discounts.
Mayilon M9205A Digital Multimeter
The M9205A is a high-precision digital multimeter that offers quite a few protective and safety features and can be used in all kinds of places such as, at a power station, for household circuits, car repairs and so on.
This multimeter comes with a few additional features like a back bracket to help it stand upright, a large in-built 9V battery and it weighs hardly 234grams when held.
It's multi-functional and can measure DC/AC Voltage, Resistance, Capacitance and Continuity. It's even capable of performing Diode tests.
The body is protected with a soft rubber cover and it comes with a HD screen that displays the battery levels and measurement values.
The Mayilon M9205A is equipped with a buzzer, data hold capabilities, low power alarms and even over range alarms to keep you aware.
This cheap multimeter comes with additional safety features like short-circuit protection, overload protection and over current protection so the device doesn't die out when testing for high voltage.
GVDA 9999 Digital Smart Multimeter
The GVDA Digital Smart Multimeter is one of the best selling digital multimeters on AliExpress and for good reason. It has been designed with prime focus put on its functionality and it is capable of reading AC/DC voltage, current, capacitance test, live test, temperature test, frequency test lead, APO and continuity/diode tests.
This particular multimeter comes equipped with some pretty smart sensors that actually make a beeping sound from the device when it's in close proximity to a live wire.
It comes with a large enough display that offers a digital reading and beneath the display you would find the controls and gear options. Whenever a gear has been changed, a built-in LED light will light up and flash for 5 times so you're aware about which jack the probe goes into.
The GVDA is battery operated and runs on 3xAAA batteries which is actually not bad in my opinion. You don't have to worry about recharging the unit and you'd simply have to replace the cheap batteries that come with it.
The rear panel of the GVDA houses a LED flashlight allowing you to use it at all hours of the day/night. It even comes with a K-type temperature probe that you can use and will measure anywhere in between -40-degrees C to 1000-degrees C.
EARU DT-830B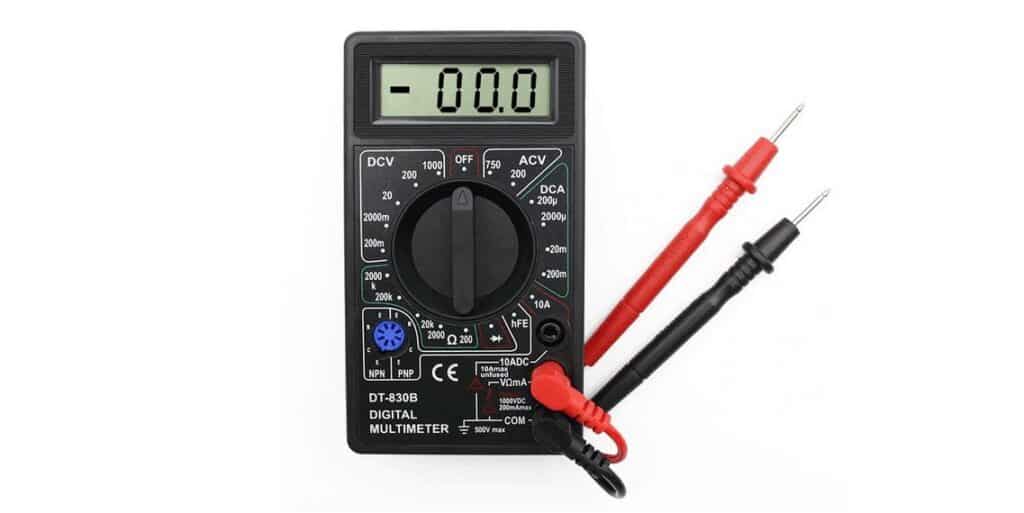 The DT-830B is a pocketable digital multimeter with basic features but is capable of high accuracy. It's capable of sampling 2-3 times the readings per second and offer overload protection on all ranges of measurement. The Earu DT-930B acts as a voltmeter, ammeter, ohm tester and measures voltage and current.
This multimeter comes with an LCD display that can reach a limit of 1999.9, 7 segments and is 0.5″ high so it's large enough to view the digits.
At the front of the device you have the knob to select whether you're measuring AC voltage, DC current,, DC voltage, resistance or a diode test. There's even a triode test available and a total of 3 inputs; a common input, the 10A input and a voltage, ohm input.
It's able to perform diode assembly tests, temperature tests and the transistor hFE tests with ease. The DT-830B has a measuring inductance range of 200ohm – 2000ohm and offers a resistance range of 200-2m+-(0.8%+2dgt).
ANENG AN113D Digital Multimeter
The ANENG AN113D is a fully automatic adjustable digital multimeter that is capable of automatically detecting measurements without manual shifting. There's even a manual knob that you're able to shift to select the type of input for a more accurate measurement.
It features a temperature gauge and you're able to record/measure the temperature of any given liquid in either farenheit or celcius.
This multimeter comes equipped with NCV (non-contact detection) and allows you to measure resistance, capacitor and diode tests with no direct contact.
The AN113D has a resistance range of 600/6k /60k /600k /6M /60M; an inductance range of 1Hz to 10mHz. The AC voltage it can accommodate are 600mV/6V/60V/600V/750V and the DC voltage are 60mV/600mV/6V/60V/600V and 1000V respectively.
Are AliExpress Multimeters Good?
AliExpress may not be the go-to place for the highest-end electronics, but for something simple and spartan like a Multimeter, it's probably one of the best places to shop.
AliExpress products are all about that sweet, sweet price-to-performance ratio – so while their products perform well and are above-par in terms of overall quality and build, they still manage to keep their prices low by not spending so much on marketing, research, and development.
Another thing to consider is that different purposes require different tools, and sometimes, a multimeter that could be great for one kind of job might not be optimal for another.
These multimeters mentioned here in our list will serve you well on any occasion, but to get the best value – the best bang for your buck – figure out what's important to you. Is it portability? Versatility? Is it price, quality, durability?
Granted, not all AliExpress products are great – and not all of their multimeters are equal, either. That's why we came up with this list of the Best AliExpress Multimeters – so you can find only the best of the best multimeters available with tried-and-tested qualities that have satisfied customers around the world.
Plus, it's going to be a lot cheaper than the standard brands available on standard retail platforms.
Also Read:
Tyrone Young is an award-winning author, researcher and the founder of TheMiniBlog. He has been a content marketer for over 10 years and his main goal is to provide readers with quick hacks, guides and reviews on everything Mini. Based out of the UK, Tyrone likes to take long walks on the beach and take care of his two puppies when he's not busy writing.