Welcome! This article is going to cover some of the best Apple iPad Magic keyboard alternatives you can buy today. They are some of the best in the market and offer high levels of performance making them competitors to the original Magic keyboard. Check them out!
Apple has just released the newest version of the Magic Keyboard built specifically for the iPad Pro. With an awesome new design and revolutionary new features, this keyboard case from Apple lets users leverage the power of their iPad Pro devices, turning their tablet into a full-fledged portable laptop.
The new Apple Magic Keyboard for iPad Pro comes with a track-pad with built-in gesture support so you can get the most out of your devices, especially for power users who need their iPad Pro for work and productivity.
However, at a retail price of $300, the Apple Magic Keyboard is an expensive accessory. What's more, Apple launched the new Magic Keyboard for iPad Pro users only, leaving a lot of users – particularly those on regular iPads, iPad Air, and iPad Mini – feeling left out.
Fortunately, there are dozens of iPad Magic Keyboard Alternatives out there that'll give you great quality, cool features, and possibly even more bang for your buck. Whether you're looking for a cheaper or better alternative for your iPad Pro, or if you're looking to outfit your non-Pro iPad with more functionality, then there's an alternative out there that suits your needs.
We've gone ahead and picked out the best of the best iPad Magic Keyboard alternatives to fit your device, your needs, and your budget. They are:
Recommended Read: Best Alternatives To Magic Mouse 2
Which is the best iPad Magic keyboard alternative?
Based on personal experience and after checking out some other buyer reviews, it's safe to say that the best iPad Magic keyboard alternative to buy this year is the Omoton K02 Ultra-Slim keyboard. It's a well designed keyboard that actually resembles the Magic keyboard and comes with a pretty decent battery life of 6 months at a stretch. While it does lack backlit keys, this keyboard makes up for it with a decent design, compatibility as well as price, retaining the title of the cheapest Apple Magic keyboard alternatives for the iPad.
How to choose an iPad Magic keyboard alternative?
With there being hundreds of different iPad Magic keyboard alternatives available in the market, choosing the right one for your needs can be a difficult task. You can refer to the guide below to understand what needs to be considered when picking up an iPad Magic keyboard alternative.
Design
Remember that an iPad Magic alternative does not have to look identical to the original iPad Magic keyboard to provide you with a decent experience. Consider factors such as the weight of the keyboard and if it comes with a touch trackpad or not. You should also ensure that the keyboard has iPad OS dedicated shortcut keys to make life easier and if you're using an Apple Pencil, then make sure that the keyboard alternative comes with a Pencil holder built-in.
Keys
An important aspect of any keyboard is the keys and that they should be smooth and easy to type with. Depending on whether you plan on working in the night or not, check for a keyboard alternative that provides RGB lighting or comes with backlit keys. Since not every keyboard provides this feature, it's important that you decide whether you want the keys to be lit up or not.
Battery
All iPad Magic keyboard alternatives offer different battery life and this is a significant factor to consider when buying a keyboard to use. Make sure that the keyboard comes with a decent built-in rechargeable battery and that it should not take too long to charge. Also, the best alternatives right now provide up to 30 days battery life and some can even last for up to 6 months on a single charge.
Recommended Read: Top 10 fake Apple Pencils
Best iPad Magic Keyboard Alternatives
While the touch capabilities of the iPad are out of this world, it's always good to have a nice keyboard to use so you don't muck up the screen. If you're unable to pick up the original Apple Magic Keyboard for your iPad, then here are some brilliant alternatives you could try.
Omoton K02 Ultra-Slim Keyboard
Compatible With: All iPads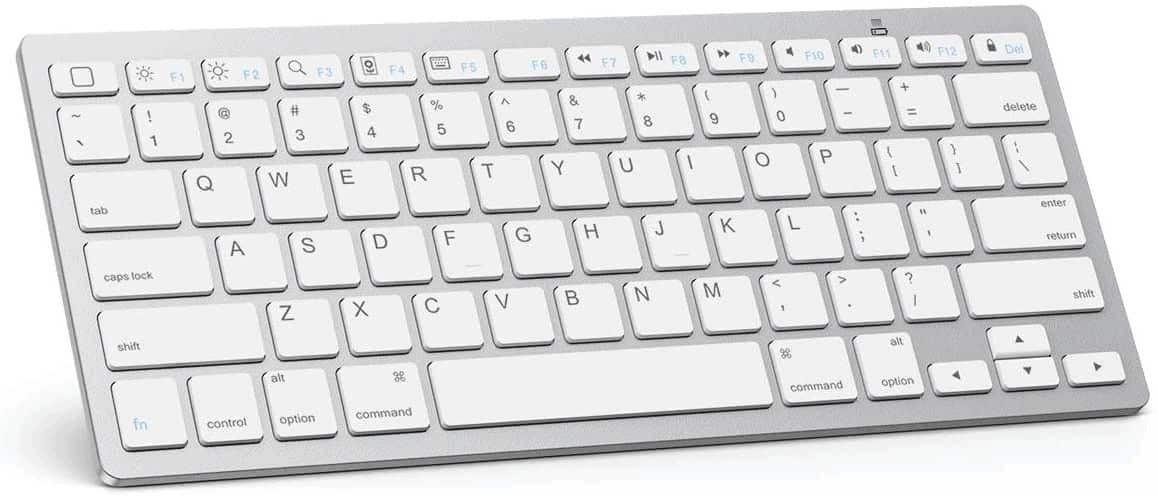 In case you're already very happy with the case for your iPad, you can always get a portable keyboard instead of having one integrated into the case. For this purpose, one of the best options available to you is the Omoton K02 Ultra-Slim Keyboard – perfect for any device, and fully compatible with your iPad.
Thanks to its super-thin form factor, the Omoton Ultra-Slim Keyboard is consistently one of the best selling portable bluetooth keyboards on the market today. It's not a keyboard case – it doesn't attach directly to your iPad – but it's small and light enough to be extremely portable, and fit in just about any bag or carry-on.
I loved the super-sleep white with a metallic finish and it's long battery life that practically guarantees about half a year of heavy, daily use before you have to swap out its pair of AAA batteries.
Unlike other magic keyboard alternatives, the Omoton Ultra-Slim Keyboard won't burn a hole in your pocket. Compared to the £300 price tag on the Apple Magic Keyboard, you can get the Omoton Ultra-Slim for just under £20.
If you like the idea of getting a portable keyboard but the Omoton Ultra-Slim just isn't your style, there are a ton of other great options, too! We have a lot of great things to say about the Logitech K380 Multi-Device Keyboard, which is a great option if you're working on different devices.
It switches seamlessly with a touch of a button, and works well on all kinds of Bluetooth-enabled devices, whether it's running Android or iOS, and regardless of whether or not it's a laptop, a smartphone, a TV, or a tablet.
Battery: 6 Months (Replaceable, 2 x AAA)
Material: Superior Plastic
Connectivity: Bluetooth
Keyboard: No Backlight
Apple Pencil Holder: No
Pros
Excellent battery life
Ergonomic build and convenient to use
Silent keys
Pleasant user experience
Cons
Does not come with a back light
Brydge Pro+
Compatible With: iPad Pro (2018, 2020)
Brydge has been around since 2012, making some of the most beautiful keyboards that "bridge" the gap between the iPad and the Macbook. Made from pure aluminum, Brydge keyboards for the iPad and its many variants have always been robust, stand-out options for people who want more functionality without compromising on style or portability.
I've been fascinated with Brydge keyboards for some time now and their Brydge Pro+ is one of the latest keyboards which is made specifically for the iPad Pro, particularly the models launched in 2018 and 2020.
It comes in two sizes – 11.0 inches and 12.9 inches – to suit your specific iPad Pro model. The Brydge Pro+ is also fully compatible with iPadOS, allowing users to max out their iPad Pro's potential. It's built-in oversized trackpad makes navigating and using gestures a breeze.
The Brydge Pro+ remains one of the best alternatives to Apple's new Magic Keyboard, while maintaining a price tag that's £100 cheaper at £199.99. If you don't need the trackpad and just want the keyboard, you can save even more by opting for the Brydge Pro. It has everything the Brydge Pro+ has minus the trackpad, and is available at £149.99 .
Brydge also offers robust keyboard options for other iPad variants. The latest Brydge 10.2 Wireless Keyboard is fully compatible with the latest 7th Generation iPad. If you own an iPad Air, Brydge offers the 10.5 Series II for 3rd Gen.
There's also the Brydge 9.7 for 6th Gen iPad users (currently on sale for just £49.99 through the official website), and if you own the iPad Mini, Brydge offers the Brydge 7.9.
The only downside we can think of when it comes to Brydge keyboards is that they don't offer much in terms of color or personalization. Each keyboard comes in the same Aluminum Grey, which is sleek and very premium, but users who like lots of colors may be disappointed.
Battery: 3 Months Per Charge
Material: Premium Aluminum
Connectivity: USB Type-C, Bluetooth 4.2
Keyboard: Backlit (Adjustable)
Viewing Angles: Variable (0-180°)
Trackpad: Multi-Touch
Apple Pencil Holder: Yes
Pros
Good build quality
Multi-touch track pad
Bluetooth 5.0
Cons
Zagg Slimbook Go
The Slim Book Go comes in two parts: the case for the iPad Pro itself, and the detachable keyboard. I found this to be a rather smart design as it's easier to use when the case and keyboard are two separate components. The case is constructed using a combination of plastic and a rubberized grip to make it both durable and stable.
It features individually molded corners that are designed to handle any impact from daily use, as well as covers for the volume and power buttons which are built with precision cutouts for easy access.
More importantly this means you can adjust your settings without worrying about whether or not it's going to work correctly every single time. There's also a space on opposing sides of your iPad that makes it easier than ever to open using one hand (perfect if you need to be quick).
In terms of connectivity, the keyboard attaches itself to the iPad using magnetic strips along the ends and will stick on the left side of your iPad. Unlike many other keyboards, the Slim Book Go has a layer of premium cloth covering it which is soft and smooth, leaving you with a nice feeling every time you use the keyboard.
Features
Battery: 1 Li Polymer battery
Material: Superior Plastic + Cloth
Connectivity: Bluetooth 5.0
Keyboard: 7 Customizable Lights
Apple Pencil Holder: Yes
Pros
Affordable option
Has an Apple Pencil holder
Lightweight and simple to use
Cons
Not aesthetically pleasing
Typecase Touch iPad Keyboard
Compatible With: iPad 10.2″
The Typecase Touch iPad Keyboard is by far the most versatile Magic Keyboard alternative out there. It's designed to make your entire experience more memorable since it is equipped with a hinge that lets you position and use your iPad any way you please.
This keyboard for the 10.2" iPads comes with a built-in holder for the Apple Pencil and also includes a touchpad converting your iPad into a laptop. The keys are backlit with 10 different color options and the brightness of the colors can be adjusted depending on the time of day.
Although this keyboard is available for a slight premium of £170, it is fairly priced considering the extra features and versatility it offers. It truly is a unique keyboard and is lightweight and flexible meaning that you can take it with you anywhere and not worry too much about extra weight in your bag.
It's a good choice mainly because it comes with iPadOS compatible shortcut keys that let you perform actions at the single click of a button. This 7-in-1 design lets you seamlessly transform your iPad into a tent, allows you to rest it on a corner, use it as a laptop, a stand and more. 
I'd recommend this iPad Magic keyboard alternative simply because of the design and build quality. It truly has taken my iPad experience to the next level.
Features
Battery: 1 Li Polymer battery
Material: Superior Plastic
Connectivity: Bluetooth
Keyboard: 10 Customizable Lights
Apple Pencil Holder: Yes
Pros
Flexible keyboard
Good design and build quality
iPad OS compatible shortcut keys
7-in-1 design
Cons
Not compatible with all iPad models
Logitech Slim Folio
Compatible With: 7th Generation iPad, 3rd Generation iPad Air
If you feel left out because Apple's Magic Keyboard is only available for the iPad Pro, fret not! Apple has once again partnered with Logitech to bring more affordable tech to work seamlessly with the Apple ecosystem, and this time, it's the Logitech Slim Folio – one of the best alternatives to the Apple Magic Keyboard.
The Logitech Slim Combo is a great iPad keyboard case from one of the world's best keyboard manufacturers. Logitech has won awards – year in, year out – for its durable, functional, and premium peripherals, and the Slim Combo keyboard case is no exception. Designed for the 5th, 6th, and 7th Gen iPad and the 3rd Gen iPad Air, the Logitech Slim Folio is a great alternative to the Apple Magic Keyboard for non-Pro iPad users.
Of course, the iPad Pro does have a handful of features you can't get anywhere else, not even on any of the other iPad variants. However, most of the features were designed for people who work primarily with the iPad Pro as their main workstation. If you have an iPad or an iPad Air, but want a similar keyboard experience that iPad Pro users are getting, the Logitech Slim Folio is your best option.
Alternatively, if you want gesture support, you can get the newest Logitech Combo Touch, which features a backlit keyboard and a built-in trackpad integrated into a sturdy protective case. The trackpad is fully compatible with Apple's Multi-Touch gestures so you're getting just as much functionality as you would with the Apple Magic Keyboard, and with the backlit keys, you'll be able to type efficiently even when you're working late nights.
The best part? The Logitech Slim Folio is available for just a third of the price of the Apple Magic Keyboard. Get your Logitech Slim Combo now for just £99.99.
Battery: 4 Years (Replaceable, Non-Rechargeable)
Material: Water-repellant & Easy-to-clean Fabric, Durable Plastic
Connectivity: Bluetooth LE
Keyboard: No Backlight
Viewing Angles: Fixed (58° Typing, 10° Viewing)
Trackpad: No
Apple Pencil Holder: Yes
Pros
Slim design
Long battery life
Case + keyboard
Cons
XIWMIX iPad case + keyboard
Compatible With: iPad 10.2" 8th Gen
Considered to be among the top three best iPad Magic Keyboard alternatives, the company behind this keyboard solely manufactures accessories for Apple devices so it is cost-effective and high in quality.
The Ultra Slim case is designed for the iPad 10.2" 8th Gen and is made out of a microfiber material and TPU making it softer and more durable than plastic. This offers good protection in case you happen to drop the iPad and case.
This keyboard comes with a 7-color LED backlight that  helps improve your typing experience at night and is equipped with scissor keys that are silent and smooth to your touch. The case that fits onto the rear of your iPad is made up of 108 magnets that carry the same magnetic potential as the iPad, this holds the iPad firmly in place so it doesn't slide out.
What's more, this case and keyboard support auto sleep / auto awake which means that it knows when you're going to use the iPad and when you're putting it to rest.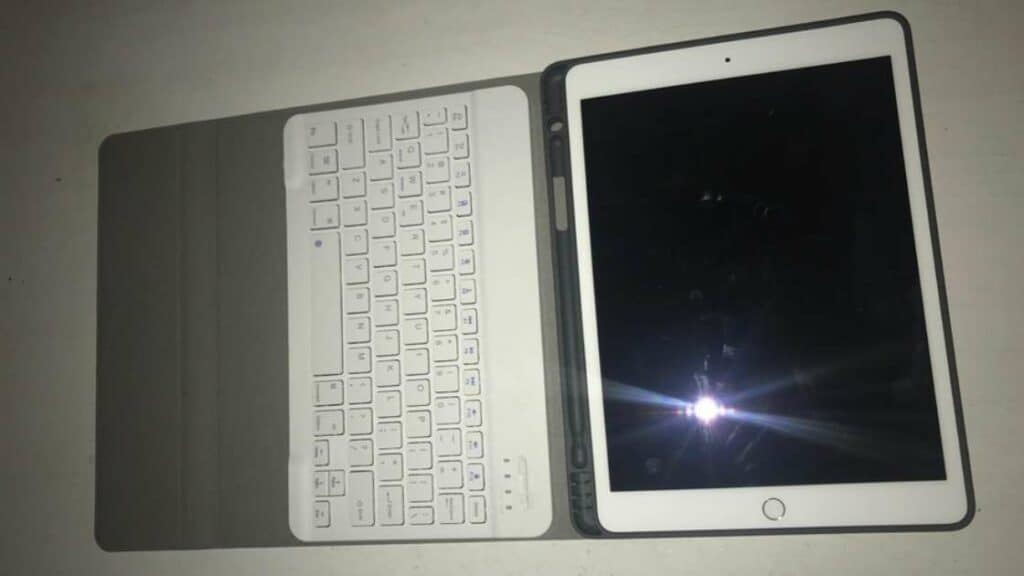 Features
Battery: Built-in rechargeable Li-ion battery
Material: TPU & Microfibers
Connectivity: Bluetooth
Keyboard: 7 Color LED
Apple Pencil Holder: Yes
Pros
Ultra-slim profile design
Backlit keyboard
Auto sleep function
Cons
Zagg Rugged Book
Compatible With: iPad Pro, iPad, iPad Air, iPad Mini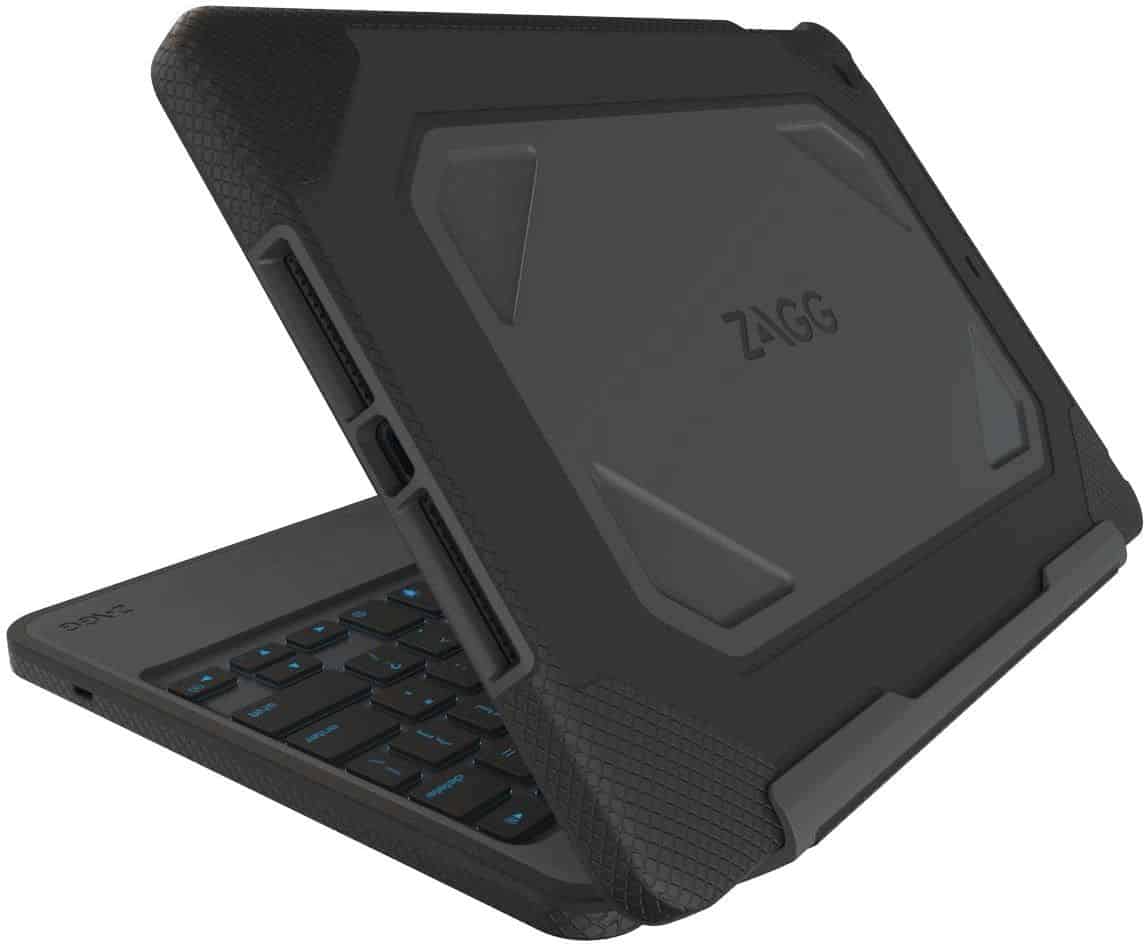 If you're willing to give up some portability for an extremely rugged and protective case with built-in keyboard and stand, then the Zagg Rugged Series was practically made for you. Designed with the ultimate protection in mind, the Rugged Series from Zagg is a set of multi-layered cases with integrated keyboards that offer maximum compatibility with several variants of the iPad.
While it's main selling point is protection and a truly rugged and secure feel for your device, the Zagg Rugged Series is also very functional. The Magnetic Hinged Bluetooth Keyboard gives you lots of options in how you want to set up – either attached for stability, or detached for flexibility.
Zagg even offers multi-device compatibility, so when your keyboard's detached you can seamlessly connect it to up to two different devices, and switch between them with ease.
The Zagg Rugged Series is available for several iPad models. The Zagg Rugged Book is compatible with the 10.5-in iPad Pro, the 10.2-in iPad, several iPad Mini models, and the 3rd Gen iPad Air. Alternatively, you can get the Zagg Rugged Messenger – which is a little lighter, but still offers a lot of protection – for the 10.2-inch iPad.
Battery: 12 Months Per Charge
Material: Tough Polycarbonate, Durable TPU
Connectivity: Bluetooth LE
Keyboard: Backlit (7 Color Options)
Viewing Angles: Fixed
Trackpad: No
Apple Pencil Holder: Yes
Pros
Durable case and keyboard
Easy to use
Available in variants
Highly versatile
Magnetic hinges
Cons
 Microsoft Foldable Keyboard
Compatible with: All iPad Models
Microsoft is not something you may want to hear when we're discussing Apple related products, but their foldable keyboard is a great alternative to the iPad Magic keyboard and definitely one to consider buying.
The keyboard is extremely durable and has a water repellent design protecting your investment from accidents. The keys are customizable and can be configured depending on the operating system of the device you're using, which means that you can program iPadOS shortcuts into the keyboard.
It's equipped with a rechargeable battery that provides up to 3 months of battery life from a single charge and it also uses Bluetooth 4.0 thus resulting in less power consumption.
Another thing to note is that this keyboard folds in half and can easily fit in a pocket or purse and is hardly 4mm thin so you won't feel like you're carrying it around.The keyboard also has a built-in auto on/off sensor that automatically connects to your iPad when it's opened and will shut off once you fold it.
Features
Battery: Built-in rechargeable Li-ion battery
Material: Superior Plastic with Water Repellent Keys
Connectivity: Bluetooth 4.0
Keyboard: QWERTY
Apple Pencil Holder: No
Pros
Lightweight
Easy to use
Versatile and compact
Long battery life
Cons
Bluetooth 4.0
No pencil holder
Keychron K3
Compatible with: All iPads
The Keychron K3 is one of the best alternatives to own and comes with a low-profile mechanical keyboard design that's capable of pairing with both iOS and macOS operating systems. While picking up this keyboard, you will have an option to choose between optical keys or mechanical keys depending on the kind of responsiveness you're looking for.
This iPad keyboard can be used either wired or wireless as it comes with Bluetooth 5.1 and will provide you with a total range of around 10 meters. It weighs 396 grams and has a 75% layout size making it surprisingly light and compact allowing you to easily carry it around with you wherever you go.
Since this keyboard was designed to be used on Apple's interface, the keys on the keyboard are Apple dedicated keys such as the Command button. This allows you to open shortcuts on your iPad with ease, like you were using the actual Magic Keyboard.
This affordable iPad keyboard alternative is equipped with RGB lighting so you can see what you're typing in the dark. It's simply very easy to use, all you will need to do is pair it via Bluetooth and you won't require any additional software for it to run.
Features
Battery: Built-in 1550mAh
Material: Aluminum & Plastic
Connectivity: Bluetooth 5.1
Keyboard: Yes, RGB
Apple Pencil Holder: No
Pros
Well designed keyboard
Mechanical keys
Long battery life
Bluetooth 5.1
Cons
Arteck Backlit Keyboard
Compatible with: All iPads
The Arteck backlit keyboard is the most vibrant looking keyboard on this list and one of the most affordable. It's compatible with numerous devices and works well with all iPad models. You can set one of the 7-color presets and it even has two adjustable brightness modes.
This keyboard is equipped with a rechargeable Li-ion battery that would last on average around 6 months and that's only if you use the keyboard for no more than 2 hours a day with the backlight off.
It features an ultra thin and compact size, you can easily carry it with you in your backpack or messenger bag. The controls on the keyboard can be adjusted based on the device it is paired with. You can press Fn+Q for iOS compatible shortcuts and everything else is a breeze.
Features
Battery: Built-in rechargeable Li-ion battery
Material: Zinc Alloy with ABS Plastic
Connectivity: Bluetooth 4.0
Keyboard: QWERTY + 7-Color Backlight
Apple Pencil Holder: No
Pros
RGB back light
Good typing experience
Auto sleep function
Long lasting rechargeable battery
Cons
How to Connect an iPad Magic Keyboard Alternative to your iPad
The most common way you can connect your iPad with a Magic keyboard alternative is through Bluetooth.
Once you enable Bluetooth on your iPad, turn on the keyboard and wait till the iPad recognizes the device. Pair the two devices from within the iPad Bluetooth settings page.
However, if you do have a keyboard that connects directly with your iPad case then all you have to do is to place the keyboard near the magnetic strip and begin using it with your iPad.
Since not all models provide the same connectivity options, the instructions will be mentioned within the manual of the keyboard. Follow the steps mentioned there to have the devices connect successfully.
FAQ's
Is there a cheaper alternative to the iPad Magic keyboard?
Yes, there are many cheap iPad Magic keyboard alternatives available in the market and some of the best that you can buy online today cost hardly $50-$100.
Do I have to buy a mouse to use with my iPad?
While using a mouse is convenient, you don't need to buy one to use with your iPad. All you have to do is pick up a keyboard with built-in trackpad and use that to navigate your iPad Menus.
How long does an iPad Magic keyboard alternatives battery last?
This depends on a variety of factors, but based on tests and user reviews, iPad Magic keyboard alternatives tend to last between 6-24 hours of peak performance. However, most of the keyboards listed here today will provide you with upwards of 15-30 days of battery life from a single charge.
Takeaway
There you have it! Whether you're looking for something budget-friendly, something premium, or just something that works, we hope our buyer's guide on the best iPad Magic Keyboard alternatives was helpful to you! Check back with us soon on the latest news and reviews on your favorite products!
READ ON:
10 Mac Mini Compatible Keyboards
Tyrone Young is an award-winning author, researcher and the founder of TheMiniBlog. He has been a content marketer for over 10 years and his main goal is to provide readers with quick hacks, guides and reviews on everything Mini. Based out of the UK, Tyrone likes to take long walks on the beach and take care of his two puppies when he's not busy writing for