Best Mini Electric Vegetable Chopper UK 2022
If you're looking for a helping hand in the kitchen, a good mini chopper will do the trick. These multitasking kitchen accessories will make cooking a meal easy by taking away all the manual slicing and dicing.
Whether you're a professional chef or just someone who loves to cook as a hobby, mini choppers will let you chop, blend, slice and mince your ingredients with the press of a couple of buttons.
If this is your first time that you're going in for a mini chopper, then you will have to consider what you need help with. Be it kneading or chopping, every mini chopper comes with certain attachments that makes each one unique..
So on that note, let me take you through my guide on the best mini chopper UK and how to determine which is best suited for your needs.
Here are the top 7 best mini chopper UK:
Ninja Professional Chopper (NJ1002UKBK)
Brieftons QuickPull Food Chopper
Homeasy Mini Food Chopper
Kenwood Mini Chopper (CH180A)
Mini Chopper LINKChef
Cuisinart Mini Chopper
Wahl Grind & Chop
Best Mini Chopper UK
Mini choppers are ideal if you want to reduce your kitchen workload. They are rather small and easy to use, come with a wide range of features/functions and are pretty darn cheap to own.
Here are the top 7 best mini chopper UK
Best Mini Chopper UK
Specifications
Link
Ninja Professional Chopper (NJ1002UKBK)
Capacity: 500ml
Motor: 200W
Material: Stainless Steel+Plastic
Speed Settings: Single Speed Control
Check it out on Amazon
Brieftons QuickPull Food Chopper
Capacity: 950ml
Motor: Manual Pull Chord
Material: Plastic (BPA Free)
Speed Settings: N/A
Check it out on Amazon
Homeasy Mini Food Chopper
Capacity: 2 Liter
Motor: 350W
Material: Stainless Steel
Speed Settings: 2 Speed Modes
Check it out on Amazon
Kenwood Mini Chopper (CH180A)
Capacity: 350ml
Motor: 300W
Material: Plastic
Speed Settings: 2 Speed Modes
Check it out on Amazon
Mini Chopper LINKChef
Capacity: 1.2 Liter
Motor: 600W
Material: 304 Stainless steel
Speed Settings: Pulse Mode
Check it out on Amazon
Cuisinart ECH4U Mini Chopper
Capacity: 900ml
Motor: 900W
Material: Stainless steel
Speed Settings: Pulse Mode
Check it out on Amazon
Wahl James Martin Grind & Chop
Capacity: 330ml
Motor: 200W
Material: Stainless steel
Speed Settings: Pulse Mode
Check it out on Amazon
Ninja Professional Chopper (NJ1002UKBK)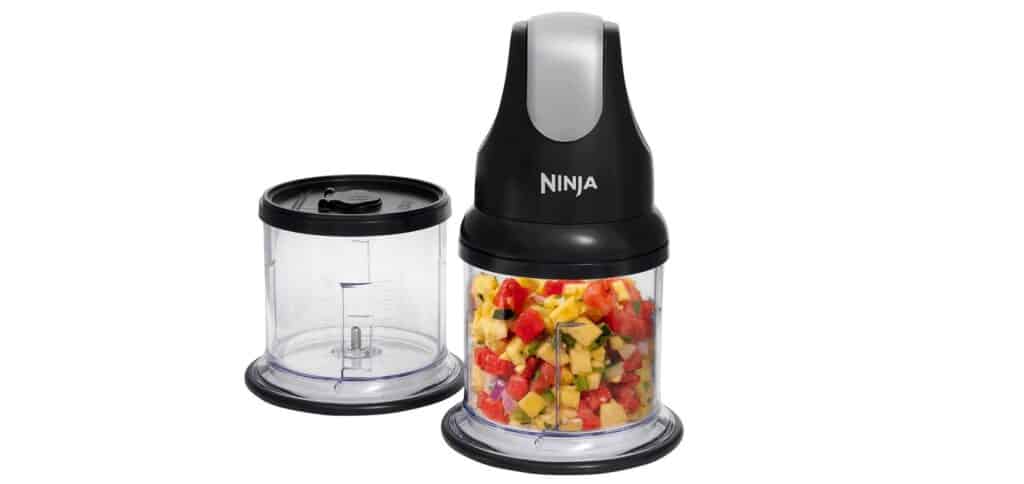 The Ninja Professional Chopper runs on a 200W motor that comes with pulse action that allows you to chop, mince or puree with precision and ease. It comes equipped with a unique double ninja blade that offers impeccable consistency and comes with 2 containers that can be placed in the refrigerator.
This mini chopper features a single speed control setting and a pulse. Basically, the longer you hold the pulse down the finer the ingredients get chopped. Anything more than 2 seconds will lead to mashed vegetables/fruits.
The Ninja professional mini chopper is perfect for cutting ginger, onions, herbs, nuts, is capable of making baby food and hummus.
Brieftons QuickPull Food Chopper
The Brieftons handheld mini chopper is a powerful mixer/chopper/blender that comes with a large 950ml bowl. With this manual mini chopper, you will have to tug on the pulling chord to get it to work. It would take roughly 5 tugs for food to be chopped into a coarse mix and up to 10 tugs for it to attain a fine texture.
This mini chopper is made from plastic and is BPA free. It comes with a cutting rotor that has 3 blades and a mixer blade that can be used for mixing or blending veggies.
This chopper can be used to chop vegetables, fruits, nuts and comes in handy when you're making sauces, salads, soup and more.
As an added bonus, you will receive 3 recipe books with this mini chopper.
Homeasy Mini Food Chopper
The Homeasy mini chopper is one of the best electric powered mini choppers that's perfect for grinding meat. It comes equipped with a high-performance 350W motor that is capable of blending, mincing and mixing ingredients within a couple of seconds.
Here, you get a large 2 liter bowl and sharp stainless steel blades that are long-lasting and shock-proof.
It even comes with a non-slip mat that keeps the unit in place when it's in use and has two speed control settings where you can use the lower speeds for chopping meats and high speed for vegetables and fruits.
With its easy to use design, you can take out the bowl, lid, blades and have them cleaned easily. There's literally no tension when the Homeasy mini chopper is in use.
Kenwood Mini Chopper (CH180A)
The CH180A is considered to be the best budget mini chopper under £25. It's perfect to use for any kind of ingredient and comes with a small 350ml bowl that is detachable and dishwasher safe.
This mini chopper is equipped with a powerful 300W motor and has 2 speed control settings that allow you to chop both meat and vegetables with ease. It can be used to make sauces and has a safety interlock feature that enables once you press the button.
It even comes with rubber feet so there's no loss in stability when the mini chopper is in use.
Mini Chopper LINKChef
The Mini Chopper LINKChef is an extremely powerful chopper and is pretty similar to the Homeasy mentioned above. This beast comes with way more power and runs on a large 600W motor that makes cutting, blending, slicing fruits and vegetables easy.
It's made from 304 stainless steel and uses 4 bi-level blades that offer long-lasting performance allowing you to shred cabbage, onions and frozen fruits.You can adjust the speed of the chopper by pressing down on the button, the longer you press it the finer the ingredients will blend.
The large 1.2 liter bowl is made from polished stainless steel and is built to be scratch resistant and anti-corrosive. It even comes with a rubber mat that can be placed under the mini chopper so there's no movement when it's running.
Cuisinart ECH4U Mini Chopper
The Cuisinart mini chopper is one of the best mini choppers if you're looking for one that's ideal for pureeing. This lightweight chopper weighs hardly 1.4 kilograms and comes with an extremely powerful 900W motor that allows you to cut and grind your ingredients efficiently, in a matter of seconds.
Apart from this, it comes equipped with a large 900ml bowl that's perfectly sized for everyday use. It has a blade lock feature that holds the blades in place when you're scooping out the chopped ingredients.
The ECH4U has pulse buttons for chopping and grinding along with drizzle holes on the lid making it a must have in your kitchen.
Wahl James Martin Grind & Chop
The James Martin by Wahl is a brilliant mini chopper that uses a 200W motor and is capable of chopping all kinds of wet and dry food ingredients such as nuts, vegetables, coffee, ginger and garlic.
This mini chopper comes with 2 detachable stainless steel bowls that have a net capacity of 70 grams or up to 330ml.
It comes with stainless steel blades and a one-touch push button that operates the unit. This mini chopper is easy to use and since the bowls are detachable, it's easy to clean as well.
What Can You Put in a Mini Chopper?
Unlike a full size chopper/food processor, you can use the mini chopper to cut, grind, blend or slice fruits, nuts, boneless meat and almost all types of veggies.
Mini Choppers can help you in the preparation of salads, baby food, stew, soup, sauces and more. Whatever needs to be cut before you begin cooking can be accomplished by placing them in a mini chopper.
They come with a built-in button that lets you control the size of your ingredients. While they are considered to be useful, mini choppers are too small and not much can be placed in it. Actually, in order to chop veggies, you will have to cut them up into smaller pieces and then place them in the mini chopper.
Types of Mini Choppers
It's good to note that when it comes to mini choppers, there are two kinds that you can buy. You can either go in for an all electric unit or a manual one.
Manual Mini Chopper – Manual mini choppers are really small and are operated by hand using a string that you pull. When you pull on the string, the blades within the chopper turn and result in chopped ingredients. As compared to electric choppers, the manual units are very cheap to own and cost only a fraction of the price, mainly because they have limitations on what they can do.
Electric Mini Chopper – These mini choppers come with electrical components that allow you to chop, grind or slice ingredients by simply pressing a button. Compared to the manual powered mini choppers, those that run on a motor and consume electricity are a tad bit pricey and would normally be available in the region of around £20 – £50.
Why Should I Buy a Mini Chopper
While they are ideal for cutting ingredients, there are a number of other reasons why you should buy a mini chopper.
Saves Time – Mini Choppers come in handy and help save time on your meal preparation. Instead of manually cutting the ingredients, simply throw them in the chopper and hit the button. All you veggies will be chopped in no time.
Affordable – Another great reason to consider a mini chopper is they're affordable to own. Even the best mini choppers in the market don't cost more than £30. This in comparison to a full scale food processor which retails at around £100-£400.
Size Matters – Mini Choppers are small and easy to store, they can be placed in a small cupboard and are ideal if you have a small kitchen. They are easy to use and can be controlled with a single button.
Skills – If you're bad at cutting vegetables or lack the time and patience to manually cut them with a knife, then it's definitely going to save your day.
What To Consider before Buying a Mini Chopper?
Mini Choppers come in a range of sizes, designs, capabilities, and prices. When you're going to buy a mini chopper for your kitchen, consider the following factors:
Bowl Size – When it comes to chopping ingredients, the bigger the bowl the more you can put in it. You will have to decide if you need one that comes with a 300ml bowl or one that can hold up to 2 liters.
Electric or Manual – While they both accomplish the same task, electric choppers are designed to work faster than their manual counterparts.
Price – Since mini choppers normally cost within £20-£35, you will have to see if it's within your budget. How much are you ready to pay? Let your budget decide which chopper to buy.
Appearance – While there's not much to talk about here, you can pick whether you want a mini chopper that comes with a stainless steel bowl or a glass bowl.
Power (Wattage) – Electric powered mini choppers range from 200W all the way up to 900W. Basically, the higher the motor power, the faster and more efficient the unit is.
Takeaway
All the mini choppers mentioned above are unique in their own way and picking one of them will depend on the size, motor power and price.
The hand-held manual mini chopper is best suited for smaller quantities and for those who are on a tight budget.
If you're able to shell out between £20-£25 then you can go in for a nice mini electric chopper as they're easier to use and are available with larger bowls so you can blend, chop, grind or mash up more ingredients than the manual hand-held chopper.
Which according to you is the best Mini Chopper UK?
Also Read: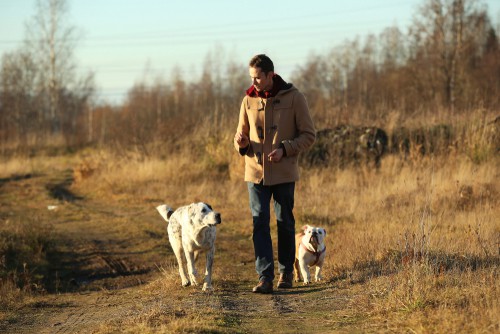 Based out of the UK, Pat is the youngest member of TheMiniBlog family and comes with extensive experience in all things Mini. He has been reviewing products for a while now and is well versed in everything related to mini gear and technology.