Best Mini Fridge for Bedroom UK 2022
A mini fridge is an extremely useful household appliance that sits well in any type of room and is perfect for storing extra food or drinks that your main fridge can't accommodate.
They can be used in the bedroom, hall, garage and even in your office. But until and unless you buy one, you will not know what you're losing out on.
Today, I'll take you through some of the best Mini fridges that can store both food items as well as drinks.
These compacts fridges can be placed anywhere in your home and come with decent storage space within.
Here are the top 6 best Mini fridge to place in your bedrooms:
iceQ Tabletop Mini Fridge
VonShef Mini Fridge
Husky HUS-EL196 Coca Cola Edition
Russell Hobbs RHTTF67SS
Kuhla KCLRF17
Subcold Super50 Mini Fridge
Best Bedroom Mini Fridge UK
The best Mini fridges are those that don't occupy much space, can be moved around easily and have decent storage capacity.
While some are designed solely for beverages and others are capable of storing perishable food items, there are some which are capable of storing both. 
Let's get into the top 6 best Mini fridge UK.
Best Mini Fridge UK
Features
Link
iceQ Tabletop Mini Fridge
Capacity: 43ltr
Energy Consumption: 109kWh
Door Orientation: Right
Size: 45 x 45 x 49.5 cm
Check it out on Amazon
VonShef Mini Fridge
Capacity: 47ltr
Energy Consumption: N/A
Door Orientation: Reversible
Size: 48.5 x 44.4 x 49.5 cm
Check it out on Amazon
Husky HUS-EL196 Coca Cola Edition
Capacity: 43ltr
Energy Consumption: A+
Door Orientation: Reversible
Size: 46 x 43 x 51 cm
Check it out on Amazon
Russell Hobbs RHTTF67SS
Capacity: 66ltr
Energy Consumption: 103kWh
Door Orientation: Reversible
Size: 51 x 44.5 x 63 cm
Check it out on Amazon
Kuhla KCLRF17
Capacity: 17ltr
Energy Consumption: A+
Door Orientation: Right
Size: 42.2 x 38.5 x 34.1 cm
Check it out on Amazon
Subcold Super50 Mini Fridge
Capacity: 50ltr
Energy Consumption: 84kWh
Door Orientation: Reversible
Size: 44 x 50 x 52.5 cm
Check it out on Amazon
iceQ Tabletop Mini Fridge
This sturdy, well-built mini fridge is perfect for those living in a shared space. It has a unique locking feature which may not be the best in the market, but it surely does a reasonable job.
It features two door racks and a removable shelf inside the fridge. It's customizable and the shelves can be removed to make space for tall bottles. There's a manual thermostat that you can use to adjust the temperature of the fridge and even includes an icebox so you can store ice cubes for your late night parties/get together.
What's surprising about the iceQ tabletop mini fridge is that though it uses a compressor, the noise level is rather low – 40 decibels at full load.
VonShef Mini Fridge
The VonShef mini fridge is a compact cooler that's designed to keep food and drinks cool during the hot summer. It's ideal for home offices, gyms, studio flats and has a large storage capacity of 47 liters.
This mini fridge is one of the best mini fridges in the UK and operates just like a full-sized refrigerator. It features a large 4 liter ice compartment, has an A+ energy rating and is compact making it the perfect mini fridge to own.
Apart from this, the VonShef comes with a manual temperature control dial so you can set your preferences and would take roughly 15 minutes for your mini fridge to acclimatize to any condition.
Husky HUS-EL196 Coca Cola Edition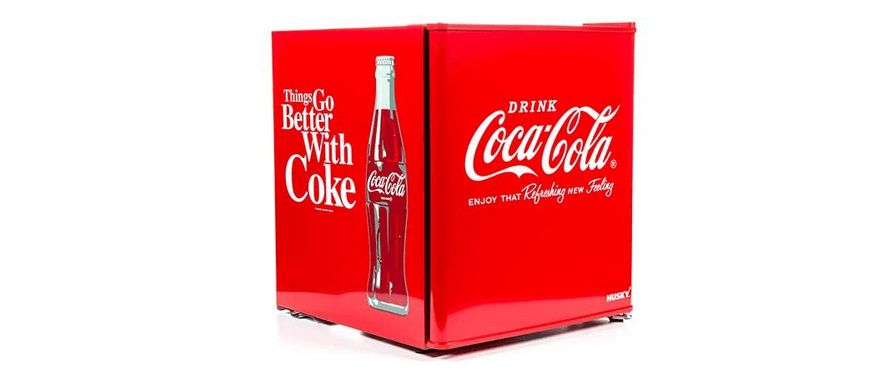 This is a 60's inspired retro mini fridge that bears the Coca Cola branding and comes with an adjustable thermostat that allows your food and drinks to get chill faster, while offering an A+ energy rating.
It looks great and can be positioned anywhere in your house. Considering the size, the best feature about this fridge is that it's capable of holding up to 40 330lml cans of juice. It's safe to store your perishable food items as well as dairy products in it.
The door on the mini fridge is reversible and weighs hardly 14 kilos so you can easily move it around till you find the right spot for it.
Russell Hobbs RHTTF67SS
The RHTTF67SS is a tabletop mini fridge that can store up to a whopping 66 liters and is perfect if you're in need of some extra fridge space. It has a stainless steel design and can fit on top of a table with ease.
It is easy to use and features an adjustable thermostat so you can easily adjust the temperature of the fridge. This is best suited for kitchens, living rooms, bedrooms and offices and so can be used wherever you think it's best kept.
With an energy efficient rating of A+, the Russell Hobbs RHTTF67SS can be left running for long periods of time without drastically increasing your electricity bill. There are 2 removable shelves and an icebox along with two shelves on the door for extra storage.
Kuhla KCLRF17
The Kuhla is a really compact mini fridge with a storage capacity of 17 liters making it ideal for bedrooms or under a desk. It comes with a removable wire shelf along with a bottle rack in the door for added storage.
This mini fridge features an adjustable thermostat and comes with adjustable feet so you can keep it at a fixed level. With the thermoelectric technology running this unit, you will hardly hear it run as it comes with a rated noise level of 38 decibels.
Apart from that, this tabletop mini fridge can be customized according to your storage needs and comes in a range of designs making it a perfect mini fridge to own.
Subcold Super50 Mini Fridge
The Super50-SV mini fridge is by far the best in the market and comes with sup cold temperature performance. It is equipped with an advanced compressor cooling tech that allows it to attain between 0-10 degrees Celsius and can be adjusted as per your requirements.
It's made from high density foam injection cabinet mould and comes with a high grade dual glazed safety glass door. You can place up to 55 330ml cans of juice in it or up to 46 liters worth of food and beverages.
With a low noise and energy rating, this mini fridge runs on hardly 95kWh per year making it one of the lowest in its class. It comes with 3 removable mesh shelves and internal LED lighting and a locking mechanism so the contents in your mini fridge remain safe.
Which mini fridge to buy?
A mini fridge will come in handy and is ideal if you're someone who wants to store your food and drinks separately. But before you hop on out and buy a mini fridge, you have to consider certain factors like size, storage capacity, where you'll keep your fridge and the budget you're going to allot for it.
There are three main types of mini fridges to choose from: you got the table top that sits well on a desk or table, under the counter (which sit under a desk or table) and finally the freestanding mini fridges.
Ultimately, where you're going to position your mini fridge will be the main deciding factor for which mini fridge you should buy.
What to consider when buying a mini fridge
Here are some key points to keep in mind when you own a mini fridge.
Noise – The first thing you should consider is the decibel rating of the fridge. The newer models basically run on the latest tech like thermoelectric or air absorption and not the traditional compressor. If you're planning on placing the mini fridge in your bedroom, then you'd have to go for one that doesn't make too much noise.
Door – The door on a Mini fridge and the direction it opens will have an impact on where you position the fridge. If you're unable to find a fridge that opens according to your requirements then you can opt for one that comes with reversible doors.
Room Temperature – It's best not to position the mini fridge near a radiator or direct heat source like an open window. Since it's compact, it will work harder than it's supposed to in order to maintain a reasonable internal temperature.
Adjustable Legs – Go in for a fridge that comes with adjustable feet. This is ideal if the flooring in your house is a little uneven.
How much should I spend on the mini fridge?
When it comes to the overall cost of the fridge, it's best to take the energy consumption into consideration. You will want one that offers a higher efficiency so there's no extra cost in the long run.
On average a tiny mini fridge with a capacity of around 14-15 liters would cost less than £80 whereas a slightly larger mini fridge would be within the range of £150-£200.
If you're looking for one only to store juices and other beverages then you needn't spend more than £100. You will also be able to store food items in them but with limitations as the capacity is a tad bit less.
Takeaway
Picking the right mini fridge is easier said than done and there are a number of things to consider before blindly buying one that looks nice. It's best to consider these factors so you can end up with a mini fridge that does exactly what you want it to do.
Also Read: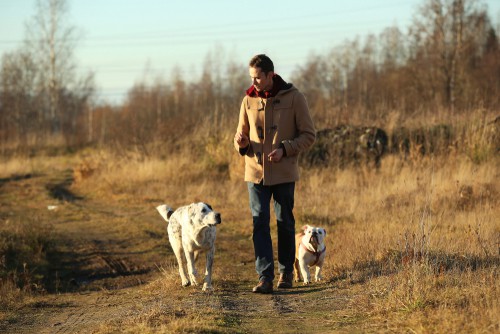 Based out of the UK, Pat is the youngest member of TheMiniBlog family and comes with extensive experience in all things Mini. He has been reviewing products for a while now and is well versed in everything related to mini gear and technology.