Truth be told, no in-house workout is truly complete without a set of resistance bands. These are typically the first bit of fitness equipment you should lay your hands on before dumbbells and barbells. 
This is because resistance bands are effective in a variety of ways, from strengthening your muscles to improving your cardio sessions. They do so by working on certain muscle groups that are not easily targeted by traditional weights. 
Mini resistance bands normally come in a range of resistances, where the color of the band symbolizes what level of resistance it is. Yellow generally means less resistance, red or green for those with mid-range resistance and blue or black for a high level of resistance.
Considering the low cost of mini resistance bands, we have taken the top 10 into consideration and here are what we feel are the best mini resistance bands UK this year!
Topelek Exercise Mini Resistance Bands
Meglio Latex Resistance Bands
Theraband Resistance Bands
Gritin Resistance Bands Set of 5
CFX Resistance Bands Set of 3
Amonax Resistance Bands Set of 4
Syosin Resistance Bands
Proworks Glute Bands
Fit-Flex Mini Resistance Bands
Coresteady Mini Resistance Band
Best Mini Resistance Bands UK
Mini resistance bands in the UK are some of the most versatile and easy to use fitness equipment. Quite like trampolines and mini steppers, the best mini resistance bands offer a complete workout for your body. They are compact, colorful and come in a range of fits and sizes to target specific muscle groups. You have the following different kinds of mini resistance bands available today:
Mini Tube Resistance Bands
Mini Flat Resistance Bands
Here are the top 10 best mini resistance bands in the UK
Topelek Exercise Mini Resistance Bands
The Topelek mini resistance band kit is the most comprehensive package you could opt for. These are considered to be the best tubed resistance bands in the UK simply because they allow you to increase the resistance, thus improving your overall muscle strength. 
This set includes 5 resistance bands of different tension levels, 2 foam handles, 2 ankle straps, a door anchor attachment and a workout guide to teach you how to get the most out of them.
The five different resistance bands allow you to meet various fitness goals and are color coded with the weight limit specified near the metal hooks. These bands will provide you with 10lbs, 20lbs, 30lbs, 40lbs and 50 lbs resistance levels which are suitable for everyone, even if you're just beginning.
Meglio Latex Resistance Bands
If you've never touched resistance bands before then i'd suggest you start with these. The Meglio latex mini resistance bands are made of TPE material making them odorless so they will surely not leave any smell on your clothes. This set of four mini resistance bands come color coded so you know which resistance level to go for. 
Compared to smooth latex bands, the Meglio resistance bands come with a textured surface offering better grip so there are no accidents or slips if the bands get wet from sweat. It's been designed to enhance your workout experience by targeting your hips, abs, glutes, calves and legs.
Meglio's mini resistance bands come with a free exercise guide that is beneficial for beginners and will guide you on how to achieve the most from the bands if you're a person looking for some rehabilitation.
Theraband Resistance Bands
Considered to be one of the best fitness and physio resistance strips in the market, the Theraband mini resistance bands are best suited for those with mobility issues and who require rehabilitation. These bands are available in a range of colors where each color represents a particular resistance level.
Priced under £5, the Theraband mini resistance bands seem to do the job as you get exactly what you need. You can either opt for the 1m long Yellow resistance band or the 5m long gold resistance band for your workout. It all depends on how much resistance you are looking for and how much strength you're willing to use during your workout.
Gritin Resistance Bands Set of 5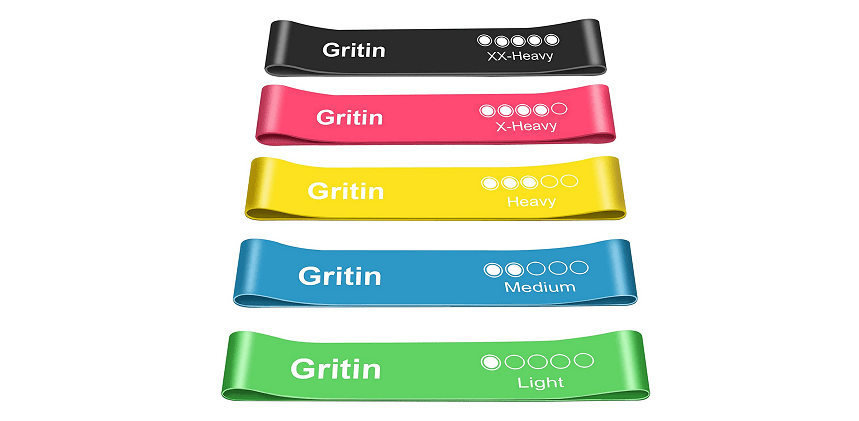 One of the bestselling brands on Amazon, the Gritin mini resistance bands come in a set of 5 where each band offers a different resistance level. They are color coded and have the resistance levels imprinted on them to make it easier for you to know which level you're using.
They are made of premium quality natural latex and provide superior durability so they don't crack or break under high levels of tension. These non-toxic and skin-friendly mini resistance bands are great alternatives to weightlifting and are suitable for a wide range of muscle groups.
Ideal for both men and women, this mini resistance band set will provide you with a complete full-body workout experience and assist with muscle training while maintaining your body-tone.
CFX Resistance Bands Set of 3
The CFX mini resistance bands are designed to target your lower body over the rest. The complete absence of latex makes them feel good on your skin and you won't have to worry about that rubbery feeling. This set of 3 resistance bands can exercise all parts of your lower body including your legs, abdomen and buttocks.
Made from a non-slip elastic material,  the CFX resistance bands are multi-functional and come in three different resistance levels ensuring you meet your workout goals with the right amount of intensity. 
Whether you're a beginner or an advanced user, these bands are suitable for almost everyone. You can use them while doing CrossFit, Yoga, Pilates and even hot Yoga. This package comes with a storage bag, workout guide and user manual apart from the three bands – Heavy, medium and Light.
 Amonax Resistance Bands Set of 4
The Amonax resistance bands provide you with four different tension levels allowing you to perform a variety of exercises and train your muscles for all purposes. These loop resistance bands are 50% more effective than other brands and have been used by professional personal trainers around the world.
These bands are created from the high quality latex that allow you to stretch them up to twice their diameter. This means that the extra thickness and stretch-ability will help you carry out a  full range of exercises anywhere at any time.
All 4 resistance bands have a circumference of 600mm and are 50mm wide. They're color coded with pink, orange, blue and green for resistance levels from 5-7kg all the way up to 15-20kg.
Syosin Resistance Bands
The Syosin mini resistance bands are premium fitness products under £10 that are made up of durable polyester fabric and latex. These resistance bands have a non-slip design so they don't roll up or down while you're exercising. They're ideal for assisting in Yoga, CrossFit and Pilates sessions to improve your muscle strength.
The three available sizes in this pack cover beginners to expert workout modes with the white band offering least resistance, light pink for medium resistance and the dark pink band for heavy resistance.
Designed to target specific muscle groups,  the Syosin mini resistance bands allow you to workout your lower back, glutes, abs, quads and hamstrings effectively. An added bonus is that it comes with its own little carry bag to make it easier to carry them around wherever you go.
Proworks Glute Bands
The Proworks mini resistance bands are some of the finest workout bands for your lower-body. These mini resistance bands come in three variants offering light resistance, medium and heavy resistance so you get the most from your workout session. They're made from a blend of cotton, polyester and latex so there's no loss of tension or fraying while working out with them.
Designed to activate your glutes, abs, hamstrings, quads and calves, the Proworks mini resistance bands is everything you would need to have a complete lower-body workout.
The drawback here is that these resistance bands are sold individually so you will have to decide on the tension level you need before buying one. Also, they're available in both Black and Pink and come with a free fitness guide on how to get the most from these mini resistance bands.
Fit-Flex Mini Resistance Bands
These mini resistance bands are great if you're in need of one for strength training or simple rehabilitation. Recommended by physiotherapists, the Fit-Flex provides a simple buy effective method of providing progressive load for stretching, conditioning, strength training and injury rehabilitation.
The resistance that is provided by the Fit-Flex bands is ideal for targeting specific muscle groups and tendons. They help deepen your stretch and increase flexibility in your arms, back, chest and legs – basically providing you with a total workout.
It comes in three flex options with different resistance levels;  the yellow band is meant for lower resistance, the blue for medium and red is for heavier resistance. 
Coresteady Mini Resistance Band
The Coresteady mini resistance band offers medium level resistance and has a tension level of 15-40kg. It's designed to improve your strength and range of motion across all the muscle groups in your body. You can use it for stretching, resistance training, flexibility exercises and can improve posture, mobility and your overall core strength.
What makes this mini resistance band great is that it's made from natural latex so it is pretty durable. The purple Coresteady mini resistance band has a length of 208cm, width of 3.2cm and a thickness of 4mm making it easy to hold.
There are five different color coded resistance levels that are available depending on your body form. You can choose between red, black, purple, green or blue with red being the lightest and blue being the strongest (in that order).
Takeaway
Resistance bands are your first stop to a healthier lifestyle, they're extremely affordable and easy to use. These latex, elastic bands will surely improve your core strength and keep you fit no matter where you are.
Hope this list was beneficial to you, which did you choose?
Also Read: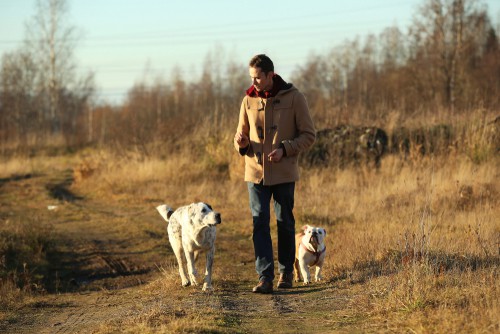 Based out of the UK, Pat is the youngest member of TheMiniBlog family and comes with extensive experience in all things Mini. He has been reviewing products for a while now and is well versed in everything related to mini gear and technology.