How to Create an Apple ID in the UK for your new iPhone
Once you've purchased an Apple product you will understand how important it is to ensure the device you've purchased is customized to your daily life. From your daily reminders to purchases from the app store, nothing is possible without your key essential which is your Apple ID and this is for a reason.
I created my first Apple ID when I was in college because I just loved how the iTunes stores offered limitless new music and kept me updated.
So I've created a small guide on How To Create Apple ID in the UK to make things easier for people who've moved to the UK recently and have been facing issues with creating an Apple ID in the UK.
Let's begin!
Recommended Read: How to Get US Apps on a UK iPhone
How to Create an Apple ID in the UK : A Summary
In short, you can easily create a new UK Apple ID using your iPhone, iPad or Mac. Simply open the Apple ID website for the UK region and begin to create an account. All the steps to create an account in the UK are the same as anywhere else on the planet. But in order to gain full access to the UK Apple Account, you will have to enter your UK billing information as well as card details.
How to Create an Apple ID in the UK
How to Create a New Apple ID
You can easily register for an Apple ID by going to their website where you will have a section to create your ID or click here.
You don't need to have any Apple products to have an account, this is done for new users to have the liberty of checking their new products before purchasing from the brand. Even if you are a Linux, windows or Ubuntu user checking their new OS release.
You will be provided with a free unlinked account that provides limited access to their cloud. So you will be able to access their online versions of Pages (MS Word), Keynote which are Apple's unique apps for daily use.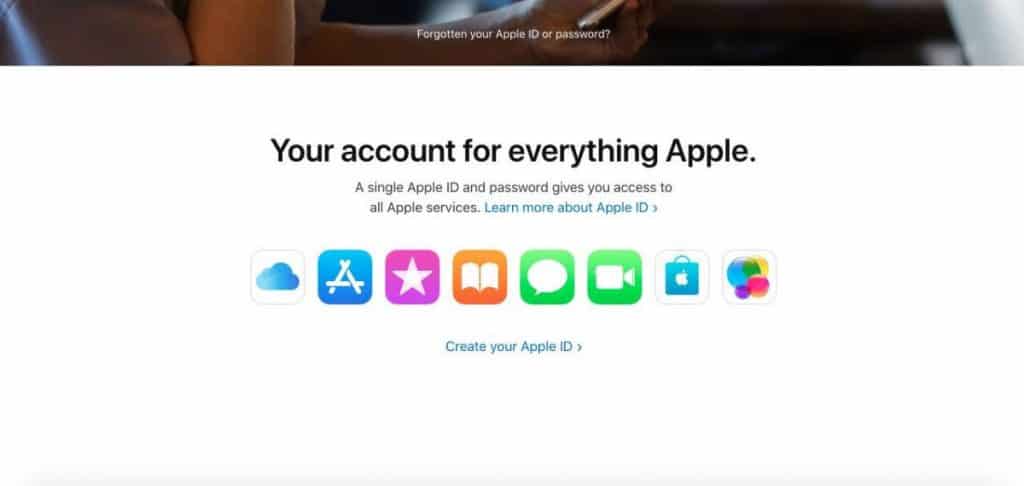 You will also be provided with 1GB of free iCloud storage that no other platform offers with a free account. The only setback is that apart from using this storage place from their web-based app, you will not be able to access it in any other way.
Here's how you can create your Apple ID in the UK across different Apple devices.
Create an Apple ID on your iPhone, iPad or iPod touch
Creating an Apple ID on either your iPhone, iPad or iPod is easier than you could imagine. It can be done either when you're booting up the device for the first time or by creating an account by accessing the App Store at a later point in time.
Create an Apple ID when you set up your device
When setting up your device for the first time, Apple will ask you to login to your Apple ID. Here is where you click on Forgot Password or Don't have an Apple ID.
Now, click on Create a Free Apple ID from the list of options.
Fill up your personal information on the next page and then choose whether you would like to use a current email address or if you'd like to create a new iCloud email address.
Follow the on screen instructions to verify your email address and set up two factor authentication.
Create an Apple ID using the App Store
Start by unlocking your device and navigate to the App Store.
Click on the Sign in button and then tap on Create New Apple ID.
Follow the on screen instructions and enter your email ID. You can choose to use an existing email address or create a new one.
Now, you will be asked to key in your billing information and address, enter the appropriate details with a valid UK billing address.
Add a secondary email address and a phone number to the account. This will be used in case you have lost your password and you need to recover your account.
Verify the registration email you received and you can now use the new Apple ID to access iCloud, iTunes Store and the App Store.
Create an Apple ID on your Mac
If you own a Mac at home, you can easily create a new Apple ID from within the App Store or by clicking on this link. The settings and navigation is similar to the instructions laid out above. Take a look.
Click on the App Store icon from the Dock and then tap on Sign-in.
Tap on Create Apple ID and follow the steps on the screen.
Start by entering an email address, this will be considered as your new Apple ID.
Proceed to fill in your billing information and physical address. You can even choose the option "None" to skip this step.
Check your registered email ID, you would have been sent a verification email. Click on the link within the email to verify the account and once done you will be able to login to Apple services.
Create an Apple ID using a Windows PC
For this to work, you will need to have the latest version of iTunes installed on your PC.
Open iTunes on your laptop/PC and click on Account in the Menu bar.
Tap on Sign In and then proceed to click on Create New Apple ID.
Follow the steps laid out and enter an email ID. This will be considered as your Apple ID going forward.
Enter your personal information including a secondary email and a phone number.
Finally, check your inbox for the verification from Apple. Clicking on the link in the email will enable and activate your new Apple ID.
Requirements for creating an Apple ID in the UK
When you're creating your new Apple ID, there are a couple of things to remember.
The primary email ID you use cannot be an existing email account that has been provided by apple and it cannot be an old email address that you've used as an Apple ID in the past. If you do this, then the old device and new device will be linked to the same user which can be a troublesome hassle if someone else is also using the device.
Do not try to input fake details here as the email will be verified by sending a confirmation email to the address you provide. You will also need to click on the link within the email to confirm its validity before an ID can be created with the email for you to start using Apple ID services.
The secondary email can be used to recover your Apple ID by resetting the password. The secondary address will be requested very rarely and can be an already existing ID. You can also provide the email of your blood relatives or spouse who can be in immediate reach to you in case you lose a device and have forgotten the login details and require the secondary address to recover your main address.
Do not try to provide wrong information here because this information will be verified by Apple and will be used to confirm your identity in the future.
Once the email has been verified and the secondary address is set. You will be prompted to enter your date of birth, security question for third level recovery and your mailing address from where you are currently residing.
If you are in London and pretend to be located in Birmingham you will have issues when you have to provide your credit card details when you want to make purchases.
You need to ensure you enter the country correctly in this case the United Kingdom, this is important because Apple has different permissions and rights that can be showcased on their Music, Movie and App Store.
How to Create an Apple ID for Children
If your kid is below the age of 13 they will be unable to create an Apple ID themselves but you as a parent or guardian can create an Apple ID for them as a part of the Family Sharing system that Apple has.
This will enable and allow the parent or guardian to enter their credit card details against the child's account to approve any purchase with added supervision by Apple and pre-approval for the purchase from your end.
You can set up the Family Sharing option using your registered apple device which is using your main ID.
It can be your iPod touch, iPad or iPhone, where you will have to go to the setting options, then tap iCloud under this option tap family and then Add family member. Once you're here click on the link that shows how to create an Apple ID for a child.
On a MacBook or Mac, Click on System Preferences then click on the iCloud option, then click on the manage family option. You'll notice a plus option located at the bottom left, click on it to select the Create An Apple ID for a Child Who Doesn't Have An Account option.
Keep in mind that it is not possible for you to set up an Apple ID for a child if there are no payment details associated with an adult's own valid Apple ID. You will be requested to enter your CVV number as well as a part of the account set-up process.
Apple vouches that this is done to conform with the online child protection laws so that it provides valid verifiable details and proof of the adult's residential address.
Security for your Apple ID
Now that you've set up your Apple ID the ideal thing to do right after is to secure the Apple ID, you can do this by setting up two-factor authentication.
Setting this authentication method means that you will not be able to use the Apple ID that was created by you to purchase any new Apple device or sign in to iCloud, it is also not possible to change any of your account details without entering the one-time code that will be sent by Apple to the primary registered device.
The one-time verification code is not required in other cases and on any Apple hardware that you've already confirmed your details on. The code can be sent to you Via text message to your cellular phone or sent to any of your other iOS Apple devices.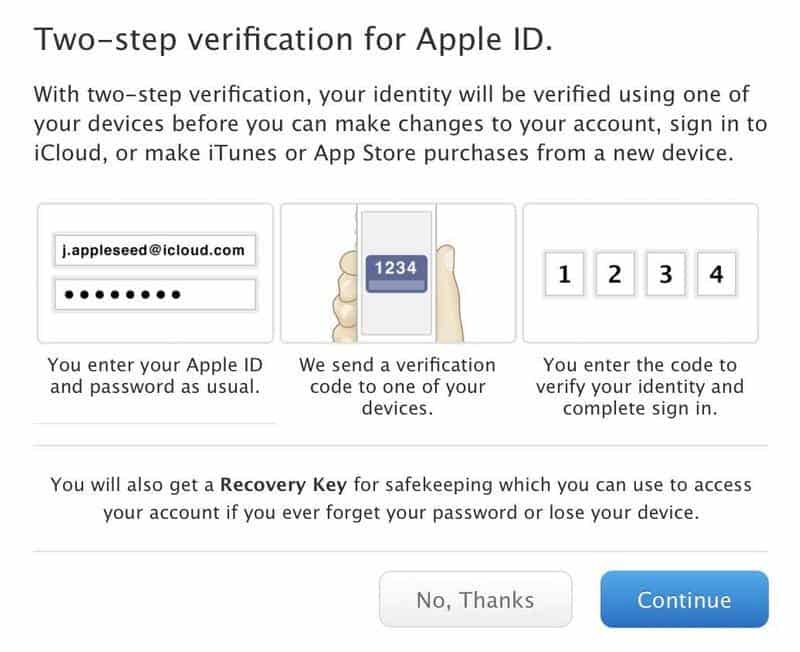 You will also be provided with a fail safe recovery key that will be used to enter in case the two-step authentication is not possible. This is in the case if your cellular phone is off or you've sold the apple device without logging out of the device.
The whole point of the two-step verification is to stop hackers who might have gotten your Apple ID credentials from some source like a virus or fraudulent website. It is highly not possible for them to get physical access to your Apple device or phone to get the second authentication code. Making it impossible to make any changes or purchases using your Apple ID.
You can set up the two-step verification by going to the Apple ID website or by clicking here.
Once you're on the main page, click on the Manage Your Apple ID option post where you will be requested to enter your Apple ID and password to log in to your account.
Once logged in click the Password and Security option which should be on the left of the screen and answer the security questions prompted to you.
Click on the Get Started option which should be under the Two-Step Verification option.
You will then be prompted with information on how the two-step verification works and the screen will take you to the first step of the two-step verification set-up.
Now you will be requested to add the trusted device, you will need to provide at least one registered mobile number. So you can receive the verification SMS that will be sent immediately by Apple to add the device.
Once the first number is verified you can add a second mobile number as an extra measure for your insurance.
You can also add an Apple device for the second authentication which doesn't have a cellular network linked because it will send the two-factor code magically that is possible only on iOS devices. This code comes up as a pop-up so you can easily spot it and enter it.
Once you've entered the code, click or tap continue to receive the recovery key which will be provided in the form of letters and numbers. You will need to note it done somewhere secure physically on paper, make sure you note it down as you will be requested for it in the next step.
Two-step verification will now be enabled, so from here after your Apple ID on any new Apple device will request you to enter the second authentication box after you've entered your password requesting you the code which will be provided on the registered mobile number or registered Apple device.
How to Access the UK App Store
Once you create an Apple ID in the UK, you will need to activate the ID on Apple's App Store. That's if you haven't already entered your payment details and address. You can follow these steps to have this done.
Start by opening the App Store on any of your Apple devices.
Login using your new UK Apple ID. If you are logged into an existing account that;s not UK based then logout and login using the new set of credentials.
Now proceed to click on Account and then on Payments. Here you will be able to enter your billing information along with card details.
Once this is done, save the page and proceed to the UK App Store.
Only after completing all the above mentioned steps can you access and download paid and free content on your iPhone, iPad and Mac. When the new UK ID has been activated, you can easily switch between both registered accounts on devices such as your Apple TV and gain access to your native countries App Store as well as the UK App Store.
FAQ's
How do I get access to the UK App store?
You can only access the App store that's available in your country. If you are looking to access the UK based App store then you will have to login using a functional UK Apple ID.
Why can't I create a UK Apple ID?
You will not be able to create a UK Apple ID if you have been banned by Apple or if you already have an account using the same payment details.
Why can't I change my Apple ID country?
There are many reasons why you will be restricted from changing your Apple ID, but the most common causes are that you either have pending store credit or there's a refund that's still in process. Once these have been taken care of, you will be able to change your Apple ID.
Also Read: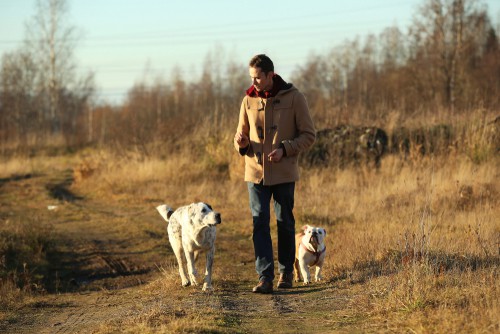 Based out of the UK, Pat is the youngest member of TheMiniBlog family and comes with extensive experience in all things Mini. He has been reviewing products for a while now and is well versed in everything related to mini gear and technology.