Smartphones are the pinnacle of consumer technology in the modern world. Almost everyone has one, and it's became sort of a requirement to function properly in the fast-paced, digital age of today.
They are Omni-tools: typically a phone, camera, computer, game console, portable workstation, and more, all rolled into one pocket-sized device.
For iPhone users, this is especially true. While smartphones from different brands and at different prices have varying capabilities, Apple's iconic iPhone line continues to innovate and revolutionize the industry, ensuring that the handheld device you use every day is far more capable than anything that has ever come before it.
Today I'm going to guide you through how to record audio with iPhone and if you're not satisfied with the built-in application, i'll list out the top 4 audio recording apps that you can download on your iPhone.
How To Record Audio with iPhone
Whether it's for a business meeting or to simply record your favorite song from the radio, it's always convenient to have a recording app installed on your smartphone.
Can I use my iPhone as an Audio Recorder?
If you're asking whether or not the supercomputer in your pocket can also be used as a dedicated audio recorder, then the short answer is: yes.
From the hardware perspective, the iPhone is more than capable of recording audio, since the built-in microphone is designed for audio input clarity and used for several primary functions like video recording, taking phone calls, text-to-speech functionality, and more.
All of that makes the iPhone – and any model or variant at that – a fully capable audio recording device with high-end audio recording hardware.
From the software perspective, there are plenty of apps out there that can turn your iPhone into a full-fledged audio recorder, starting with the built-in Voice Memos app from Apple.
Record Audio Using the Voice Memos App
When all you need is a simple and straightforward way to record audio files quickly and easily, then you won't have to look any further than the iPhone's pre-installed Voice Memos app.
With a sleek, minimalist interface and user-friendly application design, Voice Memos provides so much flexibility and utility that few people – apart from music industry professionals or professional journalists – would need anything more.
In order to use Voice Memos to record audio on your iPhone, follow the steps below:
Open the Voice Memos App – Look for the Voice Memos app on your phone – either through browsing your apps or through the Finder feature – and tap on the icon to get started.
Record Audio – Once you open the Voice Memos app, you'll see on the user interface a big red button. Press that to start recording a new audio file. Once you do, you'll see a graphical interface that represents the audio you're currently recording, saved as bars in a single audio track.
Stop Recording – Once you've recorded the audio you wanted to record, you can either Pause the recording to pick it up where you left off, or Stop the recording.
Save Your Audio Recording – When you Stop recording a new audio file, Voice Memos gives you a choice to either delete it or save it under a file name of your choosing.
Trim Your Recording – Once you have an audio file recorded, Voice Memos also gives you access to simple editing tools that let you trim your audio file and cut out any unwanted parts, or shorten extended periods of silence.
Send and Share Your Audio Recording to External Apps – Once you have your audio files looking exactly like you want them, Voice Memos also lets you send and share your recordings to external apps, including Email, Messenger, and even other recording and audio editing apps for convenience and simplicity.
Top 4 Best Audio Recording Apps for iPhone
While the Voice Memos app is powerful enough on its own, some people may require a few extra layers of functionality and versatility. After all, Voice Memos was designed for everyone, but not everyone has the same needs.
Particularly if you're a professional in the music industry, or journalist a trying to reach the highest standards – Voice Memos simply won't cut it. What you need is a professional tool with advance features that cater to your needs and the demands of your industry. 
If you're looking for a more robust alternative to the popular Voice Memos app, you'll soon find that there is no shortage of options on the App Store.
We've sifted through the hundreds of options out there to bring you our take on the best audio recording and editing tools you can download right now onto your iPhone. Check out the list below to find out more!
Auphonic Recorder
Image from Apple App Store
If you're a fan of cloud-based audio software, then you've undoubtedly heard of Auphonic, one of the best web-based audio tools available anywhere. Auphonic is an online service that provides users with a suite of professional audio editing and post-production tools to tweak and trim audio files with precision and efficiency.
Auphonic Recorder – a recording app on iOS – acts as an companion tool for the Auphonic web-service, giving iPhone users the opportunity to record and send audio files on the Auphonic platform with ease.
The Auphonic Recorder app links directly to the web service so you can record files in a simple, straightforward way, with easy access later on for post-production using a variety of professional tools.
As a recording app, Auphonic Recorder is simple and easy-to-use, with the option to record audio in either compressed (slightly lower quality, small file size) or uncompressed (slightly higher quality, large file size) formats.
Click here to download Auphonic Recorder from the App Store
Hokusai Audio Editor
Image from Apple App Store
If you're looking for an audio editor built for people who live and breathe high-quality audio – like musicians, music producers, and other professionals operating in the music industry, for example – then Hokusai is a lightweight but powerful iOS app that can turn your iPhone into a digital sound studio.
Designed for professionals, the Hokusai Audio Editor app also lets users send and share files a number of ways, including email, text, Airdrop, and even through cloud storage services like Dropbox.
As a recording app, Hokusai Audio Editor features a ton of powerful tools, but is designed so intuitively that beginners shouldn't have any trouble figuring out the very basics of how to record audio using the platform.
It provides users with the either compressed or uncompressed recording options, and comes with a plethora of high-end post-production tools include fading, normalizing, and adjusting audio gains dynamically. Plus, since it's tailored for music professionals, it's also one of the best tools for multi-track editing.
Click here to download Hokusai Audio Editor from the App Store
Lexis Audio Editor
Image from Apple App Store
Lexis Audio Editor is a powerful and versatile audio recording app that's more an audio editor than anything else. Its recording features are standard at best, but when it comes to editing capabilities, the Lexis Audio Editor deserves its spot on this list for sure.
As a recording app, Lexis Audio Editor doesn't really bring much to the table. It allows users to record audio as compressed or uncompressed depending on their needs, but where it truly shines is its high-end editing capabilities.
Lexis Audio Editor gives users a large arsenal of professional audio editing tools, including sound effects like noise reduction features, reverb, fades, and more. Its user interface is simple and intuitive, and with the ability to zoom in and out while editing tracks, users can make precision edits and trims to produce the highest-quality audio files.
Click here to download Lexis Audio Editor from the App Store
Awesome Voice Recorder X
Image from Apple App Store
Another popular Voice Memos alternative, Awesome Voice Recorder X (or just AVR for short) is a powerful and intuitive audio recording tool that caters to the needs of a variety of users, including students, professionals, journalists, creatives, and more.
Available for free on the app store (with a paid premium option to unlock some key features and get rid of in-app advertising), Awesome Voice Recorder X is a solid Voice Memos alternative that offers a few extra layers of versatility and power, and is well-suited for a variety of recording activities like note-taking, recording lectures and interviews, and even producing music.
As a recording app, Awesome Voice Recorder X definitely lives up to its name. Awesome through and through, AVR lets users record audio in either compressed or uncompressed formats, depending on their needs. It also has neat integrations with popular platforms, allowing you to seamlessly send and share your recordings via Airdrop, Dropbox, email, and more.
If you get the Pro Version, you'll even be able to work with multiple files at once, in addition to getting rid of the pesky ads you'd otherwise have to deal with in the free version.
Click here to download Awesome Voice Recorder X from the App Store
Final Thoughts
There you have it for our mini-guide on recording audio with your iPhone! Maybe you're a student or professional recording notes, lectures, and your own thought-trains? Or maybe you're a specialist in need of robust audio tools to meet the highest standards in your industry?
Either way, using your iPhone to record audio is a great and convenient way to utilize everything your smartphone has to offer, and we hope you found what you were looking for right here.
Of course, there's nothing that compares to getting dedicated tools for your craft, but unless you carry a tape recorder around with you everywhere you go (and most likely tapes to go with it) nothing can beat the accessibility and convenience of recording audio with your iPhone.
Also Read: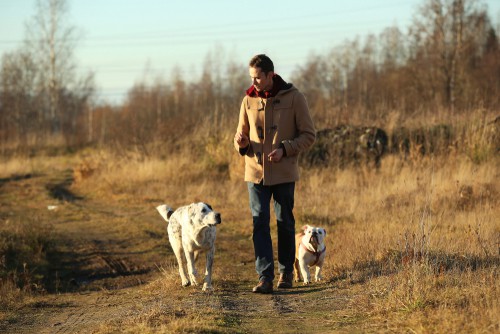 Based out of the UK, Pat is the youngest member of TheMiniBlog family and comes with extensive experience in all things Mini. He has been reviewing products for a while now and is well versed in everything related to mini gear and technology.