Apple, Inc. is getting ready to launch their best generation of smartphone yet – the iPhone 12. Featuring the latest, groundbreaking technology and the smartest new features, the 12th generation of Apple iPhones are set to take the world by storm sometime this year – presumably by September, if this leak holds any truth. However, just like last year's iPhone 11's, the newest iPhones are bound to come with a hefty price tag in exchange for the revolutionary technology that went into it.
If you'd rather not spend over $1000 on the new iPhone 12's, or if you can't wait to get your hands on these handheld technological marvels, there may be a cheaper alternative that's already available now: the iPhone 12 clones from China's supercopy market.
6.7 i12 Pro Max 3G WCDMA 1GB+4GB/8GB/16GB
iPhone 12 Latest Leaks
Image by EverythingApplePro on Twitter
While not all clones are made equal, some of the latest iPhone 12 clones to hit the market are surprisingly well-made. Following numerous leaked information regarding the new iPhone 12's – from design language to internals – copycat companies have been able to make some pretty accurate iPhone 12 clones at a much, much cheaper price. While there's no way these clones can match Apple's quality and performance one-to-one, so far, they've been able to get the design right and even get in some unexpected features.
The Latest iPhone 12 Clone
One of the best iPhone 12 clones you can get on the market today is the Goophone 12 Pro Max, which we'll be reviewing in this article. The Goophone 12 Pro Max is intended to be a 1:1 supercopy of the iPhone 12 Max Pro, which is set to be the largest and top-of-the-line variant of the iPhone 12.
We'll be checking out everything this iPhone 12 clone has to offer – from its display, to its performance, to its camera, and more.
Image from EverythingApplePro on YouTube
iPhone 12 Clone Design
The iPhone 12 Max Pro Clone we're reviewing does a great job of showing us what the official models will look like when they finally launch. Apple's going back to the basics with their latest generation of smartphones, and based on the reliable leaks regarding the design aspect, we can safely say that these clones are accurate.
The new iPhone 12s are going to have a solid box design with straighter edges compared to recent iPhones. Overall, the design does feel better in your hands – the shape contours nicely to give you a better, more secure grip on your phone. Despite being a clone and much cheaper than the original, the iPhone 12 clone we're reviewing does offer a very premium, solid feel, almost like you're holding a $1000 smartphone.
iPhone 12 Clone Display
Apple has always impressed the world with its brilliant, vibrant displays. The most recent iPhones came with Apple-made Liquid Retina displays, but this year, if the leaks are to be believed, the new iPhones will come equipped with the latest OLED displays from Samsung. While the Samsung OLED Y-Octa Display should be a huge upgrade for the next-gen iPhone, the iPhone 12 clones don't even come close.
In the iPhone 12 clone we reviewed, we got a very dim LCD screen (likely less than 300 nits of brightness) that wasn't very color-accurate, either. Based on its performance even just indoors, this screen will give you a hard time in bright, outdoor light. While it's definitely not the "worst" display we've ever seen on a smartphone, it's definitely far from being the best.
iPhone 12 Clone Performance
Image from Simple Alpaca on YouTube
iPhone clones are notorious for being a little dishonest when it comes to internal components like processors and memory. When we reviewed the Apple iPhone 11 clones from last year, we found that most clones advertised storage capacities of 256GB and up, and yet upon closer inspection, we found that the devices only contained a fraction of that amount of storage. Unfortunately, the same goes with this year's iPhone 12 clones.
In the iPhone 12 clone we're reviewing, the packaging shows us 512GB of storage, but upon checking the phone itself, we only have a dismal 16GB of storage- a mere quarter of the original iPhone 12's most basic storage option of 64GB.
We're also getting only 2GB of RAM – that's half of the base model's 4GB, and only a third of the iPhone 12 Pro Max's purported 6GB. And while the latest iPhone 12's are set to be equipped with the brand-new, super-powerful A14 chipset, this year's iPhone clones still have the same CPU they've had for years – the outdated and extremely poor-performing MT6580.
Of course, these aren't just minor differences. In terms of performance, they make all the difference. Unfortunately, these iPhone 12 clones will barely scratch the surface of what the upcoming iPhone 12's will be capable of. That said, this iPhone 12 clone will work fine, just don't expect to run your favorite games in high fidelity.
YouTuber EverythingApplePro did a great job at benchmarking this particular model using Geekbench. Check out how well this iPhone 12 clone performed in the image below, or watch the full video linked in the credits.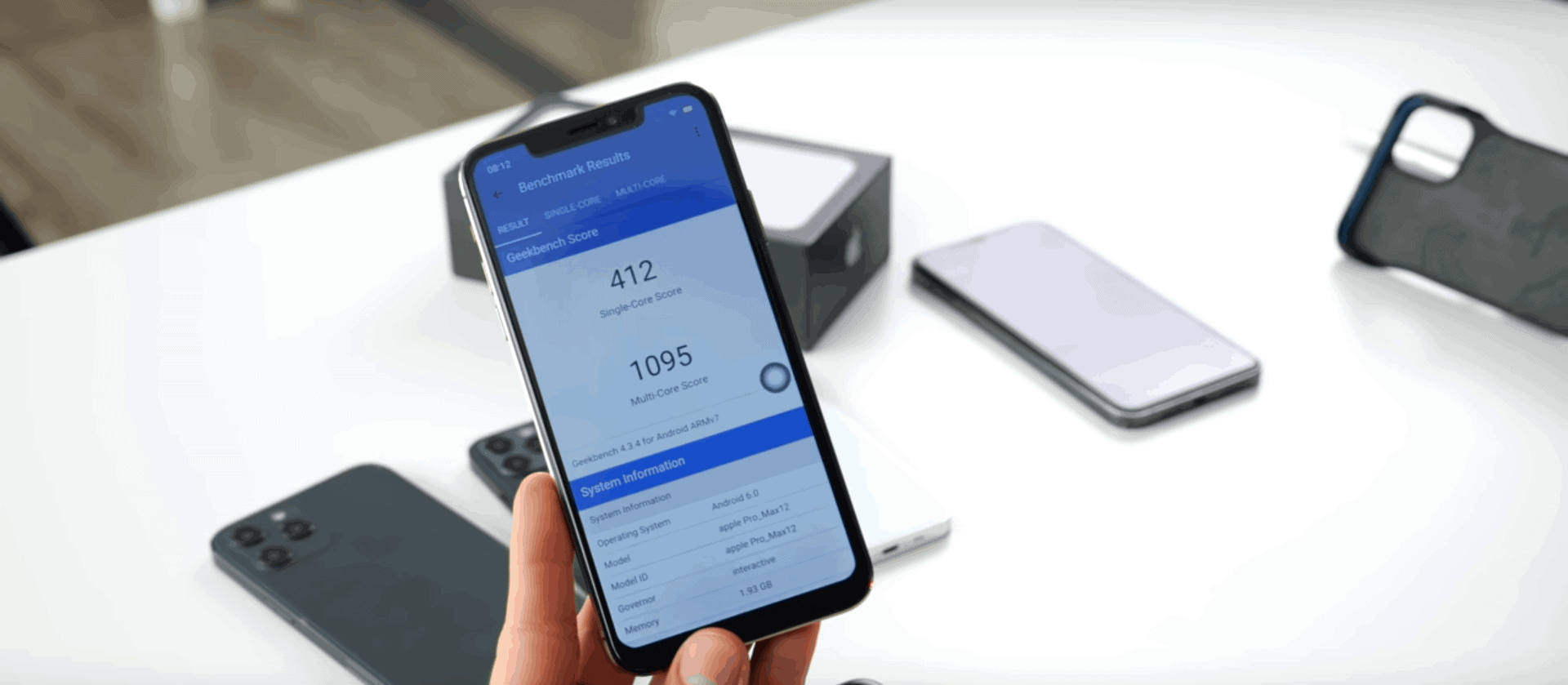 Image from EverythingApplePro on YouTube
iPhone 12 Clone Camera
Based on all the leaks, the new iPhone 12's are going to come with a quad-camera setup on the back of the phone, with the higher-end models to be equipped with a LiDar sensor for better imaging. The iPhone 12 clone we have on-hand does have the same quad-camera setup, although just like with most iPhone clones, most of these cameras are dummies.
Even though we're reviewing a iPhone 12 Max Pro clone (which should come with a LiDar sensor) it seems that this model doesn't have one. Out of the four back cameras, only one seems to be working with the other three just dummy lenses made to look like extra cameras.
Now, since we're getting only 1 camera instead of 4, and since we're most likely not getting Apple software for these cameras, the camera quality is a little underwhelming. The camera feels very choppy and the resolution isn't all that good, either. The Camera software is a little dated, and doesn't offer much in terms of usability. The camera also only features two levels of zoom up to 2x magnification.
Overall, if you're looking at the iPhone 12 clone in the hope that it will have a dynamic, high-tech camera, then don't hold your breath on this one. You'll probably get a better camera from a cheap Android phone instead of this iPhone 12 clone.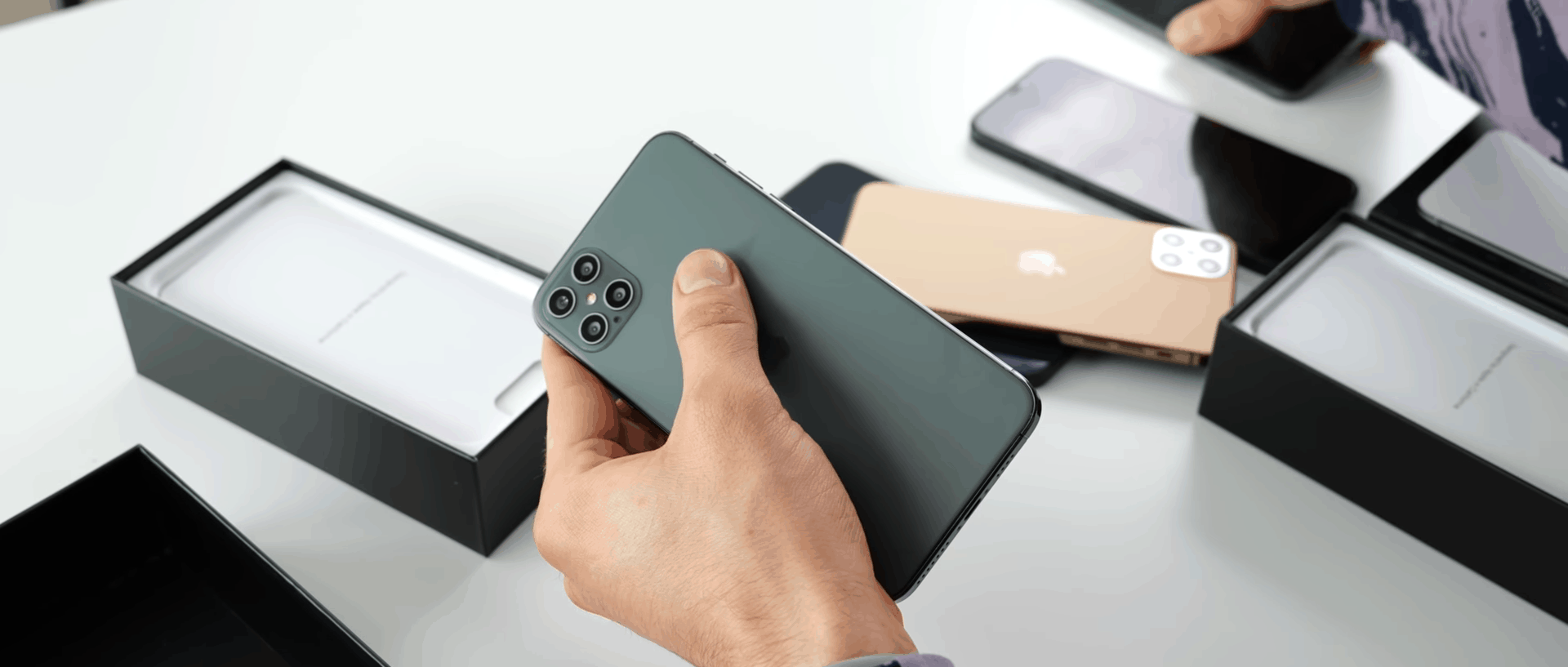 Image from EverythingApplePro on YouTube
iPhone 12 Clone Operating System
When it comes to the operating system and the user interface, the iPhone 12 clone does a good job of copying some of the latest features in Apple iOS. Of course, just like with most clones, this phone runs an unlocked version of Android made to look like iOS.
The iPhone 12 clone we reviewed says it runs iOS version 13.5, but it actually runs a much older version of Android – Android 6.0 Marshmallow. While older versions of Android may be more stable and run smoother on low-end hardware such as what's available on this iPhone 12 clone, the iOS reskin is very well-made, and you won't even be able to tell that it isn't authentic iOS at first glance. There are a few tell-tale signs, however, that lets you know you're running a "fake" version of iOS, such as certain Settings labeled "Close" instead of "Off".
Apart from the strange UI errors here and there, the fake iOS you get from this iPhone 12 clone is surprisingly good. You get a smooth interface, a functional Control Panel, and a lot of that great Apple design whenever you use your phone. There are some missing features, and of course, your apps are all actually running on Android and not iOS, but it manages to capture the Apple iPhone feel.
iPhone 12 Clone Specifications
Operating System: Android 6.0
Display: 6.7-inch LCD
Processor: MediaTek MT6580
Storage (Internal): 16GB
Storage (External): Up to 32GB
Memory (RAM): 1GB
SIM: Dual SIM
Camera: 13.0 MP
Battery: 2600 mAh
5.0MP Front Camera, Dual 12.0MP Back Camera with flashlight and Auto Focus(3 Rear Cameras, ONLY 1 Work)
Face ID, Wireless Charging, 3G WCDMA, GPS(always do not work), FM, Bluetooth, Ebook, Email, Messaging, wallpapers, calendar, calculator, clock, camera, tethering & portable hotspot, Play Store, etc.
iPhone 12 Clone Price
When it comes to price, the iPhone 12 clones have always come out on top. If all you want is a smartphone that looks and feels like an Apple iPhone without all the bells and whistles attached, then the iPhone 12 clone is your budget champion. The Goophone 12 Pro Max is likely the closest you'll be able to get to that premium Apple iPhone feel at a price tag of under $120.00.
Compared to the Apple iPhone 12 Max Pro's expected price tag of $1,149.00, you can get the iPhone 12 clone for a tenth of that price.
Fake iPhone 12 Final Verdict
The iPhone Clone market is getting better and better each year, and the latest iPhone 12 clone is a testament to that. Before Apple has even launched the iPhone 12, the Goophone 12 Pro Max has managed to capture Apple's design and offer a product that feels and looks premium. However, when it comes to performance and overall quality, these clones still have a lot to improve upon.
At under $150, these iPhone 12 clones are a great buy if you want a cheap alternative to Apple's design, but don't need nearly as much power and performance as Apple's high-end handsets offer.
Right now, you can get the latest iPhone 12 Max Pro clone – the Goophone 12 Pro Max – for under $150 at DHGate, one of the best places to shop for China-made super copies of your favorite brands.
Check our other fake reviews