Is the UK iPhone Dual Sim? Does UK iPhone 14 have a SIM card slot?
Dual-SIM phones are a lifesaver when it comes to exploiting possibilities of different networks. You can juggle between personal and work contacts seamlessly as well as activate different data and network plans for your phone. Additionally, you can have sim cards from different countries which is helpful if you are a frequent traveler.
But if you're planning on buying an iPhone then you may wonder, is the UK iPhone dual sim?
Yes, the iPhone's sold in the UK do come with dual sim technology, but only on the models post the XR as they carry a built-in eSim. You will find this on the XR, XS, XS Max, 11 Series, 12 Series and on the 13 Series of iPhone's.
Read on to find out everything you need to know about the dual sim functionality of an iPhone bought in the UK.
Recommended Read: UK iPhone versus US iPhone
Does UK iPhone 14 have a SIM card slot?
Yes they do but not a dual SIM card slot. Most iPhone models released in the past have had a SIM card slot, allowing users to insert a SIM card from their carrier to access cellular data and make phone calls. It is possible that the iPhone 14 may also support eSIMs, which would allow users to activate their phone without a physical SIM card.
Is the UK iPhone Dual Sim?
iPhones sold in the UK normally do not come with more than one Sim card slot. But newer models of the iPhone, namely the XR, XS, XS Max, 11 Series, 12 series and 13 Series offer a physical sim card slot and a built-in eSim that allows you to set up more than one network at a time.
If you're using an older model of the iPhone, then you would not be able to run two sim networks simultaneously. Instead, you can use a Bluetooth card adapter with your iPhone to run the second sim card. I'll explain more on that later on in the article.
For now, if you have a new-age iPhone, read on to figure out how you can enable and use dual sim's.
What is an eSIM?
The 'e' in eSIM stands for embedded. The eSIM is a permanent addition to your iPhone and it cannot be removed. It is soldered directly on the mother board.
An eSIM works with multiple carriers and you can change your plans without changing your SIM. So don't worry about getting stuck with the same plan throughout your phone life.
Do note if you are using two different carriers, your iPhone must be unlocked. Otherwise, both SIMs must be from the same carrier. If you want to unlock your iPhone, contact your network provider and request to unlock your phone.
Setting up your eSIM
For using an eSIM your iPhone needs to be running iOS 12.1 or later. In the UK only the EE carrier supports eSIM. For setting up your eSIM contact your carrier and explain to them what you would like to do.
After you have agreed to the terms that your data carrier has set, you will need to set up the plan. You can choose to do this manually but its more convenient if the carrier company sends you a QR code or lets you set up the eSIM through an app.
Once you obtain the QR code go to your setting menu and tap on the mobile data option. Then tap add Data plan. After this, scan the QR code that your carrier has provided you.
Instead of using the QR code, you can choose to buy a mobile data plan through the networks app. Simply download the app and purchase your desired plan.
How to Install Dual nano-Sim cards on your iPhone?
Using the sim ejector pin or a safety pin, eject the SIM tray by inserting the pin into the small hole on the side of the phone. Remove the SIM tray and place the first nano SIM on top of the tray according to the outline.
Place the second SIM on the outline below the tray.
With the SIM cards in place, insert the SIM tray back into the phone. The tray only fits in one way.
Managing your Network Plans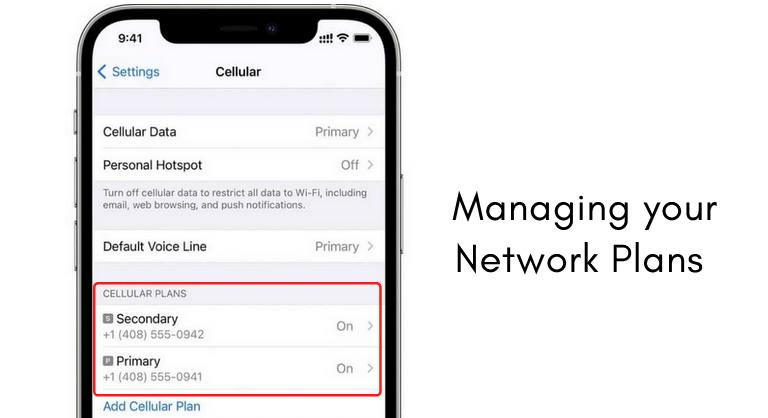 After setting up your eSIM, you will be asked to label your two SIMs for seamless functioning. This is assuming you have already installed a nano SIM in the iPhone.
The obvious choices for labeling the SIM are home and work. You can change these labels in the settings menu and clicking on Cellular data and tapping on one of the numbers and selecting data plan label.
Finally, you need to decide which of the two carriers you would like to use for FaceTime and iMessage.
Using Dual Sim's in an iPhone
You can also choose which SIM you would like to use to call or message someone who isn't in your Contacts app. For iOS 13 and above you can choose either both number's or only one.
If you want to use mobile data from both your SIM's, turn on allow mobile data switching. Depending on coverage and availability, mobile data will be turned on.
Set the Primary Sim
You don't need to worry about choosing a SIM each time you call a contact on your iPhone. Your iPhone automatically selects the number you called your contact the last time you called your contact. If you have not called that number, your iPhone will contact using your default number.
If you would like to, you can specify the number you can use to contact people. Follow the steps below:
Select the contact.
Select the preferred data plan.
Select the number you want to use to call the contact.
Making and Receiving Calls on your Dual Sim iPhone
With dual SIM, you can receive and make calls with both your numbers.
If your iPhone has iOS 13 or later installed, you can answer incoming calls with your other number when you are on a call provided your network provider supports Wi-Fi calling.
For this, you will need to enable mobile data switching on a call that is not your default data line. Make sure you contact your network provider to check for Wi-Fi calling availability and if there are any additional fees while doing so.
If your carrier does not support Wi-Fi calling or Wi-Fi calling is not turned on, then your call goes straight to the voice mail if you are already on another call. You will not get a missed call notification on your second number if voice mail is set up.
You can use call forwarding to avoid missing important calls. By doing so, you forward all calls from one number to the other. Again, check with your carriers if you rack up any additional fees by doing so.
How to Switch Between Phone Numbers
Before making a phone call, you can switch the line through which you make the call. If you are calling someone from your favorites, follow the steps below:
Select the info button. It is a blue i with a circle around it.
Tap your current phone number.
Tap your other number.
If you are using the keypad to call, follow these steps:
Punch in the phone number you want to call.
Tap the phone number you see on the top of your screen.
Select the number you would like to use.
Switch your Primary Messaging Number
You can use both phone numbers to send iMessage's or SMS. Here's how you can switch the phone number's before sending a message:
Open any messaging app.
In the top right-hand corner of the screen, tap the new button.
Type in your contact's number.
Tap your current phone number.
Tap the number you would like to use.
Switch Mobile Data Network
Only one number at a time can use mobile data. Follow the steps below to change the number that uses mobile data:
Open the settings app and then go to Mobile data option.
Tap the cellular option.
Select the number you would like to use mobile data.
If your 'Allow Mobile data switching' option is active, on a voice call that is through a voice-only number, the number switches to voice and data automatically. You can now use both voice and data while on the call.
To allow mobile data switching, follow the steps below:
Go to the setting's app and select mobile data.
Select Mobile data.
Select allow mobile data switching.
Checking the Status of your dual SIM
The icons at the top of your screen show the strength of the signal of your network carriers.
When you open the control center, you can see additional symbols regarding the status of your network.
Using a Bluetooth Sim Adapter
A Bluetooth sim adapter paired with an older iPhone will let you connect to two different networks simultaneously. These products can be found on Amazon UK and are not that expensive. In order for the adapter to work successfully with your iPhone, you will need to run on Bluetooth 4.0 and above and the iOS version should be 7.0 and above.
Basically, the adapter comes with built-in network bands and a rechargeable batter that can run for up to 3 hours on a single charge. You will need to download the app from the App Store and then pair the device with your iPhone via Bluetooth.
Once the devices have been connected, you will be able to access the device settings. From here you can enable the device and the LED light on the front of the adapter will light up green signifying the Sim card has been successfully registered.
You can now use your second sim card along with your older iPhone. The device supports up to 2 nano-sim cards apart from the one you have running in your iPhone.
What to Do if Dual Sim with e-Sim isn't Working On Your iPhone
There are many instances where either one or both sim's won't work. Luckily there are a few troubleshooting tricks you can try to resolve the issue.
Check whether both plans are active and ready to use. At times when you don't receive a signal on your iPhone it's because the sim has not been activated by the carrier as yet. Check if your documents are in place and if it still doesn't get activated within 24 hours, contact the service provider.
You will also face issues setting up an eSim on your iPhone if the plan you have opted for does not support this feature. There can be issues with network in your area which is dropping your signal strength on the device. What you can do in such an instance is to install signal boosters in your home to try and improve the quality of the signal.
There is also a small chance that your will end up seeing a No Service message on your iPhone. This happens when you are already on call with one line and is a protective feature to block other incoming calls on your device. What you can do however, is to follow the steps listed above and enable Wi-Fi calling on your secondary sim.
If your e-Sim is no working then you can try restarting your iPhone or quickly reinstalling the eSim should do the trick. You will have to reactivate the plan, so make sure you request for a new QR code from your carrier.
FAQ's
Are UK iPhone's dual sim?
Yes, certain variants of the iPhone's that were manufactured post the XR series come with dual sim capabilities where they have one physical sim card port and a built-in e-Sim for the secondary network.
How do I know if my iPhone is dual sim?
The simplest way to find out whether your iPhone is dual sim or not is by looking for the second network icon on the status bar. Another place you can check if your iPhone supports two networks is from within Settings and Sim & Network.
Is the UK iPhone 13 dual sim?
Yes the iPhone 13 comes with dual sim capabilities and can either support two e-Sim's or one e-Sim and one nano Sim.
Can I remove my e-Sim plan?
Yes, you can deactivate your e-Sim from within Settings and by visiting Mobile Data. Here you will have to tap on the name of the Sim and then click on Remove Cellular Plan.
Takeaway
Apple has finally listened to its consumer and integrated a dual SIM option for its line of phones. The versatility of a dual SIM phone gives you a lot of flexibility in terms of data plans and choosing your network carriers.
You can even install SIM's from different countries if you are a frequent traveler. Managing different messages and calls have never been easier. With the information above, all your dual SIM hassles for your iPhone 12 are sorted.
Also Read: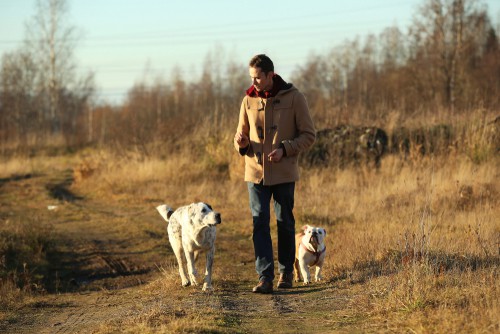 Based out of the UK, Pat is the youngest member of TheMiniBlog family and comes with extensive experience in all things Mini. He has been reviewing products for a while now and is well versed in everything related to mini gear and technology.