Most Accurate Weather App on iPhone 2022
One of the most unpredictable regions of the world when it comes to the weather is the UK, hands down. This is primarily one of the main reasons why people here keep an eye on the prevailing weather conditions using their smartphones.
Trust me, nothing comes close to mother nature's fury, especially when you're not prepared. A good weather app helps you decide whether you have to carry your raincoat to work or if you have to prepare for something more sinister, like a hurricane.
So, all you iPhone users might be wondering, "What's the most accurate weather app on iPhone?".
According to me, the most accurate weather app on the iPhone is Accuweather. It is a free to use app that provides you with a detailed 15-day forecast of the weather and even lets you view radar images, check levels of humidity, wind speed, cloud cover, wind pressure and much more all from your iPhone.
Since the market is flooded with a lot of weather apps, it's going to be tricky trying to work out which one to download on your iPhone. So, to make it easier, our team at TheMiniBlog have curated the following list of the most accurate weather apps you can use.
Take a look, you won't be disappointed.
Top 10 Most Accurate Weather App for iPhone
Features
Information
Accuweather
Hurricane Tracker;
Realvue Satellite Map;
Impact maps;
15 day advance weather forecast;
UV Index;
RealFeel Temperature
Compatibility: iOS 13.0 or later;
File Size: 138.4MB;
Price: Free (In App Purchases)
BBC Weather
At a Glance Forecasts;
Hourly, Daily and Weekly data;
Chance of Precipitation;
Feels Like Temperature;Social Integration
Compatibility: iOS 13.1 or later;
File Size: 128.5MB;
Price: Free
Met Office Weather
Real time Severe Weather Warning;
Hourly, Daily and Weekly data;
Instant notifications;
Warnings for Snow, Thunderstorms, Lightning, Rain, Ice, Fog and Heavy Winds
Compatibility: iOS 12.0 or later;
File Size: 62.1MB;
Price: Free (In App Purchases)
Yahoo Weather
Detailed Forecasts;
Animated Weather Modules;
Daily Notifications;
Interactive maps: Radar, Satellite, Heat and Wind
Compatibility: iOS 13.0 or later;
File Size: 85.1MB;
Price: Free
Dark Sky
Weather Animations;
Widget Compatible;
Time Machine Functionality;
Apple Watch Compatible
Compatibility: iOS 11.0 or later;
File Size: 44.2MB;
Price: £3.99
Carrot Weather
Detailed Weather Maps;
Daily Notifications;
Home Screen Widget;
Customizable User Interface
Compatibility: iOS 13.0 or later;
File Size: 138.2MB;
Price: Free (In App Purchases)
MeteoEarth
3D Maps and Globe;
Interactive 24 Hour Forecasts;
Apple TV Connectivity;
Track Typhoons and Hurricanes
Compatibility: iOS 10.0 or later;
File Size: 73MB;
Price: Free (In App Purchases)
The Weather Channel
2 Week Forecast;
Notifications for Extreme Weather Events;
Medical and Viral Information
Compatibility: iOS 14.0 or later;
File Size: 221MB;
Price: Free (In App Purchases)
Weather by Weatherbug
Track any Weather Condition;
Multi-Language Support;
Notifications for Severe Weather Events;
Traffic and Satellite Maps
Compatibility: iOS 10.0 or later;
File Size: 204.8MB;
Price: Free (In App Purchases)
Weather Underground
250,000 Weather Stations;
Local Conditions;
Severe Weather Alerts;
Feels Like, UV Index, Local Flu Outbreaks
Compatibility: iOS 14.0 or later;
File Size: 93.5MB;
Price: Free (In App Purchases)
Recommended Read: Where to buy a refurbished iPhone in the UK
Top 10 Most Accurate Weather App on iPhone UK
Accuweather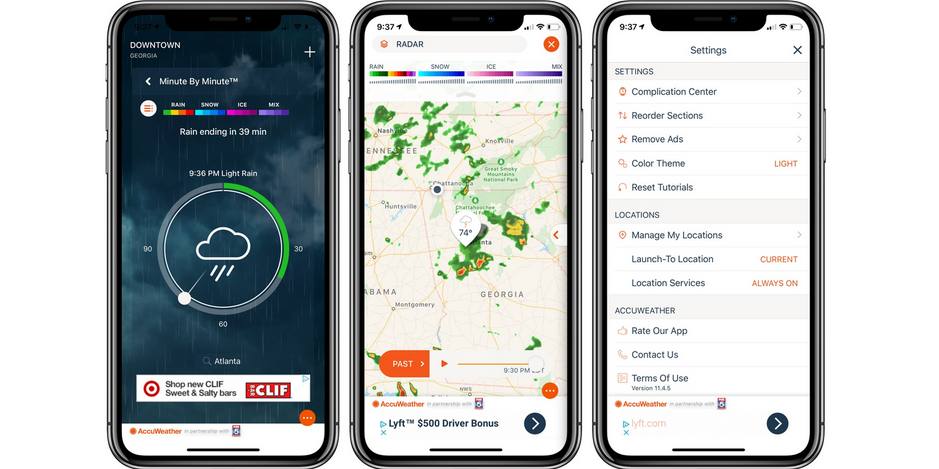 Accuweather is one of the most accurate weather apps in the UK and has been one of the top apps for weather observers for over 5 years now.
This weather app is available for iOS devices and you can either download the free version and get bombarded with ads or you can invest in the ad-free version on either a monthly basis or yearly.
Accuweather is beautifully designed and has a streamlined and easy-to-navigate user interface. The app provides hourly, daily and even 15-day weather forecasts allowing you to plan out your activities well in advance.
Like many other apps on this list, Accuweather will alert you when there's a severe change in weather and you can even look at other vital stats such as cloud cover, UV index, precipitation, AQI and a live radar.
BBC Weather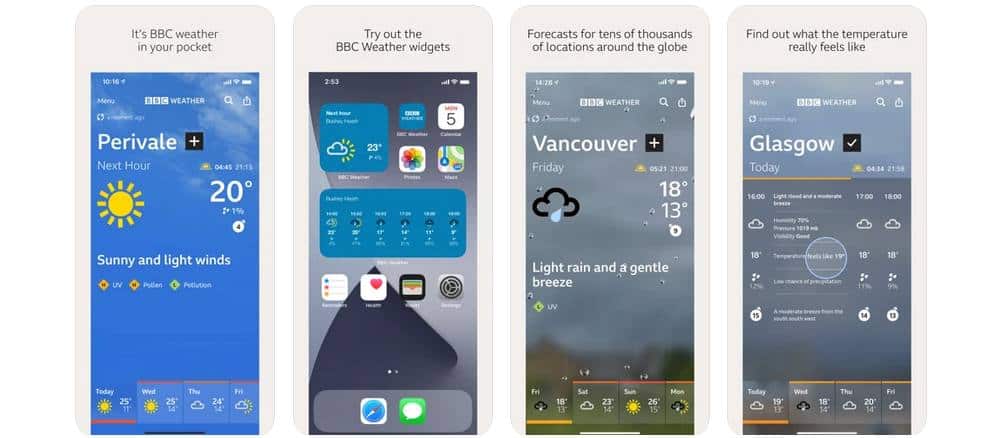 The BBC weather app was first launched in 2013 and is one of the most popular apps in the UK. No matter where you are, this app gives you the highlights and relevant information you'll need before heading out.
As with typical weather apps, the BBC weather app lets you get all the latest weather updates at a glance and even features hourly and 14 day forecasts. Built-in to the app is a Chance of Precipitation tool that will keep you informed on whether there's going to be hail, snow or heavy rain.
BBC weather even comes with a Feels Like mode that takes into account the wind speed and humidity to provide you with an accurate reading.
Another feature of the BBC weather app that's not available on most others is the personalized weather feature which lets you run a weather chat with your friends by sharing your forecasts on sites like Twitter and Facebook.
Met Office Weather
By far one of the most accurate weather apps for the iPhone in the UK is the Met Office Weather app. The reason why you can rely on this app is because it was created by the UK's own National Weather Service.
The app lets you view weather forecasts from between 24 hours up to 7 days ahead and one of the most noteworthy features is the interactive rainfall map. With built-in severe weather warning alerts, you will never have to worry about getting blind-sided by sudden snow, fog or rain, ever again.
You can even use the app to check air pollution forecasts, UV levels, visibility, wind pressure and humidity. It's also known for accurate forecasts and features a personalizable feed that you can use to set certain factors you want to keep an eye on.
Currently, the Met Office Weather app for iPhone's running on iOS 14 and higher comes with a weather widget that you can download and position on your Home Screen.
Yahoo Weather
Yahoo Weather is a free to use app on the App Store that does exactly what you expect – provide you with detailed weather forecasts. It's a sleek app with an informative user interface that alerts you when there's a severe change in the weather.
It's one of the few apps on this list that features an interactive radar, satellite system, heat and wind maps. There are a range of forecasts to choose from and you can decide on whether you want the forecast for the next 24 hours or for the next 5 days.
Since it's a simple app with down-to-earth features, I would recommend downloading one that offers more. But considering that it's free to use, it's one app that you must try out. Unfortunately, there's no paid version, so you're going to be bombarded with pesky ads.
Dark Sky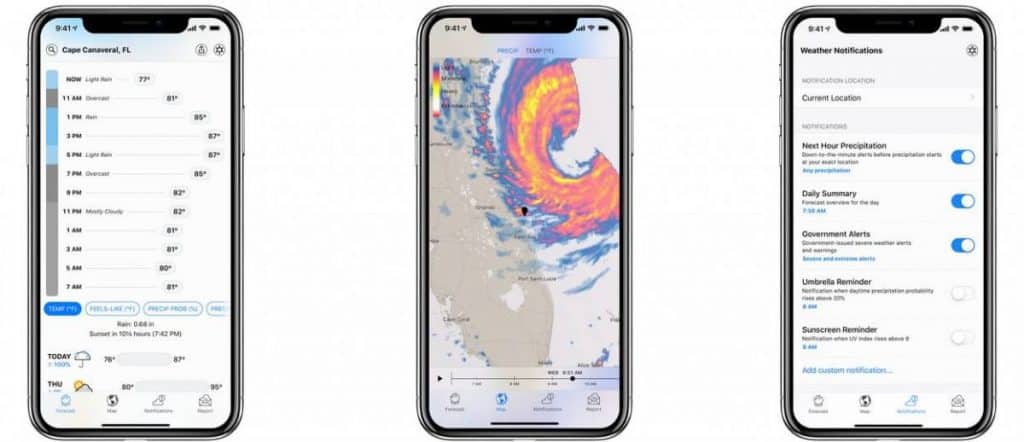 Dark Sky is one of those weather apps that notifies you when there are any changes in the prevailing weather conditions. It's a paid app and is one that keeps you updated in real-time. Dark Sky comes with a built-in feature that lets you scan the world for the most intense weather spots.
The app features a simple user interface and all the options you'll need are located in the footer so everything is easily accessible. Apart from all this, the app lets you view the weather forecast for the next day up to 12 days at a stretch.
While most weather apps let you view the weather for your current location, Dark Sky lets you access the weather conditions of any location around the world. Unfortunately, there is no free version of this weather app for the iPhone, but it is considered to be one of the most accurate weather apps to download this year.
Carrot Weather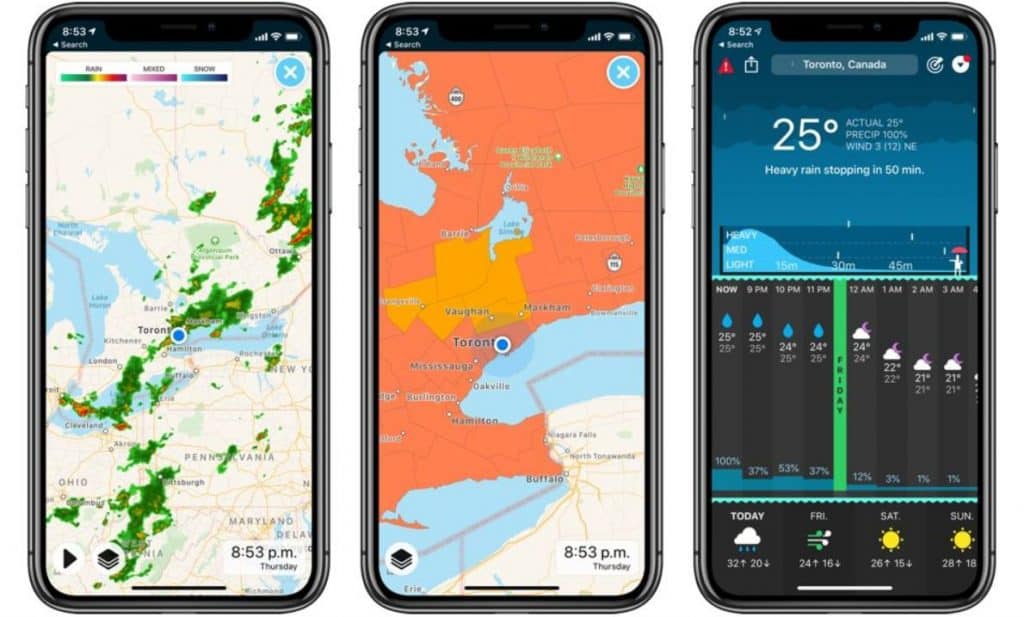 Carrot Weather is an insanely powerful app that provides you with an extensive list of news and weather updates to view. This app is a professional grade weather app that is accurate in its predictions and has 5 personality types you can choose from.
Apart from this, Carrot weather is the only app to feature a Time Travel feature that you can take advantage of and view the weather conditions from either 70 years in the past up to 10 years in the future. Pretty cool right?
It's minimalistic design is the icing on the cake as it's super efficient in terms of weather updates and forecasts. The app also gives you small challenges where you need to find famous landmarks such as Chernobyl or the Great Pyramids of Giza, interacting with you as you work.
Finally, Carrot Weather is one of the few weather forecast apps to feature a built-in AR that lets you bring the prevailing weather conditions indoors. All-in-all it's a good app with fun-filled features, and though it's free to download, there are multiple subscription plans to choose from the features you want unlocked.
MeteoEarth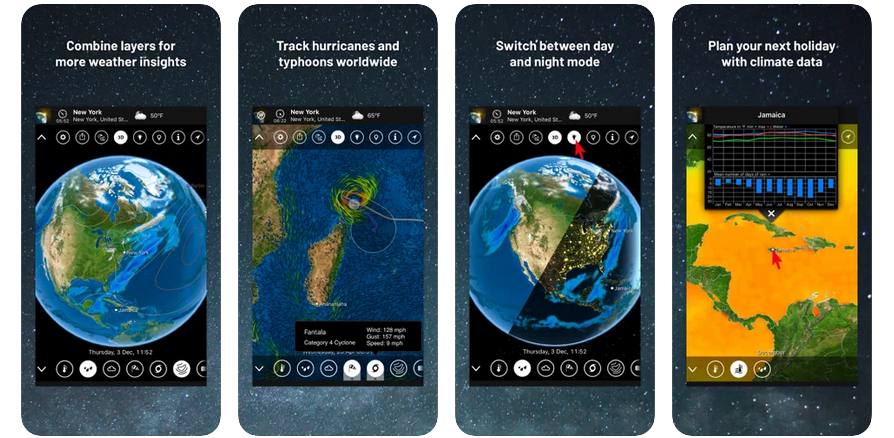 MeteoEarth is one of the most spectacular full screen weather apps we've had in a really long time. It features the same broadcast tool that's used by TV news channels and will display a map in either 2D or 3D that provides you with information such as precipitation, wind speeds, temperature and so on.
MeteoEarth may be an accurate weather forecast app for the iPhone but it surely is an overkill when it comes to the amount of information displayed on a single screen. When you open the may, you will be presented with a timeline slider that you can scroll through and figure out what has changed in the weather over a certain period of time.
As with any weather app, MeteoEarth uses your current location information to determine the exact information to relay. It will provide you with detailed notifications on your iPhone and  you wouldn't have to open the app unless you really had to. It's free to download on the App Store and is one of the most underrated weather apps out there.
The Weather Channel
The Weather Channel is a pretty famous weather news and forecast platform that has been considered to be one of the best and most accurate weather providers around. The app is no less impressive and receives timely updates to the software so the data that's collected is always accurate.
With this app, you can choose between live weather reports for your area or you can check the forecast for the next fortnight. What's great about the Weather Channel app is that it informs you about any flu or cold reports in your area and provides you with medical grade advice on how to stay safe.
For those living in areas that are subjected to extreme weather conditions, this app will help you stay on your toes with its live radar alerts and safety advice. It's been known to help you out during situations such as floods, wildfires and snowstorms.
It lets you share current forecasts via the social sharing features and  you can keep your family and friends in the loop in case some severe weather is on the way. It's a free to use app but with limitations. In order to get the most out of this app you will have to pay for either a monthly or yearly subscription.
Weather by Weatherbug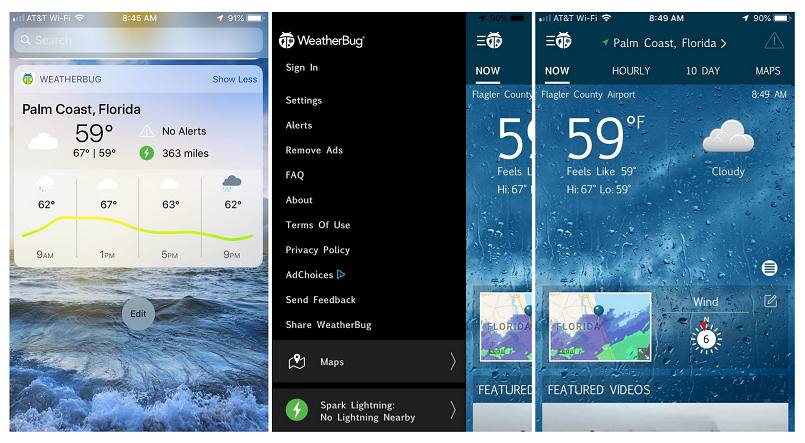 Weather by Weatherbug is one of the most accurate weather apps to download on your iPhone. It's considered to be extremely accurate since it's the only app that collects data from over 10,000 professional weather stations and can provide you with real-time weather forecasts for every city across the UK and every city in the world.
Designed to be an all-rounder, the Weather by Weatherbug is perfect for every type of adventure enthusiast out there. It comes packed with a 10 day snow forecast with real-time snow storm alerts, a Storm tracker that notifies you when there is a Thunderstorm approaching and there are even Lightning strike alerts that let you know if any area within a 10km radius of your location was struck by lightning.
It's available on the App Store for free, but as with any free app that we've seen, there are a ton of ads. So it's better to opt for their £0.99 monthly subscription plan and you're good to go. There's even a weather widget you get access to once you download this app. You can position that widget on the Home Screen so you'll never have to open the app again.
Weather Underground
Owned by IBM's The Weather Company, Weather Underground is one of the best weather apps for iPhones if you're looking for something that has plenty to offer. It provides you with accurate and real-time hyper-local predictions and smart forecasts to keep you updated at all times.
The app offers detailed storm tracking capabilities, air quality and temperature gauges, satellite and radar images and most importantly, is pretty accurate that they've received awards for their app.
It's free to use and does come with a few subscription options as well. It has everything you need to keep yourself updated about the weather in your current location. The data has been collected from well over 25,000 weather stations around the world to provide you with the most accurate data.
There's even a section of the app where you can choose the forecast duration and set whether you want the data for the current day, hour or up to 10 days ahead.
Takeaway
The best and most accurate weather app for iPhone is Accuweather. It's a well known app that is pretty accurate in terms of weather forecasts and data related to prevailing weather conditions. It's free to download but is loaded with ads and if that's a major turn off then BBC Weather is ideal for those living in the UK.
A simple suggestion would be to check what each app offers and what you want from them. Based on that, picking the right app will be easier. Since all these apps listed deliver precise information, any one of them would be good for you.
Also Read: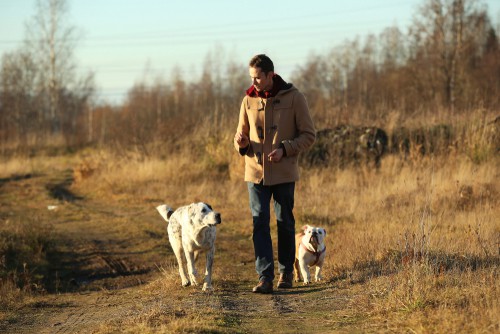 Based out of the UK, Pat is the youngest member of TheMiniBlog family and comes with extensive experience in all things Mini. He has been reviewing products for a while now and is well versed in everything related to mini gear and technology.