Piolo is a handy little gadget that allows you to watch a film, podcast or chat on Facetime – completely hands free.  We believe that good design is as little design as possible so Piolo is slim and weighs only 3.1 grams.  It's small enough to fit on your keyring or pop into your pocket, allowing you to take it wherever you and your iPhone go.  It's exclusively for Apple iPhone 4.
Check out our accessories review here
Best iPad Keyboard Alternatives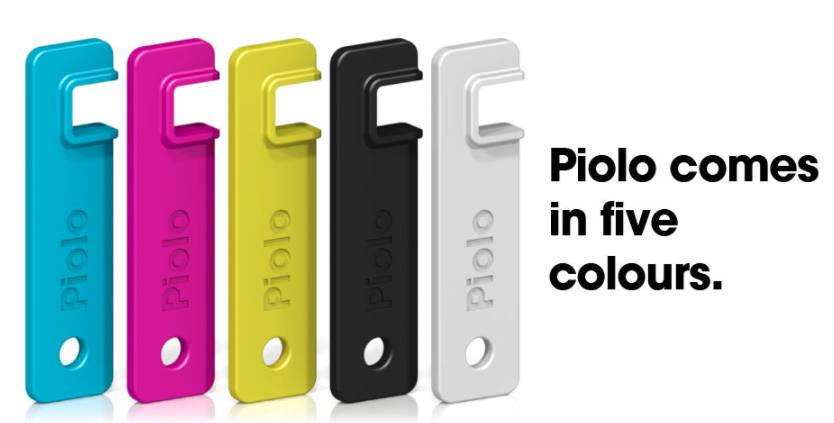 Can I charge my iPhone while using Piolo?
Yes you can as long as you use your iPhone in landscape view.
Can I use my headphones at the same time as using Piolo?
No problem! Piolo does not cover up the headphone socket or speakers or any other important features.
Can I use it for FaceTime?
Yep.
Can I use the Piolo if I use a bumper or case?
Piolo is designed only for use with iPhone 4 straight out of the box.
Can I have a Piolo in a different colour?
We will make some new colours soon. If you want to see Piolo made in a particular colour please tell us.
Can I use the Piolo with a 3GS, iPod or another smartphone?
No. Currently we just make Piolo for iPhone 4 and 4S.
What are the images you've used on the slideshow?
The images I've used on the homepage slideshow are from stuff we've really enjoyed on the iPhone. The first slide is the young Wilderness Explorer Russell from the awesome Pixar film Up, the second is Iron Man, then the Jamie's Recipies app, District 9 and the brilliant Oscar winning animation Logorama. All are available on iTunes.
What is Piolo made from?
It's made from a thermoplastic elastomer which is a mix of plastic and rubber. It means the Piolo has a matte finish, won't scratch your iPhone and is really tough and a little bit bendy. Many Piolos have a swirly texture on the surface from the moulding process and if you are unhappy please get in contact to let us know and we can arrange a refund or exchange.
Can I recycle it?
You certainly can or you could give it to another iPhone 4 owner.
Some helpful tips.
Piolo is not a toy so please don't give it to young children. Also please don't eat it no matter how hungry you are.
Technical Information
Material – TPE
Overall dimensions – 65mm x 17 x 7mm
Portrait angle of view – 75°
Landscape angle of view – 45°
Weight – 3g