Top 10 Fake Apple Pencils 2023 | Cheap and Good Stylus for iPad Pro
Apple Pencil alternatives are very common these days. You can get one easily at a fraction of the price of the real apple pencils. When we say fraction it literally means fraction like one fifth to one tenth of the prices of authentic ones.
Do fake Apple pencils work?
There are many fake Apple Pencils available in the market, and while some of them may work, they are not guaranteed to work as well as the genuine Apple Pencil. The fake Apple Pencils may have compatibility issues with certain devices, may not have the same level of precision and accuracy, and may not have the same battery life as the genuine Apple Pencil.
Additionally, using a fake Apple Pencil may void your device's warranty. It is always recommended to purchase genuine Apple accessories to ensure the best performance and compatibility with your device.
Check out our take on the top 10 fake Apple Pencils that you can buy today.
Gen 2 Smart Active Stylus Apple Pencil
Recommended Read: How Apple Pencil Works
How to Choose the Best Fake Apple Pencil?
When choosing a fake Apple Pencil, there are certain things to look out for.
Design – If you're going to use a fake Apple Pencil with your iPad, you need to ensure that it is well designed and ergonomic. Just because these fake Apple Pencils are cheap and affordable doesn't mean that they all offer the same level of comfort. Make sure the Pencil has added grip and is practical. You can find triangular, flat and even cylindrical Apple Pencil replicas in the market. So make sure to find one that best suits your requirements.
Additional Features – Keep an eye out for additional features such as palm rejection, tilt sensing, pixel perfect precision as these bonus features will let you take on a lot more tasks and will make your whole experience better.
Price – Original Apple Pencils are expensive and you will save a load of money if you buy a fake Apple pencil. Make sure you're getting your money's worth when buying a fake Pencil and ensure the pencil you choose checks all the boxes of the top fake Apple Pencil.
Top Apple Pencil Alternatives
#1 – Logitech Crayon
To all iPads (2019 up till 2022), Logitech Crayon is a digital flexible and pixel-precise pencil that helps you to empower your creativeness.
Since Apple supports it, the Logitech Crayon operates well with your iPad smoothly. It also provides one of several best experiences of palm rejection that is much better than any of the cheaper alternatives of Apple Pencil.
The Crayon also gives an outstanding battery life of seven hours. By just 2 minutes of charging it, Logitech Crayon promotes fast charging, providing you 30 minutes of use.
Also, Logitech Crayon doesn't hold much pressure in sensitivity. But, adjustments can still be done by simulating the pressure you'll use.
Pros
Equipped with a smart nib
Flat design, easy to hold and highly durable
Tethered cap
Palm rejection / tilt sensor
Long lasting battery
#2 – Adonit Note+
The Adonit Note+ is the perfect Apple Pencil alternative to buy if you're a graphic designer or a digital artist. It offers the same level of functionality as the Logitech Crayon and comes fully loaded with palm rejection as well as tilt support and a pressure sensitivity of 2,048.
This fake Apple Pencil is designed for shading and is compatible with nearly every single iPad app on the Store. You get roughly 10 hours of runtime with this pencil on a single charge and it comes with a USB-C charging port that you can use to recharge the built-in battery when the time comes.
One of the main reasons why you should consider buying the Adonit Note+ is that it's compatible with all 11″ and 12.9″ iPad's, so regardless of the model you own, you can use this fake Apple pencil and access a whole range of features.
It's designed without any magnetic features so it can't be placed on your iPad. But it does offer decent grip while using it with the iPad.
Pros
Pressure sensitivity of 2,048
24 hours battery life
Palm rejection / tilt sensor
Cons
No magnetic charging capabilities
#3 – Penoval Stylus Pencil
The Penoval Stylus Pencil is compatible with all iPad models and is smooth to use. This Fake Apple Pencil does not come with Bluetooth and will you require any driver software on the iPad for it to work. All you'd have to do is simply click on the power button and begin drawing what comes to your mind.
This iPad Pencil comes with palm rejection technology so you can comfortably rest your wrist and palm on the screen without worrying about it causing stray lines across what you're working on. The nib on the Penoval stylus is a replaceable 1.5mm POM tip that offers no lag, scratches or breaking points but precise and accurate drawing and writing.
It even comes equipped with fast charge technology so you can charge the stylus for an hour and will be able to use it non-stop for over 12 hours.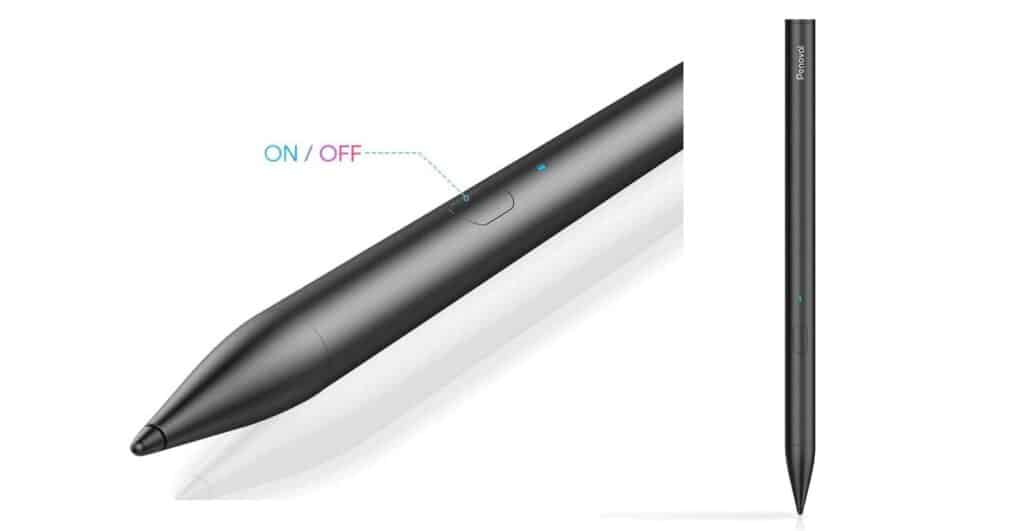 Pros
Replaceable nib
Palm rejection technology
Fast charging capabilities
12 hours battery life
Cons
Does not come with Bluetooth so can't be paired with other devices.
#4 – 9th Gen Smart Active Stylus Apple Pencil Clone – Best Fake Apple Pencil
This is one of the most detailed Apple Pencil clone out there and the best part about it is that it's compatible with all iPad models. It comes with a 45mm nib for smooth writing and offers impressive precision while drawing. Since it's a replica of the Apple Pencil Gen 2, you're able to magnetically attach it to your iPad Pro and wirelessly recharge it.
The Pencil uses a large capacity built-in battery and will take hardly 1.5 hours to recharge while providing you with over 20 hours of use time per charge.
The 9th gen Smart Active Stylus does not require Bluetooth to work and would simply need to be charged and used straight out of the box. You're even able to charge the stylus using a Type-C USB cable. It is even equipped with Palm Rejection technology so you can freely rest your hand on the iPad and draw without having to worry about any stray lines.

Pros
Impressive precision while drawing
Magnetic charging capabilities
20 hours of battery life
Can be charged with USB-C cable
Palm rejection technology
#5 – Meko Stylus Pencil
Like the Mixoo2-in-1 stylus, the new MEKO Universal Disk stylus features the two tip options which are a smooth input fiber tip and a more precise disk tip.
The not-quite smart stylus has no connectivity choice or a responsive pressure tip, but it functions without fail with all touch screen phones. And there is not an entire great deal of difference between Mixoo and MEKO styluses, your choice will rely mainly on your preference for grip.
Like the Mixoo stylus, the MEKO stylus has a rubberized grip, but on the thicker side, the body lays on that. And if you're someone who likes a thicker pad, you'll probably prefer the MEKO stylus than the Mixoo stylus. The MEKO stylus kit also contains two styluses and six replaceable tips that can be exchanged according to your needs.
Pros
Functions on all touch screen devices
Rubberized grip
Replaceable nibs
Budget-friendly
Cons
No pressure sensitivity
Basic functionality
#6 – Adonit Mark Stylus Pen
The Adonit Mark stylus pencil is one of the best fake Apple pencils you can buy. It an extremely budget friendly pencil that is super easy to use and does not require you to connect it with your iPad.
It is an ergonomically designed Pencil that comes with a triangular roller tip design and is pretty durable. This pencil is compatible with a range of iPads and features an anti-roll design that keeps the nib right where you leave it.
The nib is made of a durable mesh material that provides you with a smudge-free drawing experience and has been built to last for a long period of time even with rough use. Since it acts as a stand-alone stylus, this product does not come with any sensors or magnetic charging strip.
Considering the price, you can't expect to get much out of it. What I can say is that this is an extremely precise pencil that is perfect for those art students who are on a budget and can not afford the real Apple Pencil.
Pros
Affordable
Comfortable to use
Triangular roller tip design
Durable mesh construction
Cons
Does not have a magnetic charging strip
No built-in sensors
#7 – Misfun Pencil
The next fake Apple Pencil to be featured here is the Misfun Pencil. Not only does it have a similar look and appearance as that of the real Apple Pencil, but it is the only duplicate Apple Pencil to come with tilting sensors.
This tilting capability allows you to draw flawlessly on your iPad and reduce the chance of smudges or blurs forming. The sensor changes the outline thickness depending on how much pressure is applied while drawing.
The Misfun Pencil comes equipped with a built-in rechargeable battery that offers an astounding 20 hours of run time from a single charge. Simply, plug in the USB cable and wait for around 1-2 hours for the Pencil to get recharged.
What's more, this Pencil comes with an additional nib in the box that can be utilized when your current nib has run its course.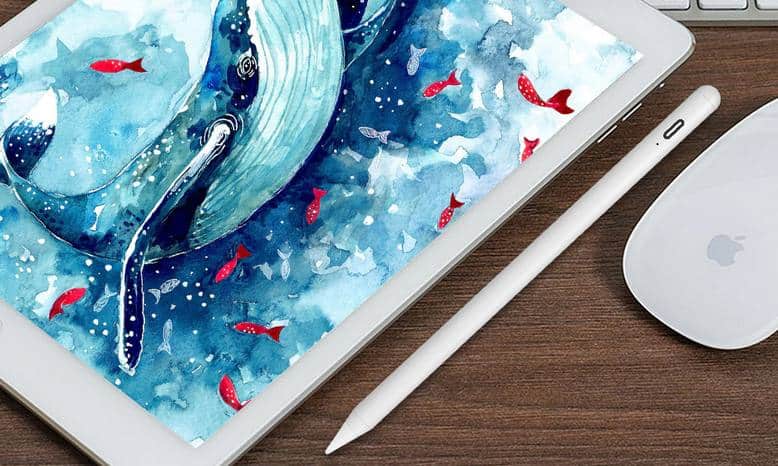 Pros
Equipped with tilt sensors
Built-in rechargeable battery with 20 hours run time
Replaceable nib
Additional sensors for pressure
Cons
No magnetic strip
USB-C charging
#8 – Gen 2 Smart Active Stylus Apple Pencil (Latest)
The brushed aluminum frame and elegant, ergonomic nature of the stylus describe their aesthetics as an iconic multimedia device. The new unique stylus is intended to be a natural tool that is even more comfortable to use. A special thick grip model ensures that writing is smooth and relaxed, never feeling tired when being used. NO SENSITIVITY PRESSURE.
The electronic pen offers the precision you want and superior power and traction to tablet screens. It is associated with most capacitive-screened computers, such as Apple iPads, iPhones, Samsung tablets, smartphones, etc.
The iPad pen makes continuous use for 9 hours while in 60 minutes it is fully charged. After 5 minutes of inactivity, intelligent sleep and auto power off ensures energy savings, safety, and long life.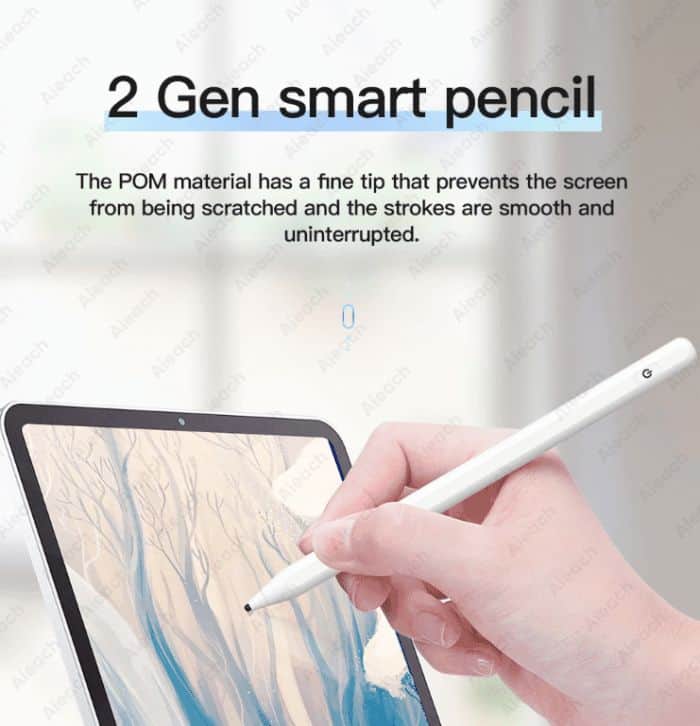 Pros
Comfortable to use
Thick grip
Supports all touchscreen devices
9 hours battery life
Smart sensors; sleep, energy saving
Cons
#9 – Gen 1 Stylus Fake Apple Pencil
Slim stylish and competent, it gives you a real sense of writing, a creative device unmatched by other strategies to work on a computer. Use your electronic device with ease and increasing its capabilities.
Integrating an ultra-fine pen point into the stylus allows you to pick tiny icons, tap on a small alphabet, and give you the exact choice. It has never been easier to write, draw and create material.
Unlock the artist inside! With a USB charging port and built-in battery, 10 hours of active use and only 1-2 hours of charging are possible. The pen will automatically switch off every 30 minutes with the smart power-saving feature.
Pros
Ultra fine nib
10 hours battery life
Smart power saving feature
Easy to use and durable
Cons
USB charging
No magnetic strip
No additional sensors
#10 – Suntaiho Pencil 2
Another fine fake Apple Pencil for the iPad is the Suntaiho Pencil 2. This device is one of the best pencils to own especially if you're on a budget and want features such as magnetic charging and anti-friction gloves.
This stylus is equipped with a 1.45mm extendable fine tip nib that lets you draw and write smoothly on your iPad. You can choose between replacing the magnetic cap and either switch it with the rubber tip or the soft rubber tip.
This Pencil is not only compatible with iPads but with every type of touch-screen device irrespective of the operating system. The product comes with a free protective bag, anti-friction gloves and extra nibs in case you wear out the ones you currently have.
Pros
Equipped with an extendable nib
Magnetic cap can be replaced
Magnetic charging
Anti-friction gloves
Affordable
Cons
Can't easily store it in your pocket
Could have offered pressure sensors and tilt sensors
Buying Apple Pencil Alternatives from AliExpress
AliExpress is still a better platform to go to for all these apple alike products. We do love this top store for all variations of fake apple pencils. Check them out!
Apple Pencil Alternatives with Palm Rejection
Fancy a stylus that solves the issue of palm touching?
Not all iPads are compatible.
So check below to see if this pencil suits.
Only available for iPads launched in 2018/2019/2020/2021
Designed for iPad 6th Gen 9.7″ 2018 / iPad 7th Gen 10.2″ 2019 / iPad Air 3rd Gen 10.5″ / iPad Pro 11 2018 / iPad Pro 12.9 3rd Gen 2018 / iPad Pro 11 2020(2th gen) / iPad Pro 12.9 2020 (4th Gen)
Not applicable for
iPad mini 1 2 3 4 / iPad 2 3 4 / iPad 5th Gen 2017 9.7 "/ iPad Air 1 / iPad Air 2 / iPad Pro 10.5" / iPad Pro 9.7 "/ iPad Pro 12.9 1th 2th gen 2015 2017.
FAQ's
How Do I Check if My Apple Pencil is Fake?
If you're using an Apple pencil on your iPad you can check to see if it's fake by opening Settings > General > About and click on Apple Pencil. Check the model number of the pencil if it's not registered then it's most probably a copy.
Will a Fake Apple Pencil Ruin my iPad?
The problem with fake pencils or stylus is that there are chances of the nib damaging the screen. This will happen if the pencil or stylus you're using is of sub-standard quality.
How Long Do Fake Apple Pencil Nibs Last?
Well, the average life-time of the original Apple Pencil Nib is around 4 months so the nibs on the fake Apple Pencils may last around the same time-frame but it depends on how often and how rough you use the Pencil.
Are Apple Pencils waterproof?
Not all Apple Pencils are waterproof and you will need to carefully check the box and product description to see if the pencil is waterproof or not. However, if the Apple Pencil is not waterproof and you still manage to get it wet, turn it off and refrain from using it for a couple of days. Dry the Pencil and then try using it on your iPad.
What is the average battery life of a fake Apple Pencil?
The battery life of a fake Apple Pencil depends on the make and model of the fake pencil. You will be able to find fake Apple Pencils that offer a runtime of up to 20 hours from a single charge whereas there are a few that won't work for more than 6-8 hours.
Apple Pencil tips and tricks
To help protect the screen don't press too hard with the stylus onto the screen, inputs will be picked up anyway, in fact, the iPad understands how hard you're pressing and many drawing apps will therefore adjust the mark left depending on the amount of pressure.
If you have the first generation pencil, it sticks out at an angle when you charge it with just the connector attached. So it is recommended to leave the iPad on a flat surface, out of the way when charging the Pencil to avoid breaking the connector.
You can also replace the white nib of your Apple Pencil once it's worn out. It is easy to replace too. Just unscrew the old nib from the Pencil and replace it with a new one. New tips from Apple are 19 USD for a pack of 4.
Once you have got your Apple Pencil going, you will need a good app to go with it in order to get the best sketching or drawing experience. Some of the best you can get out there right now are Sketchbook, Pixelmator, Tayasui Sketches, and Krita.
If you have not got an Apple Pencil for your iPad yet and are looking to get one, the link for both generations of the Apple Pencil is given below. Keep in mind that if you have a 2015, 2016, or 2017 iPad Pro, or a 2018 9.7-inch iPad, you will need to pick up the first generation Pencil. If you have a 2018 iPad Pro or newer you will need the second generation Pencil.
The current price for the Apple Pencil first generation is 99 USD, and 129 USD for the second generation Apple Pencil.
Read also:
Tyrone Young is an award-winning author, researcher and the founder of TheMiniBlog. He has been a content marketer for over 10 years and his main goal is to provide readers with quick hacks, guides and reviews on everything Mini. Based out of the UK, Tyrone likes to take long walks on the beach and take care of his two puppies when he's not busy writing.