Best Mini Portable Photo Printer UK | My Honest Review
If you're an avid traveler who loves taking photos of the places you visit, then you might know by now that big and bulky printers do not make ideal travel mates.
So, which is the best portable mini photo printer you can buy?
Quite like other technological improvements, printers have now gotten smaller and lighter with there being a ton of options to choose from. Whether you need to print photos, labels or invoices, you can find one online that can easily get the job done.
Based on our tests and personal experience, the best mini photo printer is the Canon Selphy Square QX10. This rather compact and simple looking printer delivers life-like print quality and each print can last for many years without loss in quality. It's affordable, can be paired via Wi-Fi, comes with a smartphon app to edit photos and is available in 4 colors.
Today, I'll cover the best mini photo printer UK and will list out ones that are compatible with smartphones, cameras, laptops or tablets depending on where your photographs are saved.
These mini printers come equipped with wireless capabilities that allow you to either use Bluetooth, NFC or WiFi to get the job done and are currently some of the most popular mini printers online.
Let' take a look at the top 7 Best Mini Photo Printer UK:
Recommended Read: Best Mini Projector UK
UK Mini Photo Printer – Buyer's Guide
When it comes to picking the best mini photo printer, there are a couple of factors that you have to take into account simply because each photo printer is unique and not all are the same.
Though most of these features might seem useless, it's good to know what you're going in for.
Here are some of the things to consider when buying a mini photo printer UK
Size – Since we are discussing mini photo printers, you will need something that's lightweight and that can easily fit in your pocket or purse.
Color or Black and White – Not all printers are capable of printing photos in color and this is not a bad thing. You can decide if you would like to print photos in life-like color or if you would like to stick with a monochrome theme.
Paper Style – There are a number of printer paper options and yes many of them do achieve the Polaroid look, but some are there that create a grainy image, others that come with sticker paper that can be applied on walls or books. So you will have to decide what type of paper would be best for the photos you're looking to print.
Wireless Printing Capabilities – Mini printers use different connection methods. Some require you to physically connect your smartphone to them whereas there are others that come with Bluetooth or WiFi capabilities allowing you to print photos wirelessly.
Additional Features – A traditional mini photo printer is one that will print your picture without any added effects. Nut, there are some that come with some pretty interesting features that allow you to edit your photos before printing them out. You can check the details of each printer to see what additional benefits they may offer and then decide on which one to get.
Price – Normally you can get a great mini photo printer for within £100 but you will also have to consider recurring costs like printer paper because this can actually lead to unnecessary extra expenses.
How we tested the best portable photo printers?
We took over 30 different mini photo printers and put them through a series of tests to determine which are the best to buy in 2022.
Each camera had to go through a print quality test to determine if the quality of the prints were up to the mark.
Secondly, the printers were checked to see if they are easy to operate and came with multiple connectivity options.
Then we had to check if they were equipped with a built-in battery and if yes, how long they lasted (how many prints were made on a single charge)
Finally we took the pricing and build quality into account mainly because we wanted to see if the product is truly high quality and worth the money.
After conducting these tests, we rated the top 7 mini photo cameras on a scale of 1 to 5 and here's what we found.
Best Mini Photo Printer UK
Features
Best For
Canon Selphy Square QX10
Photo Size: 2.7 x 2.7"
Paper Type: Canon sticky back photo paper (XS-20L)
Connectivity: WiFi
Overall Best Mini Photo Camera
HP Sprocket Portable
Photo Size: 2 x 3"
Paper Type: Zink sticky back photo paper
Connectivity: Bluetooth
Best for AR Prints
Polaroid Mint
Photo Size: 2 x 3"
Paper Type: Zink sticky back photo paper
Connectivity: Bluetooth/WiFi
Best for Built-in 16MP Camera
Kodak Step Instant Mini Printer
Photo Size: 2 x 3"
Paper Type: Kodak Sticky-Back Zink photo paper
Connectivity: Bluetooth/NFC
Best for Zink Printing
Polaroid Zip
Photo Size: 2 x 3"
Paper Type: Zink Zero Ink photo paper
Connectivity: Bluetooth/WiFi
Best for Photo Edits
Fujifilm Instax Share SP-3
Photo Size: 2.4 x 2.4"
Paper Type: Fujifilm Glossy photo paper
Connectivity: Bluetooth
Best for Design
KiiPix Portable Photo Printer
Photo Size: 3.4 x 2.1"
Paper Type: Fujifilm Instax photo paper
Connectivity: Manual
Best for True Wireless Printing
Best Mini Photo Printer UK
Here are the best mini photo printer UK that are excellent to use and so compact that they can easily fit in your pocket or purse.
Canon Selphy Square QX10
My personal favorite mini photo printer is the Canon Selphy Square QX10. This device is amazing at printing rich, vibrant images that are full of color, detail and that'll last for at least a 100 years. It built to support 2.7×2.7" high quality sticker paper and follows the dye sublimation printing method to provide you with clear and life-like photo prints.
You can connect your smart devices via WiFi and pair them using the Selphy Photo App. With the App you can add a creative touch to your photographs such as stamps, filters, borders and have them printed in seconds.
It also comes equipped with a removable Li-ion battery that is rechargeable and can be charged using the USB cable provided. Available in 4 colors, the QX10 weighs hardly 440 grams and is so small that it'll sit easily within your pocket.
Pros
Lightweight and well-built
The prints will last for many years without any loss of color quality
Wireless and portable; can be paired with your smartphone via the app
Comes with a removable and rechargeable battery
Cons
Rating: 5/5
HP Sprocket Portable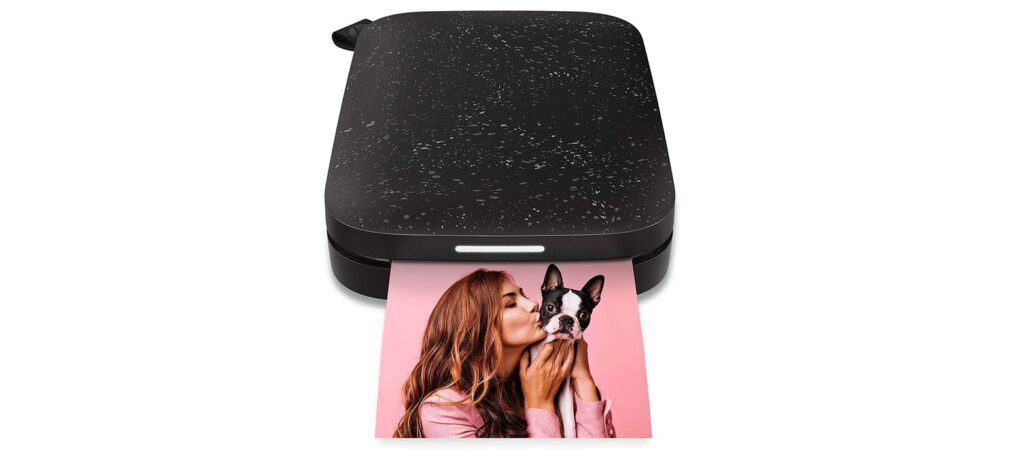 Another sweet mini photo printer is the HP Sprocket Portable. I loved that it uses 2×3" HP Zink sticky-backed photo paper and the face that it's completely wireless and you can print photos from your smartphone via the HP Sprocket App make it an interesting buy.
In terms of functionality, the Sprocket portable printer does exactly what you want it to without any hassle. Simply load the paper into the back of the printer, pair your phone with it via Bluetooth and you're good to go.
It comes with a tag and print function that allows you to easily find and print photos from your social media account and augmented reality to view and share your print queue, hidden videos and more.
Another great feature of the Sprocket portable is that it runs on a rechargeable battery that can be charged via a USB cable. You can even pair the device with up to 3 other smartphones so everyone can view and print shared photos by using the Sprocket App.
Check out: Creating Apple ID for downloading apps in UK
Pros
Wireless and portable
Comes with a nice storage case
Pairs via Bluetooth
Equipped with a built-in rechargeable battery
Can pair with up to 3 devices
Cons
Rating: 5/5
Polaroid Mint
Here's a mini photo printer that fits in your pocket and feels like you're carrying a second mobile phone around. It's one of the most portable instant printers around and quite like the HP Sprocket Portable, it uses Zink 2×3" sticky backed printer paper and allows you to print your photographs using one of the 6 picture modes available.
The best feature of the Polaroid Mint is that on the front of this mini printer sits a 16MP camera lens, a selfie mirror and an automatic flash. This makes it ideal to use and carry around as a two-in-one rather than a smartphone in one pocket and your photo printer in the other.
You can pick up this mini photo printer in black, white, blue, red or yellow depending on which color pleases you. It even comes with a focused optical viewfinder that notifies you when you start printing or if your printer has run out of paper.
At the side of the device you have a Micro USB charging port along with a charging indicator and a Micro SD card slot so you can store your images or print ones directly off the memory card.
Pros
Sleek and can fit in your pocket
Has a built-in 16MP camera to take photos and print them immediately
Offers 6 photo modes, has a selfie mirror and flash
Can be recharged via micro-USB
Cons
Rating: 4.5/5
Kodak Step Instant Mini Printer
Kodak is a household name when it comes to photography and most of us grew up using an old-school Kodak camera. This mini photo printer is one of their best printers that looks great and works phenomenally well.
I did not have a hard time while using this printer as it connects with your smartphone via Bluetooth or NFC. It uses Zink technology so you know that the prints are going to be top class and has been designed to print a maximum size of 2×3″ photos on sticky-back paper.
One of the best things about this mini photo printer is that it is small and looks nice. Though it can't be pocketed like some of the others on this list, the Kodak Step will easily fit in your bag or jacket so you can carry it around.
Pros
Well built and nice matte finish
Prints via Bluetooth and NFC
Uses zero-ink technology
Pairs with the Kodak app for edits and adding a personal touch to your photos
Cons
Can not fit in your pant pocket
Expensive
Rating: 4.5/5
Polaroid Zip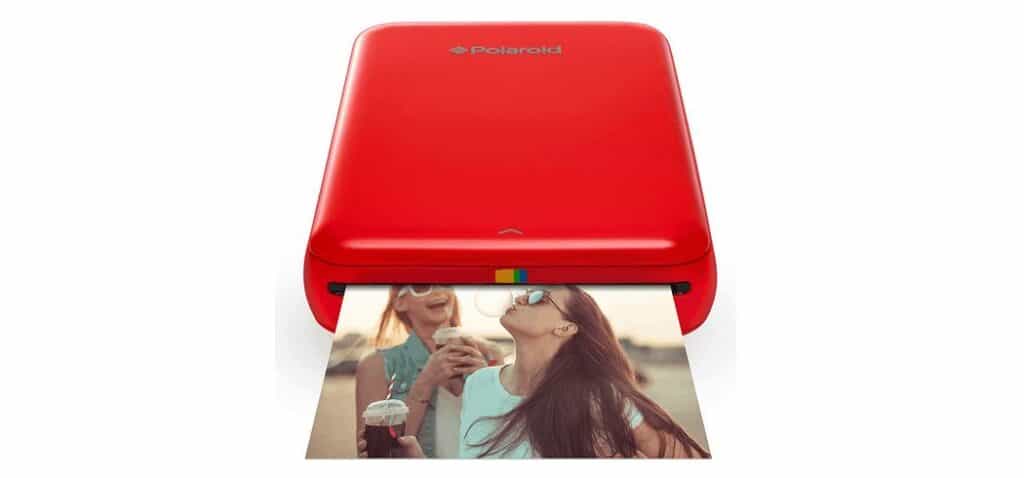 If you like the Sprocket Portable then you will definitely love the Polaroid Zip. This well-designed mini photo printer has some pretty useful functions that make your life easier. It's a smart printer that can connect to your phone or tablet and print photos via WiFi or Bluetooth.
Using Zink zero ink printing technology, you can print high-quality photos without any film, ink, toners or ribbons and use premium 2×3" sticky paper that is waterproof and tear resistant. There's even a decent 500mAh battery that allows you to print approx 25 photos on a single charge.
It's extremely easy to use the Polaroid Zip as all you'd have to do is load the paper, power on the printer, download the Polaroid mobile App and start printing. With the Polaroid app you can edit photos, add borders, filters, stickers and more before having them printed.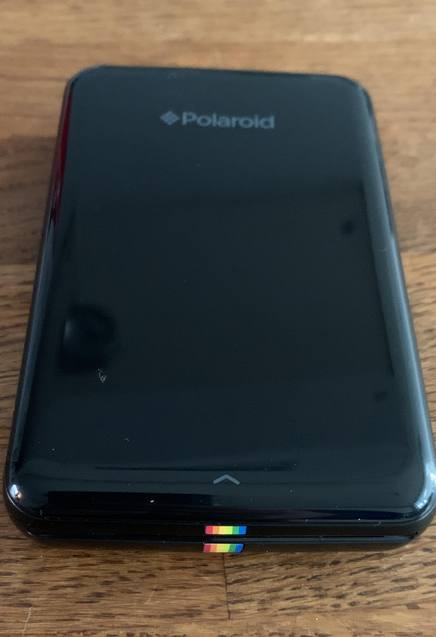 Pros
Durable build with sleek reflective finish
Prints via Bluetooth and Wi-Fi
Uses zero-ink technology
Can use the Polaroid app to edit pictures before having them printed
Cons
Can print only 25 photos on a single charge
Rating: 4.5/5
Fujifilm Instax Share SP-3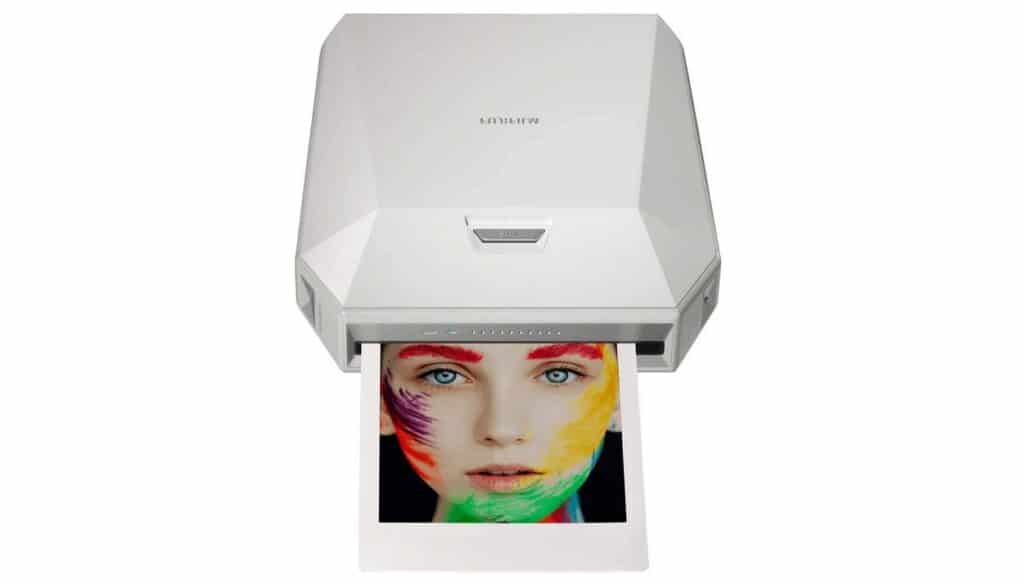 The Fujifilm Instax Share SP-3 is a surprisingly portable, speedy and classy printer that pairs with your smartphone via WiFi. You can turn your digital memories into physical high-quality square photographs with the click of a button.
Fujifilm's high quality film technology offers a high printing resolution of 800×800 pixels and 318 dpi allowing every detail to be printed in a small 1:1 ratio photo (2.4×2.4"). Though this mini photo printer lacks Bluetooth, you're able to connect to your social accounts through WiFi and select photos via the mobile app and have them printed out.
A great feature of this mini printer is that with the app you can create collages, add edits and filters to the photos and have them printed in less than 15 seconds thanks to the Instax laser exposure system.
Pros
Sleek and sharp design
High resolution prints via Wi-Fi
Lets you create collages and add filters to your images
Super fast 15sec print time
Cons
Rating: 4.5/5
KiiPix Portable Photo Printer
The Kiipix portable smartphone printer is a one of a kind device that uses human interaction to have the photos printed out. Here you would not use WiFi or Bluetooth to connect your smartphone to the device.
Instead you will place your smartphone on the scanner of the printer (display down – with high brightness), with the reflective mirror you can make sure that the picture is aligned properly and then manually begin to crank out the photographs.
This is a cheap printer that's portable and pocket-friendly allowing you to take it wherever you go. You can add edits such as color correction, filters and so on before you can print them out.
The KiiPix uses the Fujifilm Instax paper allowing you to print business card sized photos ideal for your wallet.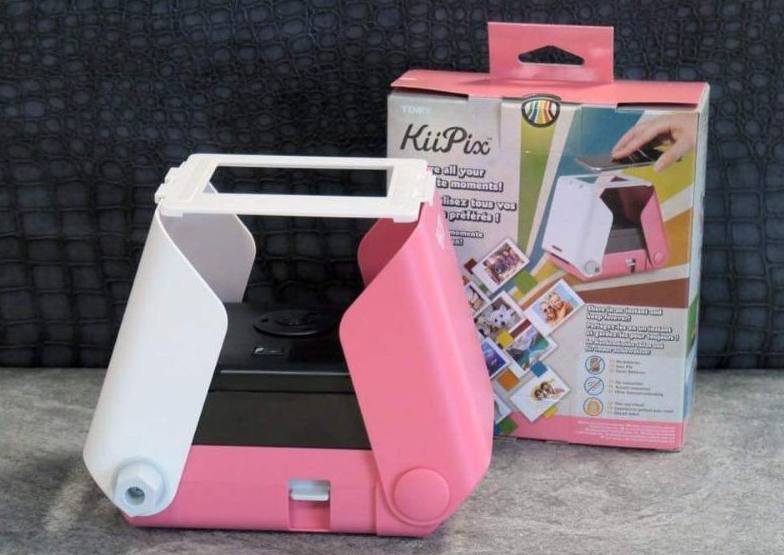 Pros
Affordable and great for beginners
Completely wireless without Bluetooth or Wi-Fi
Can fit in your pocket and you can print business cards or photos
Cons
The hinges are not very durable and can break with excessive force
Rating: 4/5
Types of Printing Technologies
There are essentially 3 different types of printing technologies.
Zink – This is short for zero-ink and is the cheapest in terms of cost of paper and printing. They do a reasonably good job with the quality of the prints and Zink prints tend not to get damaged easily.
Dye-Sublimation – Also known as 'dye-sub', is a form of printing that involves heat to transfer dye onto the print paper. They are better than Zink printers in terms of quality of color.
Instant film – These mini printers use instant film such as Instax with is expensive in the market and will result in expensive prints. Instax are the mos sought after because the prints are ready within a couple of seconds.
Compatible Photo Paper for the Best Mini Photo Printers
FAQ's
Which is the best mini photo printer?
The best mini photo printer is the Canon Selphy Square QX10. This rather compact and simple looking printer delivers life-like print quality and each print can last for many years without loss in quality
How do you print photos from your phone?
You can print photos from your phone by pairing the device with a compatible photo printer. Some printers have smartphone apps that you can use to edit the image before printing it.
Does Zink photo paper expire?
No Zink photo paper does not expire and does not deteriorate. Once the Zink dye crystals are activated, they remain high quality for years to come.
Takeaway
These mini photo printers are great, inexpensive and are fast to use. They even come with a range of features like wireless connectivity and social media printing that are perfect to have especially in such a digital age.
Picking the right best mini photo printer UK takes a little bit of time, but if you have the knowledge on what to keep an eye out for then you pretty much have it sorted.
Also Read: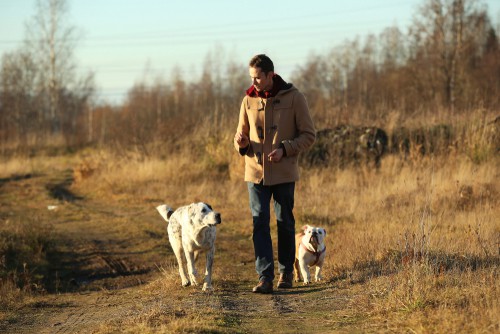 Based out of the UK, Pat is the youngest member of TheMiniBlog family and comes with extensive experience in all things Mini. He has been reviewing products for a while now and is well versed in everything related to mini gear and technology.