Will There be an iPad with Wireless Charging in 2022? | Everything you Need to Know
I'm sure you've asked yourself, "Will There be an iPad with Wireless Charging?" as most of the Apple devices support this feature.
The iPad is without a doubt one of my favourite devices from Apple. It helps me keep track of my schedule at work and has all my favourite games to play in my leisure. The large widescreen makes answering emails and worksheets a breeze on the go.
It is my go-to device for all my entertainment needs from watching movies to reading my favourite eBook, I only wished there could be wireless charging which I've always felt was lacking with the iPad.
Wireless charging has been a big up for apple for their other devices making it safer for users and making it convenient to charge without having to search for your charging cable. The iPad not having these features is a big turn-off but Apple has a good reason for not implementing these features so far.
In his article, I will explain why Apple has not added this feature yet, the pros of wireless charging on an iPad and if there ever will be an iPad with wireless charging in the future.
Will There be an iPad with Wireless Charging
Also Read: How does iPad cellular work?
Do iPads have Wireless Charging?
In short, no. But fortunate for us, there is a workaround.
For such an efficient device it's sad to see the iPad lack wireless charging capabilities, but Apple made the wise decision of switching to a universal USB-C type port for the new iPad.
With this upgrade, they've made it possible to work our way around the problem and I've implemented this on my iPad as well.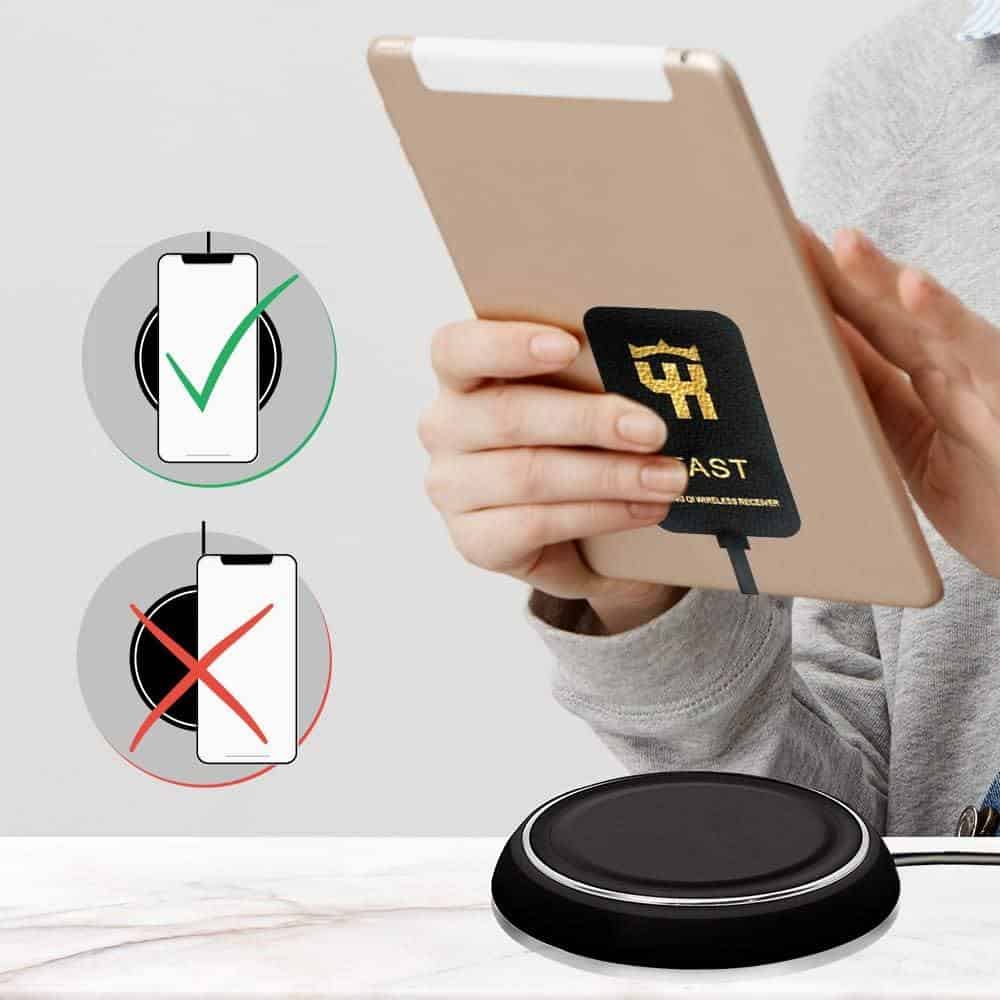 Buying a "Wireless Charging Adapter" from Amazon is an easy way of enabling your iPad to charge wirelessly.
It is not supported as an Apple-approved device but gets the job done, it requires you to connect the wireless charging pad to the C-type port in your iPad and the pad is fixed to the back of your iPad.
When you place the iPad on the wireless charging mat the pad charges providing power to your iPad making it possible to charge your iPad wirelessly.
You must be wondering if this is possible. Why doesn't apple just add the features and save us the trouble of buying third party products?
Keep on reading to find out why Apple did not implement wireless charging in their iPads.
Why iPads Don't have Wireless Charging?
Apple introduced wireless charging from the iPhone 8, so why not have the feature installed in the iPad too. It's a matter of whether Apple is willing to implement wireless chagrin on their iPads. Below are a few reasons why Apple hasn't taken that step.
The latest iPads released in 2021 are all made of aluminum, making it impossible to wireless charge on the metallic body of the device. Metal surfaces are bad inductors for wireless charging that is why all the iPhones and recent smartphones of other brands that support wireless charging have a glass back or plastic. The iPad has to be redesigned with a glass back to remove this issue.
Now, say the iPad has upgraded to a glass back, it still wouldn't be possible to wirelessly charge because the iPad lacks an inbuilt coil that supports wireless charging. If you've watched "what's inside an iPhone" videos on YouTube, you will notice magnetic coils inside. The coils receive magnetic induction to create electricity to charge your device. This coil could be added to the iPad to have wireless charging.
One of the other reasons is that IPad's have always been large devices because of the large screen they house. With a large screen comes a large battery, these large batteries charge slowly while connected to a wired charger. Wireless charging takes twice the amount of time than a wired charger. Hence it wouldn't make sense to have wireless charging if it took 10 hours for a full charge.
If Apple decided to implement it, we are looking at a sharp hike in price for iPads that have the feature. If it was feasible, Apple would have done it by now. if they've not, definitely they will be coming up with a better option is what we can hope for.
Benefits of iPads with Wireless Charging
The convenience of having wireless charging is limitless and would make the experience of using an iPad much better. Here are some benefits of wireless charging on an iPad.
Wireless charging removes the need for wires making it easy to use the device while it's charging.
If wireless charging were implemented on the iPad it would be possible to reverse charge other devices. You can charge your AirPods, iPhone and watch all at the same time thanks to the iPad's large surface.
It can provide better battery performance and life and is definitely safer than plugging a live wire to charge the device.
One wireless station to charge all your devices would be really neat. You can even charge smartphones of different brands that support Qi charging with the same mat.
As you see the benefits are limitless, but we can't expect this to happen anytime soon.
iPad with Wireless Charging: The Future
Apple has been able to support wireless charging from the previous generation of iPhones, by now you would have understood why the iPad lacks wireless charging. So will there be an iPad with wireless charging?
We really don't know what the future holds for the iPad as it seems bleak in the area of wireless charging. There are very few rumors in the tech realm about this being implemented so it's highly unlikely that Apple will surprise us with this feature anytime soon.
If designing a new iPad it would require glass or a plastic back which doesn't suit the iPad and is a very big disadvantage as the glass back can easily be shutter because of the big size of the screen. Apple being a brand that provides premium products, will not use plastic as a material just to implement wireless charging.
Apple has implemented wireless charging on its new iPad pros but they have limited the wireless charging to only the Apple pencil 2 rather than the entire iPad being wirelessly charged.
This is possible as there is a small cut out from the aluminum frame to charge the pencil. Maybe this can be used as an alternative to charging the iPad wirelessly, well that's just a thought.
Another option that can be used to implement wireless charging on an iPad is that they could use a method of charging rather than the Qi method. They can implement the Wattup system from Energous that is being used in the Mi Air charger.
Even though the future doesn't look too bright for wireless charging with the iPad, I really hope Apple surprises me one day.
I have this Hope only because Apple has been researching better ways to charge iPhones and with rumors of the next iPhone being completely wireless, who knows what's in store for us.
iPad Wireless Charging: Alternate Remedy
Now that it's sunk in that Apple is not planning on implementing wireless charging technology. Here is a hack that will allow you to do so.
You can search online for a wireless charging station called the iPort Launch Port. It is tailor-made for the Apple iPad with magnetic technology allowing it to be mounted on the wall or flat on a table.
One of the cool things about this device is that the iPad case will allow you to use the side buttons for easy accessibility and is made to be durable. The case can protect your iPad from a 5ft drop without a scratch on the device.
It is possible to mount the device on the Launch Port, all you would need is a 12V power outlet to connect the mount to. Another such device is the universal Qi Adapter with the latest lightning connector that allows you to charge wirelessly.
FAQs
Is it safe to use a third-party wireless charging adapter to charge my iPad? 
Yes, even though it's not Apple-approved, these third party adapter amazon products that are designed for an iPad are reliable.
There are many available in the market. Try and check the reviews from others before buying.
Will reverse charging be possible if wireless charging is implemented?
Yes, you will be able to charge your iPhone, AirPod and Apple Watch all at the same time if and when wireless charging is implemented.
As of now, the new iPad Pro supports wireless charging for the Apple pencil but unfortunately not for the iPad itself.
Can we expect better battery life if wireless charging is implemented?
Yes, but the fact that it takes twice the amount of time to charge a device wirelessly brings this idea to a stalemate.
Conclusion
Apple has to redesign the complete outer body of the iPad to implement wireless charging. Which I think is unlikely to happen, what can happen is upgrading the battery to a fast charge that will provide extended battery life that can last longer than the present iPads.
There is also a chance of different technology in the pipeline to provide wireless charging but nothing in the near future.
Also Read: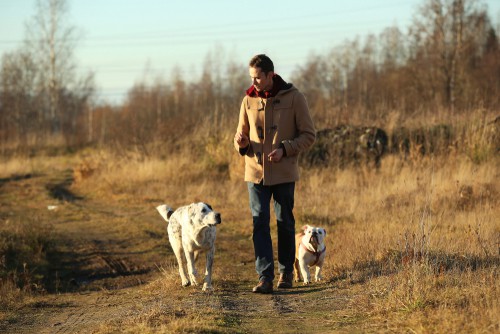 Based out of the UK, Pat is the youngest member of TheMiniBlog family and comes with extensive experience in all things Mini. He has been reviewing products for a while now and is well versed in everything related to mini gear and technology.