A mini rice cooker is an essential item to own especially if you eat rice for your lunch on a regular basis. This appliance will produce high-quality cooked rice in a few minutes and even acts as a hot-box after cooking to keep the rice warm.
Some of the best mini rice cookers are available online for between £20 and £300 depending on the type you buy, the features they come with and the size of the cooker.
The best mini rice cookers can easily cook basmati rice if you're into Indian cuisine, sticky rice if you like Thai or Chinese and even Sushi rice if you're planning on going Japanese. 
The rice cookers i'm going to cover today are capable of delivering well cooked rice within a budget for those looking to cut down on the time spent in the kitchen.
Here are the best mini rice cooker UK:
Russell Hobbs Rice Cooker and Steamer 19750
Instant Pot Duo Evo Plus
Tefal RK302E15 8-in-1 Multi Cooker
Yum Asia Bamboo Induction Rice Cooker
Joseph Joseph 45002 M-Cuisine
Judge Horwood JEA10
Best Mini Rice Cooker UK
A nice mini rice cooker is one that does not consume much electricity or space and can easily be cleaned. They will be capable of cooking any kind of rice and are even capable of making porridge. While rice cookers normally start at £100, their mini counterparts start at £20 making them perfect for everyone to use.
Here are the best mini rice cookers in the UK
Russell Hobbs Rice Cooker and Steamer 19750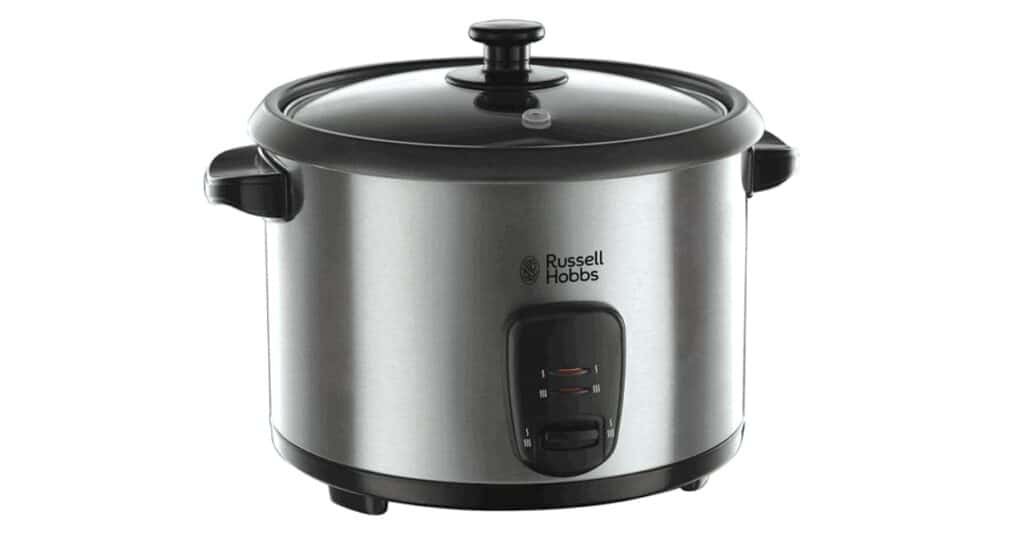 This rice cooker is by far one of the best appliances to own thanks to it's large cooking capacity and its ability to retain heat so your rice stays warm for a longer period of time.
It's capable of cooking up to 10 cups of rice and features a whole range of easy-to-use controls that make the Russell Hobbs 19750 something you can't get enough of. With it you're able to cook rice, potatoes, vegetables and even fish.
The rice bowl is lined with a non-stick coating that prevents rice from sticking at the bottom. It can be removed at any point in time to be either cleaned or emptied out and it comes with a spatula, an additional tray and a measuring cup, basically the whole package.
This 1.8L mini rice cooker uses up to 700W of power so your rice cooks faster and better. The lid of the cooker is made of glass so that you can keep an eye on the progress of your rice.
Instant Pot Duo Evo Plus
The Instant Pot Duo Evo Plus electric cooker is not only great to use while cooking rice but can even be used to boil meats, vegetables, porridge and more. It's a must have especially if you're someone who prefers rice on a daily basis with a side of some veggies and meat. 
It has a pressure cooker appearance and comes with a range of 48 nifty little functions that allow you to produce not only fluffy white rice for a group of four in under 30 minutes, but even beans, ribs, soups and more.
This cooker comes with a couple of presets to cook different types of rice in it and if there's no preset for the type of rice you're about to make then you can easily figure it out with the Instant Pot Application. With it you can saute, steam, slow cook and more so there's no need to invest in more cooking appliances as this one does it all.
There's a large 1200W heating element that reduces the preheat time so you can enjoy your food faster. Also, the inner pot is made from stainless steel and comes with a nice handle that offers a non-slip experience.
Tefal RK302E15 8-in-1 Multi Cooker
The Tefal multi cooker is a black and stainless steel rice cooker that's more than capable of helping you prepare a full meal. With it you can easily cook rice, brown rice, grains, slow-cooking porridge, steaming veggies and even make desserts.
It's ideal for those with a small kitchen as the Tefal does not take up much space and since it cooks more than just rice, you won't need to keep those loose pots and pans lying around the kitchen.
There are a couple of settings and is one of the best affordable mini rice cookers around. With a decent 600W power capability, the Tefal RK302E15 8-in-1 Multi Cooker can easily cook a full ten cups of rice in a few minutes. 
This mini rice cooker comes equipped with a hinged plastic lid so you can open it without burning your fingers and with the cooker you will get a measuring cup, a spoon, steam basket for your vegetables and even a nice little recipe book.
Yum Asia Bamboo Induction Rice Cooker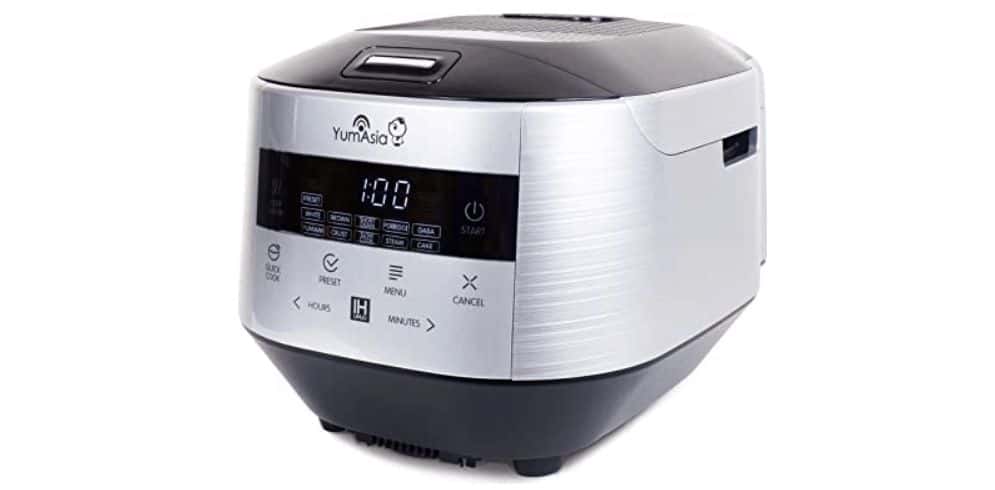 The Yum Asia Bamboo Induction cooker is a high-tech unit that comes with a wide range of processing and cooking functions making it best suited for those who prefer to cook a full meal at home. It comes equipped with a logic micro-chip and uses induction heating so you can easily alter the temperature as the rice is cooking.
At the front of the mini cooker you will have a touch screen panel that offers around 10 preset cooking functions with options for white, short-grain or brown rice and even has the Yumami setting for a sweeter tasting grain.  
It has a decent sized 1.5 liter 5 layer, 3MM ceramic coated bowl that can hold up to 8 cups of rice and depending on the amount of rice and water in the cooker, you will receive a buzzer when there's around 10 minutes left for it to be done and another when it's ready.
Joseph Joseph 45002 M-Cuisine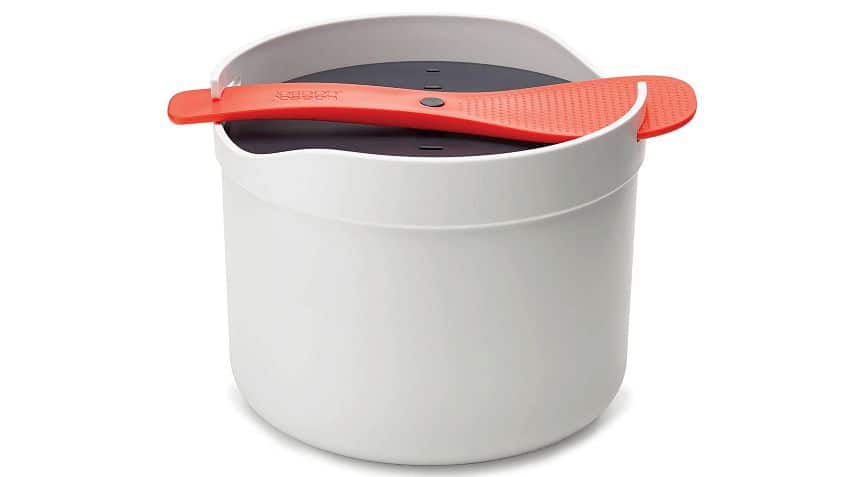 This mini rice cooker is unlike the rest we've gone over so far. It's a microwave rice cooker that relies on the heating capabilities of the microwave to have your rice cooked. The simplicity of this device is what amazes me, all you'd have to do is use the measuring cup that's provided and put the rice in the bowl, add the desired quantity of water, place  the lid on and let the microwave do the rest. 
It's convenient to own because it's dishwasher safe and is small so it can easily be stored in your kitchen, no matter how big or small it is. 
The rice bowl can hold up to 2 liters of water and rice so it can make enough for two. This particular unit comes with a measuring cup, a paddle and a colander so you can cook multiple dishes. 
Judge Horwood JEA10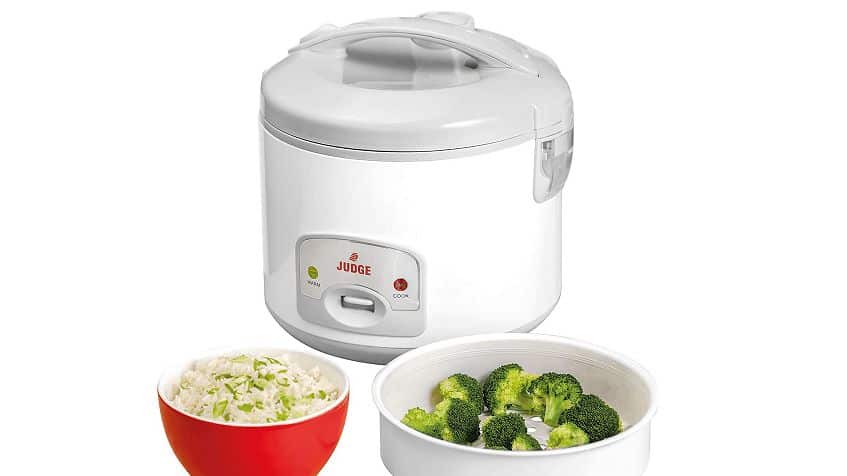 The Judge Horwood mini rice cooker is a great device to own and comes with a total capacity of 1.8 liters that allows you to prepare between 4-10 servings at a time and it would take roughly 10-30 minutes to cook. 
The lid of this rice cooker is designed to retain heat within the cooker and can keep your rice warm for up to 6 hours at a stretch. It features a removable and non-stick bowl that can be taken out to clean when dirty and has filling markings on the inside to let you know if you have the right amount of water in the cooker.
This mini rice cooker has a one-touch operation mode making it super efficient and easy to use. Because of this, it's a great choice for those on a budget and looking to cook rice and steam some vegetables.
How Much Should I Spend on a Mini Rice Cooker?
The main points to consider here is what are you going to use it for and what capacity are you looking for. Mini rice cookers vary in price depending on their capabilities, size and features.
The simplest of mini rice cookers are available for as low as £10, whereas the high-tech mini rice cookers would set you back about £300.
What Feature To Look for While Buying a Mini Rice Cooker?
Again, this is up to you to first decide on the reason why you're buying a rice cooker.
There are mini rice cookers that come with over 40 modes and functions allowing you to not only prepare rice but even saute and boil vegetables and meat. 
There are other rice cookers that  offer a 'keep warm' feature that allows you to leave the rice in the cooker for prolonged periods of time and still have warm rice to eat.
Some come with larger rice bowls whereas others have smaller bowls for a lesser quantity. You will have to make sure that the rice cooker you're going to buy comes with a few cooking modes, has the ability to cook for a decent family of 4 and does not consume too much electricity.
Takeaway
Not only do rice cookers save time in the kitchen, they're automated so you can rest assured that once the bell dings, you will have well-cooked rice that's ready to eat.
Trust me when i say this, but once you start using a mini rice cooker, your life becomes so much easier.
Also Read: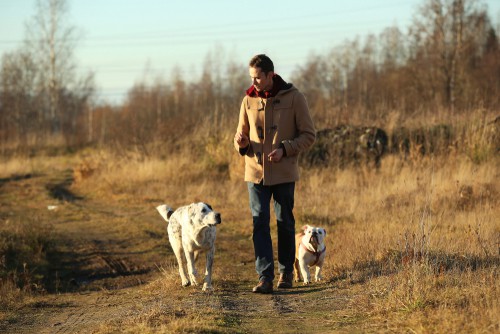 Based out of the UK, Pat is the youngest member of TheMiniBlog family and comes with extensive experience in all things Mini. He has been reviewing products for a while now and is well versed in everything related to mini gear and technology.