I have got something unexpected. This is a knock off, Fake Apple watch. Now obviously there is no real Apple watch yet. But I guess based on the designs and the pictures, they were able to create a replica. It actually works with Android. It came all the way from China.
Smartwatches are defined by their capability to perform host functions and tricks. This combination of functionalities and capabilities make smartwatches alluring and ideal for different user needs. It's important to consider the pricing and performance of these devices.
However, a smartwatch works best when paired with a compatible phone. As such, we conducted some in-depth research and tested some of the latest IWO smartwatches available on AliExpress.
This is what we have below. 
Latest Apple Watch 6 Clone Model – IWO 13 Smartwatch Review
The IWO 13 speaks to the needs of any Smartwatch user who's looking to optimize the potent functions and features and leverage them to lead a well-balanced lifestyle.
This Smartwatch comes with health monitoring features to monitor ECG, exercise mileage, sport calories, heart rate, and sleep monitoring.
These capabilities are supported by the MTK2503C processor and the 256M memory in the device. It also comes with a 230mAh battery and a 240 * 240 HD IPS screen.
Some of the additional functions in the Smartwatch include an anti-loss function for your smartphone, wireless charging, phone sync, among others. 
Technical Specifications
1.54 HD  IPS Screen
Version 4.0 Bluetooth
230mAh Battery
MTK2503C Processor
Full Apple Watch 5 Replica Review
Let's take a look at this knockoff Apple watch IWO series.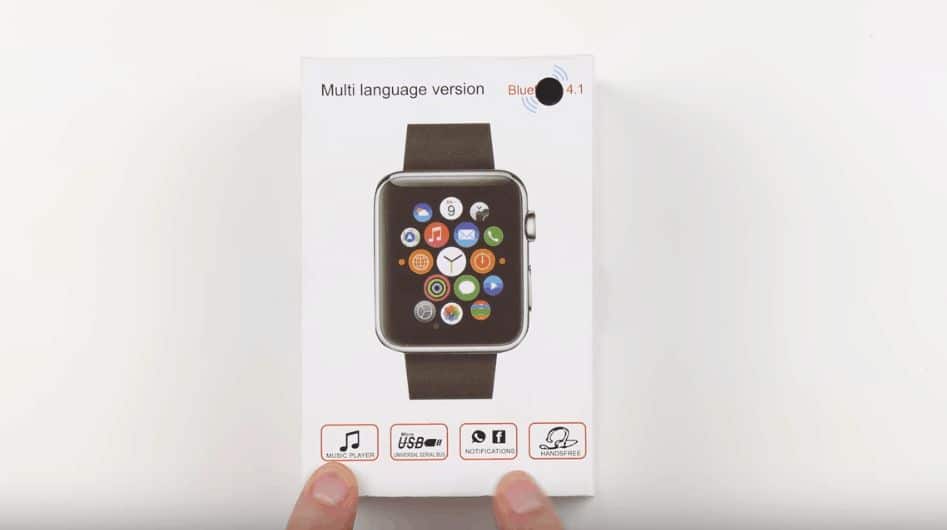 The front of the box shows a music player built in, micro USB, notifications and hands-free. It comes in a number of different colors. On the back you just have some more product specifications.
When you open the box, the first thing you are greeted with is the actual fake Apple watch. It has a sticker with the icons on the front as you've seen from the various Apple press photographs.
It has slightly smaller screen with a slightly larger bezel, but otherwise you have a very similar design even with the knob, spinny wheel on the side which is also clickable, and then a power switch that actually works!
It has some battery life with Chinese writing, not the most helpful for me.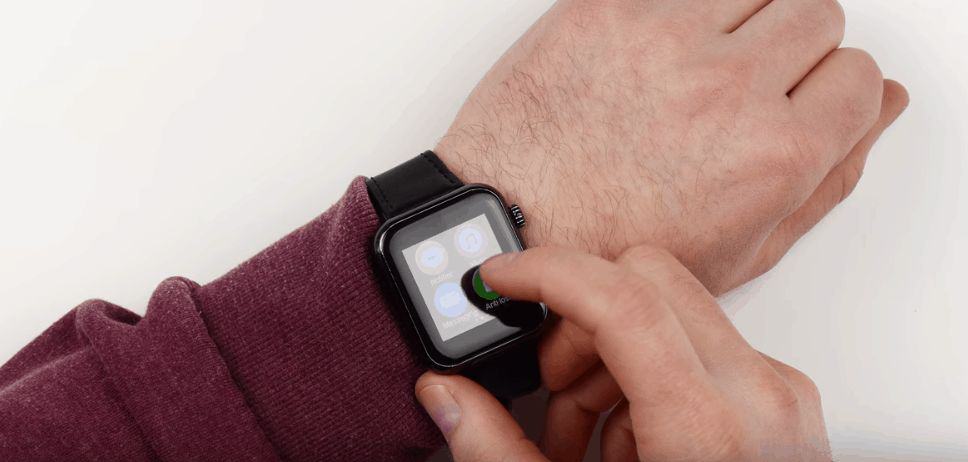 The key factor here is that when you're dealing with a fake Apple watch, at least you can figure out what it looks like mounted up, because that might give you some insight into what the actual Apple watch is.
It is not too shabby actually. I was worried that this design was going to look very dainty and small on my wrist but pretty good.
Its behavior is a little bit strange, only works part of the time but you should really figure out how to change the language in the settings.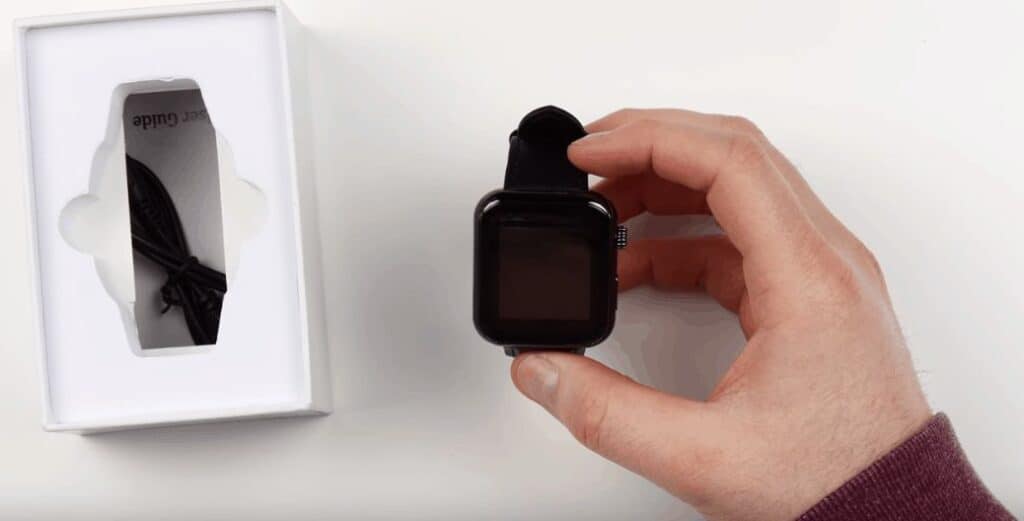 Inside the box, we have a charging cable, USB on one end and a little tiny power adapter on the other end. The fact that we have English instructions would lead me to believe that I can set this thing up for English.
I grabbed some other smart watches for size comparison and I've even got the old school iPod nano as a watch in a watch strap. I don't know if you guys remember this, but this is what people were doing before there was such thing as a Smart Watch.
Here it is up against the LG G-Watch R and as you can tell the G-Watch R is a little bit bigger, a little bit thicker as well. Of course the quality on the G-Watch R is significantly better since it is a finished, official product and not a knockoff.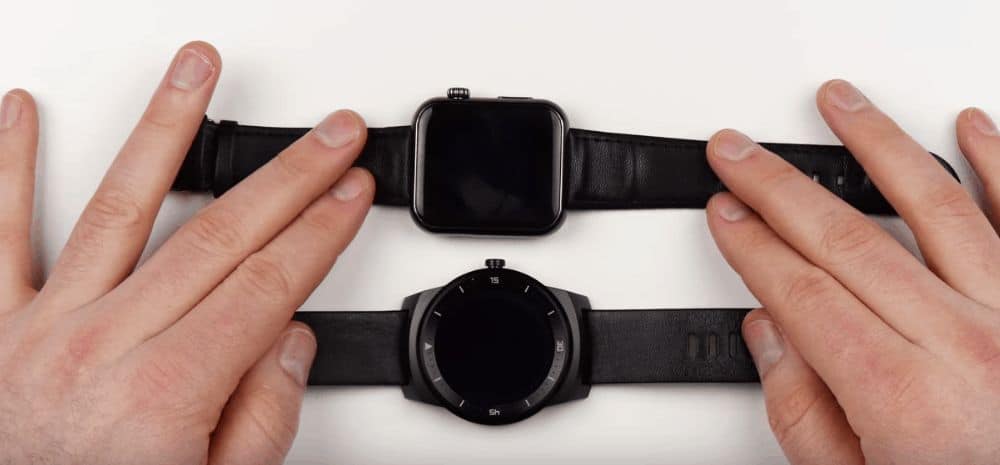 Here it is up against the original LG G-Watch. Now those are almost identical, of course the FAKE Apple watch face is more of a square compared to more of a rectangle on the original G-Watch, and in this case the Original G-Watch is a little bit slimmer than the knock-off Apple watch.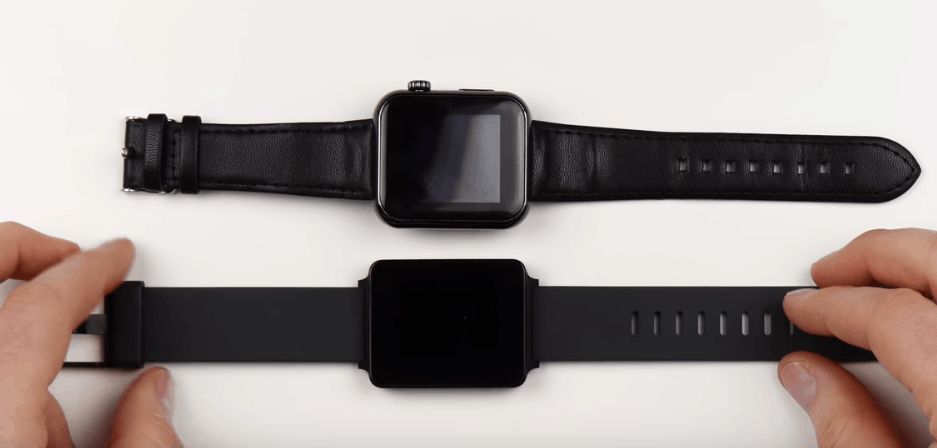 We have a pedometer we have Bluetooth, a dialer, phonebook, a notifier, music, messaging, anti-lost.
Sometimes the buttons don't register but when they do its snappier than I expected it to be. You would assume that the wheel would work in these menus, which it doesn't. So you're obviously looking at a very rudimentary smart watch.
There's no wireless charging. It's not anywhere as fancy or refined as the actual Apple watch will eventually be. The watch face is adjustable by swiping right to left. If you wanna fool your friends, scam your friends at school, tell them you got the hot new Apple watch and wear this thing on your wrist.
Just don't let them actually look at it and examine it, but you can be the cool kid in school for about five minutes.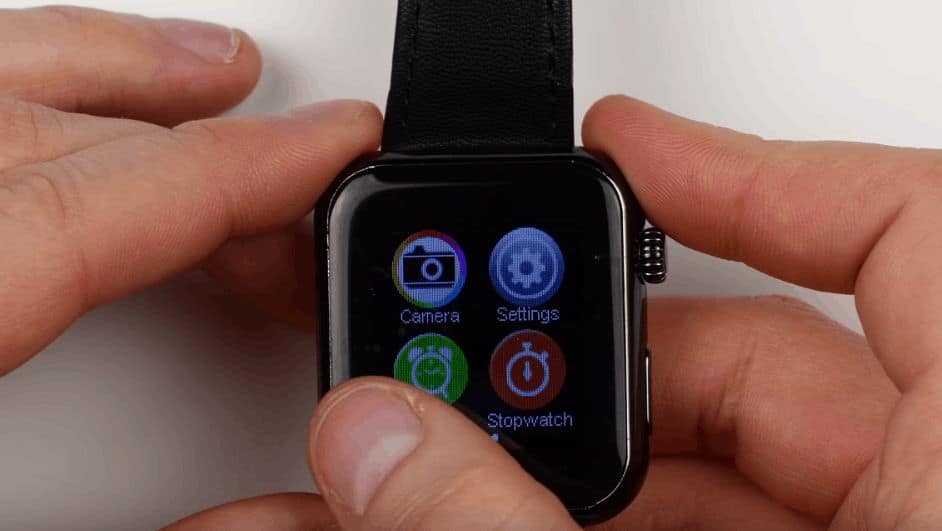 There you have it, the knock-off or fake Apple watch before there's even a real Apple watch on the market. It's actually quite amazing what they're capable of, that the can manufacture these things before there's an official product on the market, but hey who knows?
They can get their hands on Diagrams or drawings or maybe they can just fabricate these things based on the pictures that are out there, who really knows?
Anyway, pretty cool as a collector's item, probably not going to be wearing it everyday.
Here's what buyer's had to say
Excellent product, identical to AD, arrived faster than expected and was well packed. Was easy to handle and the device reads message notifications and even WhatsApp, Instagram and Facebook messages/notifications. Recommend the seller sent the product on the same day. Product 44mm.
Product took almost 2 months to arrive in Brazil and after almost 1 month to deliver me, because the pandemia. Mail is bad. Seller was perfect, answer me at all, this watch is true I checked. Comes with a film and the hood is silicone. Only took because of this whole situation, can trust this store.
Apple Watch 6 Replica Review
The IWO 13 is considered to be the clone of the Apple Watch 6 and for many valid reasons, it is available in two sizes, has an alloy body with silicone straps offering life waterproof rating. While this smartwatch may not match up to the power the Apple Watch has to offer, it's still something to consider if you're on a budget.
Check out our review and take on the Apple Watch 6 Clone.
Design and Display
As stated earlier, the IWO 13 comes in two sizes namely; 40mm and 44mm versions. The body is made of an aluminum alloy while the straps are silicone with a magnetic fastening system. The design and body of the IWO 13 resemble the Apple Watch even to the smallest of details like the digital crown positioning and the pill like button on the side.
When it comes to the display, the Apple Watch 6 clone is not on par with the original piece. There is significant difference in the clarity and resolution of the displays as Apple uses a 1.54″ Retina display whereas the IWO 13 is equipped with a 240 x 240 TFT LCD display.
A plus point of the IWO 13 is that it uses a full touch screen display and a 2.5D glass screen as compared to other Apple clone models that have only a touch key button.
Hardware and Other Features
Like other affordable Apple Watch clones, the IWO 13 runs on the MTK2503C chip-set and has 256MB of RAM and 64MB of storage. Though this is quite less and there's no option to upgrade the internal storage, the IWO 13 comes loaded with a range of health and fitness sensors such as; g-sensor, heart rate monitoring, blood pressure and SPO2.
This smartwatch has basic features (probably because of how much it costs) and you're able to access calls, messages, social media apps, Bluetooth music support, Photo support, alarm, timer and more.

The IWO 13 may look the part but clearly does not perform anywhere close to the likes of the Apple Watch. Even the software running the device is rather weak and inferior making this watch just a good show piece and not something you'd like to brag about to your friends.
The only good thing about the Apple Watch 6 Clone is that it's affordable and offers decent health and fitness features. Don't expect anything else such as the hepatic feedback you get from the original Apple Watch or the LTE capabilities. After all, IWO has been manufacturing Apple Watch clones for a while now and though they don't match up in terms of performance and capabilities, they have been known to be popular among a certain group of people who can't get the original Apple Watch and would rather resort to a clone.
IWO 12 Lite Series (Cheaper version)

The first thing you'll notice about the IWO 12 Smartwatch is the aesthetic look which resembles that of the Apple watch. This gives the IWO 12 a premium look based on the design elegance that's used in making the body, removable strap, and curved edges.
This Smartwatch comes in two different sizes the 40 mm and the 44 mm, both of which feature a curved finish and an alloy body. It comes with a 1.54" inch full touch screen with a resolution of 240 x 240-pixel. This provides vibrant colors, sharp images and text, and good graphics.
It's equipped with MTK2502C processor which saves power and runs faster. The watch is compatible with both IOS and Android. Some of the additional functions include: message and call notifications, stop watch, sleep monitoring, calendar, sedentary reminder, and Bluetooth music player. 
Technical Specifications
Compatible with IOS 8.0+ and Android OS 4.4+
240 x 240 display
380MAH battery
Waterproof
Three color variants: Pink gold, black, and silver
Images for Apple Watch 5 Clone
FAQs on Buying Apple Watch First Copy
1.What phones are this IWO watch compatible with ?
It is compatible with IOS 9.0 and above, Android 4.4 and above
2.Will this watch show push notifications?
Whatsapp,, facebook. Yes.and Support Wechat ,Skype,linkedin,Twitter,Viber,line .
3. Does apple watch copy support Bluetooth calling?
Yes ,it support Dial/Answer call
4. What is the function of the red circle button
The red circle button only has a 'return' function. You cannot scroll the menu
5.What is the strap size and screen size ?
Strap size: 44mm: Fit 42/44mm straps / 40mm: Fit 38/40mm straps Screen size: 44mm: 1.54 inch / 40mm: 1.40 inch
6.What is the difference between 44MM and 40MM?
44MM is waterproof IP68. You can wash your hands and walk in the rain. 40MM cannot be wet, please do not let water fall into the gap of the watch.
7. How fast is shipping?
Shipping is as fast as 4 weeks.
8. Is the heart rate monitor result accurate?
The result might be not very accurate as those professional instrument. You may use profession instrument if you need more accurate data.
9. What Language does the watch support?
The IWS 12/13 supports English, French, Spanish, Polish, Portuguese, Italian, Indonesian, Czech, Russian, Hebrew and Chinese
10. What is the function of the crown?
The digital crown or the round wheel button works as a return/back button when pressed. Instead of pressing the button to go back to the previous page, simple swipe right to left across the display for the same effect.
Buying Fake Apple Watch on AliExpress
In the review process, we considered the most crucial aspects of a Smartwatch to determine the very best that IWO has to offer. Some of the factors that we looked at include pricing, design, technical specifications, battery life, connectivity, and display.
Choose best AliExpress seller not because they have best price but because the store is trusted.
Read also:
Tyrone Young is an award-winning author, researcher and the founder of TheMiniBlog. He has been a content marketer for over 10 years and his main goal is to provide readers with quick hacks, guides and reviews on everything Mini. Based out of the UK, Tyrone likes to take long walks on the beach and take care of his two puppies when he's not busy writing for