How To Find Your AirPods If They Are Offline
Check out this article, if you want to know How To Find Your AirPods If They Are Offline.
The Apple AirPods is perhaps one of the most innovative products that Apple has ever come out with. The AirPods have revolutionized the market for wireless headphones and earphones thanks to their compact form factor and high-quality components.
But there are some instances where you can misplace these earphones due to their size, and you may wonder how to find your AirPods if they are offline.
Well, there are not many ways you can find your AirPods if they are offline. You can find your online or offline AirPods with the Find My app on either your Mac or iPhone/iPad or you can also locate your AirPods by playing sounds through each earbud. If you don't have a Mac, you can sign in to your iCloud account on your PC and use Find My iPhone to locate your AirPods
This article will list out everything you need to know about locating your AirPods if you forgot where you kept them last and we'll even cover a few helpful tips you can follow to prevent your AirPods from getting lost.
Recommended Read: How to Make your AirPods Pro Sound Louder
Finding Your AirPods When It's Offline
There are not many ways you can find your AirPods especially if they are offline or you have misplaced them. Because of their true wireless nature, it's easier to lost or misplace them. When your AirPods are online and have charge, they are easier to find. But when they are offline, this is when it becomes a little tricky.
Apple has designed the AirPods to appear offline when they are no long within range to stay connected to your iPhone. Another way the AirPods may appear offline is when their batteries run out.
Luckily, Apple has provided us with the ability to find missing AirPods based on their last known location. You can track them at all times using the built-in Find My application on either your iPhone, iPad or Mac. This is a simple and easy to use tool that will let you track any Apple device that has been linked to your account.
Let me take you through how you can locate your AirPods if they appear offline and what method would be best suited for you.
What is "Find My AirPods"?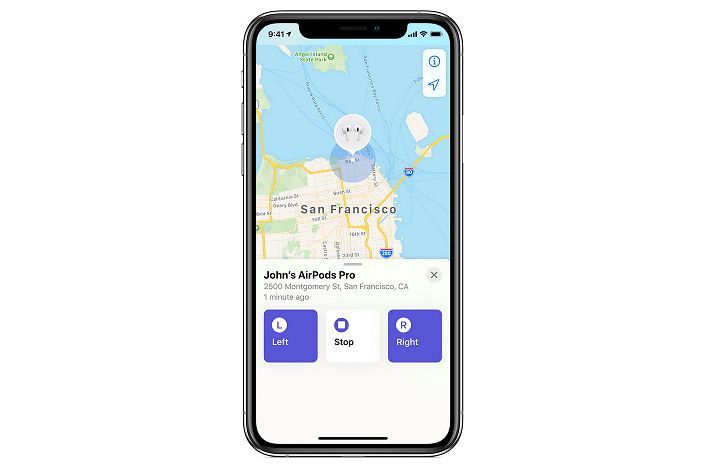 The 'Find My AirPods' functions the same as the one you have for your iPhone, iPad, and Mac. It is basically a tracker that Apple has made for their users so that you are able to track and retrieve your Apple devices if you happen to lose them.
Some of the main features of Find My are:
You will be able to locate your AirPods even when the charging case has lost power. The webpage will show you where the AirPods were when they last had charge. The icon is denoted in a color grey dot rather than a green colored dot. The grey dot means that the AirPods is offline.
You are able to tap the device's icon in order to play a sound from your AirPods. It also has an option where you can mute either left or right earbud in order to specify which one you are exactly looking for. Just follow the sound to locate your AirPods.
This is an incredibly useful feature however there are some minor hindrances in certain situations where both AirPods are hidden.
Use "Find My" to Locate AirPods on Your Computer
Using your iPhone to trace your AirPods is by far the easiest method available. But for those who don't mind using their computer or those who don't have access to their iPhone then these few steps will surely help you locate your missing AirPods.
Proceed to sign in with your registered Apple ID and Password.
You may be prompted to key in a Verification Code that would have been sent to your iPhone, make sure you enter the code correctly.
Now that you're in the iCloud menu, locate and tap on Find iPhone. This will take a couple of seconds so make sure not to click on it multiple times.
After you login with your Apple ID and password, you will be able to see a map on the screen.
Proceed and click on "All Devices" from the top of the page and select your AirPods from the list.
Once you find your AirPods, you can sign out of your iCloud account and log off your computer.
How To Find Your AirPods Using Your iPhone or Mac
If you got the whole Apple Ecosystem going on at home, you would be able to find your AirPods using your iPhone or your Mac. It's quite a simple process and quite like how you would locate your AirPods with a computer.
We'd be using the Find My app on the iPhone and Mac to locate the offline AirPods. Here's how you can do this.
Find Your AirPods Using iPhone
On your iPhone, open the Find My app and then tap on the AirPods from the list of connected devices.
If the AirPods are offline, you will notice that the availability dot will be greyed out. Whereas, if they are still online, the dot will appear green.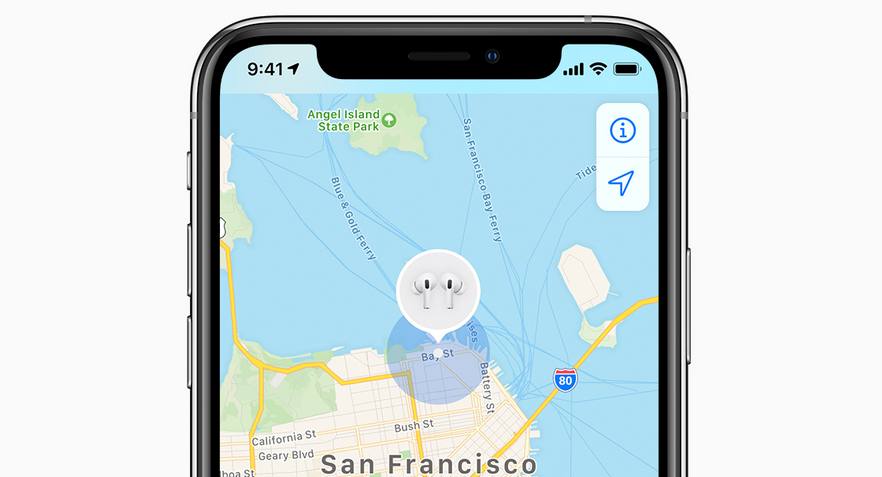 You can now view the last known position of the AirPods on the map and then tap on the car icon to navigate to their current position.
Whatever you do, it's recommended to make sure that you keep your AirPods charged. At least then it's easier to locate the AirPods when you can't find them.
Find Your AirPods Using Mac
With a Mac, you can find the location of the AirPods using the Find My app that you comes pre-installed onto the device. It works the same way as it does on a computer or an iPhone and you will need to make sure that the AirPods are connected with the same iCloud account that you have across your Apple devices.
Here, you will have to open the Find My app on your Mac and proceed to view all devices that are currently linked to your iCloud account.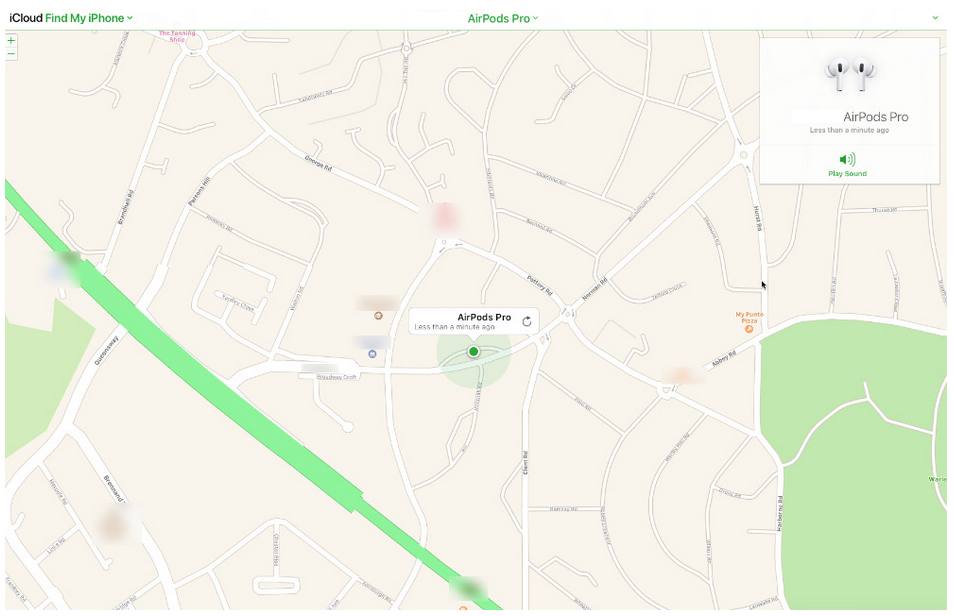 Tap on the AirPods you have misplaced and you will be able to view the current position of the AirPods.
What you need to know is that each AirPods earbud comes with a GPS tracker, but this is not the same with the charging case. If you happen to misplace only the charging case and still have the AirPods earbuds with you, then you will not be able to locate the case alone.
Play a Sound to Locate your AirPods
Apple AirPods can be located by using the Find My app and by tracing them on the map provided. To make things easier, the app even lets you play sounds on your AirPods just loud enough so you can find them.
You can try these steps if you want to find your missing AirPods using the sound it produces.
Start by opening the Find My application and navigate to All Devices.
Proceed to select the AirPods from the list and when the location appears in the map shown on the iPhone, click on Play Sound.
"Play Sound" will result in there being a sharp noise emitted from your AirPods and will gradually increase for up to 22 minutes. You can play the sound again if you were unable to find them in your first attempt.
Get an Alert if you Leave your AirPods Behind
Separation alerts is a new feature added to the AirPods in the latest update for the "Find My" app. This works only on the AirPods 2nd Gen, AirPods Pro and the AirPods Max. Here's how you set up notify when left behind.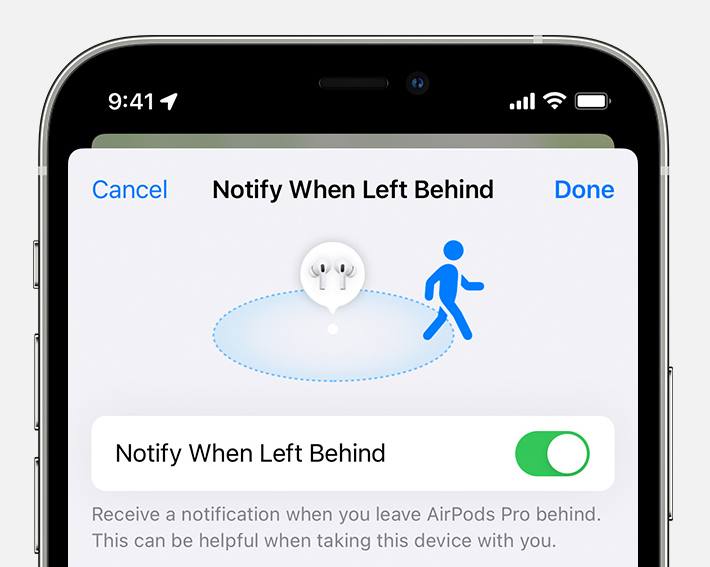 Open the Find My app on your iPhone/iPad.
Tap on "Devices" or "Items"
Select the AirPods that are connected to this account
Click on Notifications and then tap on notify when left behind
Enable Notify When Left Behind
Anytime you leave your AirPods aside and forget to pick them up you will receive a notification on your iPhone/iPad informing you that you have left your AirPods behind and will also specify the last known address.
What to Do if Only One AirPod or AirPods Pro is Missing?
Since users around the world have complained about losing a single AirPod, Apple has responded with an update to their Find My app. Now you can locate one AirPod at a time via the app and here are the steps you have to follow in order to locate a single missing AirPod.
Start by opening the Find My and access your AirPods from the Devices section
You can either use the Play Sound option or the Maps to locate your missing AirPod.
Go ahead and place the AirPod back into the case and wait till the Find My app refreshes.
If the app does not refresh, close and restart the Find My app.
Tips to Keep your AirPods Safe
Keep it in a Secured Storage

We're not saying that you're definitely going to lose your AirPods if you keep them in your pocket, but it surely is a possibility. There are third-party accessories that you can buy online to prevent your AirPods from getting lost. A protective casing, lanyard, earbud lines are some of the few popular products that people have been buying to ensure they don't lose their AirPods.
By opting for some third-party accessory, you will be able to rest assured that your AirPods are safe and you know where they are at all times.
Always keep a Good Amount of Battery Charge on your AirPods
This one particularly lines up with the 'Find My AirPods' feature. Having just a little bit of juice on your batteries will make the process easier in case you find yourself without the AirPods. The reason there's a difference in the level of difficulty based on the battery life is that if you have lost your AirPods and they still have charge, then it's easier to find them with the Find My app.
However, if the battery is extremely low or have been completely drained, it gets harder to pin point the exact location of the AirPods. What the app will do however, is show you the last known location of the AirPods when they were online. This may make it easier to locate them, but if someone has moved them then you're in for some trouble.
Helpful Updates from iOS 13 & New Features Included
Ever since the release of iOS 13, Apple has made some significant changes to the functionality of the AirPods when connected with an iPhone. These updates can help you find your AirPods and charging case if you happen to lose them.
One of the latest additions to the firmware is the introduction of Find My AirPods which is now a part of the Find My app. This has been included in Find My mainly because it will provide you with accurate information pertaining to the current whereabouts of your AirPods.
Can I Replace my Missing AirPods or Charging Case?
Yes, you will have to visit the Apple Store first and place an order for the replacement. For this you will need the serial number for your AirPods/Case and to make the whole process easier, you can sign into your Apple ID on the Support page to gain access to all your registered devices.
Open Settings on your iPhone > Click on General > Tap on About > Open AirPods and scroll down to the serial number
Once you have obtained the serial number of the AirPods, pass on the information to the Apple Support staff so they can register a replacement.
| | | |
| --- | --- | --- |
| Apple AirPods | With AppleCare+ | Without Warranty |
| AirPods | £20.00 | £103.00 |
| Charging Case | £20.00 | £44.00 |
| Wireless Charging Case | £20.00 | £52.00 |
| | | |
| --- | --- | --- |
| Apple AirPods Pro | With AppleCare+ | Without Warranty |
| AirPods Pro | £20.00 | £133.00 |
| Wireless Charging Case for Pro | £20.00 | £66.00 |
| Damaged Ear Tips | N/A | £3.95 |
FAQ's
How Do I Find A Single Missing AirPods earbud?
With the AirPods, if you lost both or just one there is just one way to find it. You will have to open Find My AirPod on your iPhone, the app will display one AirPod at a time so you can pick that one up and place them in the charging case. Now, refresh the app and it will detect the second AirPod. You will have to find your AirPods one at a time, unless they're both at the same location.
Can I Track My AirPods using their Serial Number?
Unfortunately, there's no way to locate or trace your AirPods by using the serial number. They can only be found if they're connected to your Apple account and device. The serial number acts as an mode of authentication for the AirPods.
Why Are My AirPods not Showing Up on Find My?
The thing about Find my is that you can only find your AirPods if you turned on Find My before losing your AirPods. The other instance where you may not be able to view your AirPods on Find My is when the battery levels of the AirPods are completely drained and they're switched off.
Do AirPods have GPS?
Considering their size, Apple was unable to provide the AirPods with GPS capabilities. However, they were able to use the GPS on the iPhone to act as a dedicated Bluetooth device tracker and provide you with an update on the whereabouts of your AirPods.
Why is there no "Find My" app on my iPhone/iPad?
There are a number of reasons why the app might not be pre-installed on your iPhone. What you can do is access the App Store and download the software again.
How far can I track my AirPods?
You will be able to track your AirPods if you're within 10m or 33 feet from the device. If you're further away then the Find My app will show you the last known position of the AirPods.
How accurate is Find My?
The app Find My takes GPS data and Bluetooth information into consideration when displaying the last known location of your AirPods. If you don't think the location is accurate, simply use the "Play Sound" option on the Find My app and you will be able to pinpoint the exact location of your AirPods.
What if my AirPods are in different places?
If your AirPods are lost in two different places, you can locate them by using the Find My app on your iPhone or Mac and locate them one at a time either by playing a sound or by viewing their live location on a Map.
What to do if my missing AirPods batteries are dead?
Even if the battery in your AirPods is dead, you can still locate them via the Find My app. However, the app will only show the last known location of the missing AirPods and not their live location if someone has found them. The only way you can get to know the exact location of your dead AirPods is if the finder places them into a charging case and recharges their batteries.
Takeaway
So that's all for today. But before we go, I would like to give one last piece of advice on how you can prevent this from happening.
The AirPods are not cheap or budget-friendly, so consider that you're actually spending a lot of money on them, it's best to keep them safe at all times.
Until next time. Ciao!
Also Read:
Tyrone Young is an award-winning author, researcher and the founder of TheMiniBlog. He has been a content marketer for over 10 years and his main goal is to provide readers with quick hacks, guides and reviews on everything Mini. Based out of the UK, Tyrone likes to take long walks on the beach and take care of his two puppies when he's not busy writing.