Looking for solutions on how to fix AirPods not connecting to Mac? Well, you're at the right place to find quick hacks to resolve your AirPods connection issues with Mac. Read further to know more about it. 
Thanks to Apple for creating true wireless, pocket-friendly earphones that allow you to enjoy music, listen to podcasts, and videos, make phone calls, and do all the necessary work. It is extremely easy to use, just a tap and voila, it's connected. 
However, AirPods is an electronic device and all electronic devices are prone to suffer glitches, issues, etc. Hence, one such common issue with AirPods is that sometimes it doesn't connect to MacBook. 
How to fix AirPods not connecting to Mac?
If your AirPods are not connecting to your Mac, make sure your Mac is up to date with the latest software. You can also try restarting your MacBook. Unpairing and repairing AirPods with MacBook or resetting the AirPods also help. Make sure your AirPods and their charging case are clean, free of dust and dirt. If nothing works out, consider seeking help from the official Apple store or website through mail-in services or physical visits. 
I had faced the same problem with my AirPods not connecting to any of my devices. I immediately took all my devices to the nearest Apple store where the staff helped me to resolve my issue. The solutions were so easy and quick that they could have been done at home itself. 
So without further ado, let's discuss the solutions and quick hacks on how to fix AirPods not connecting to Mac. There are a lot of different solutions listed, try and test to see what works out for you. 
Recommended Read: How to Setup Old iMac as External Display Monitor
How To Fix AirPods Not Connecting To Mac
Make Sure Your Mac is Up to Date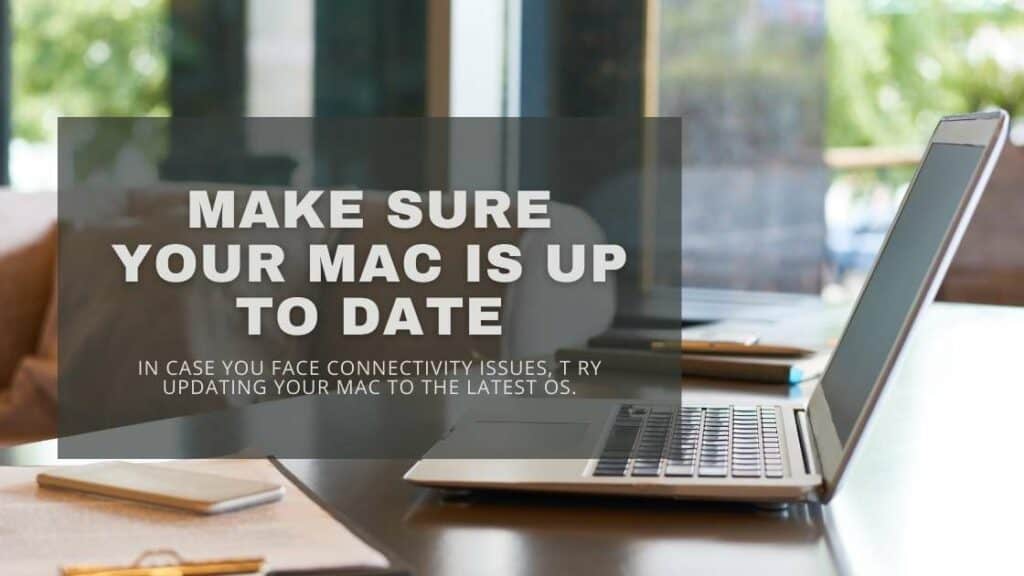 This is one of the simple solutions you should try before attempting anything else to fix the AirPods connectivity issue with Mac. When a new iOS update is released and your device isn't up to date, it can cause a problem within the system, resulting in poor connectivity. 
With each update, IOS fixes its bugs and performance issues which is why updating helps in smooth connectivity. Here's how to update your MacBook:
Click the Apple logo in the top left corner, go to System Preferences, click on the Software Update option, and you'll get a pop-up window with an option to Upgrade Now that you'll need to click.
Allow the update to download and install on your device later. 
Your Mac will restart shortly once the latest software has been installed.
If it has already been updated, the pop-up box will inform you that it is compatible with the most recent version of iOS.
Once your Macbook is updated, try connecting your AirPods via Bluetooth again to check whether it's working well and fine. 
Un-pair and Re-pair Your AirPods Through Bluetooth
This is another easy hack that you can try and 90% of the time, this solution works out. You can also "Forget" your AirPods from your MacBook so that all the data related to your AirPods is removed from MacBook. 
To un-pair and re-pair your AirPods on your Macbook, click on the Apple logo on the top left corner and go to System Preferences.
Click on Bluetooth and also, top on the x icon on the AirPods and forget your device. 
Before unpairing and repairing your AirPods, make sure that both your AirPods are in the case and the lid is closed.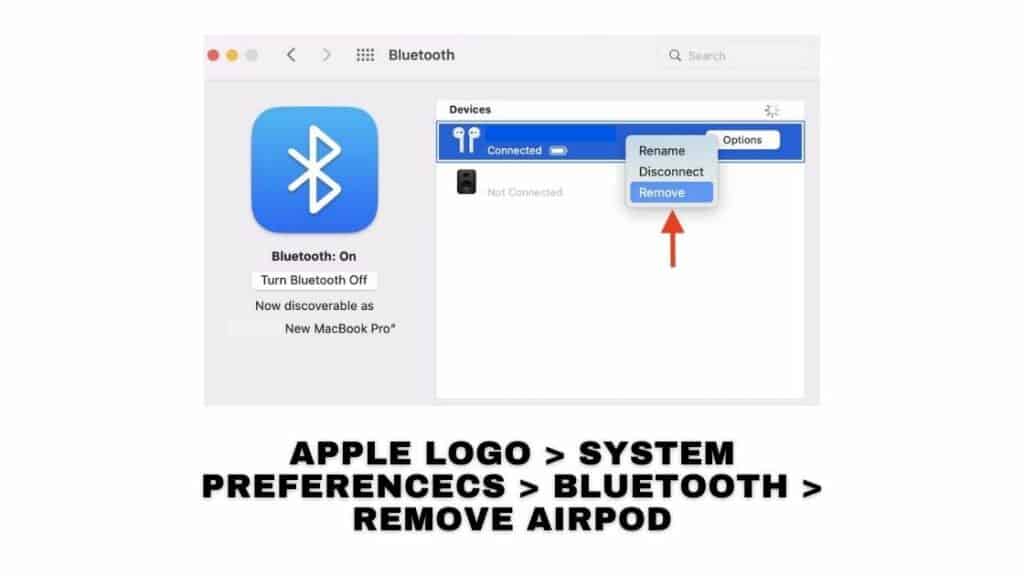 Wait for 30 seconds to a minute and press and hold the AirPods button.
Wait 30 seconds till the while light flashes off the AirPods.
Make sure the MacBook is close to your AirPods for better connectivity and open the lid of the charging case while pairing. 
Clear Your AirPods and Charging Case Thoroughly 
AirPods are prone to get dirty with time due to dust storage, dirt, and debris of ear wax. If you don't clean your AirPods from time to time, it'll hamper the functionality of the device, cause hardware problems and eventually lead it to stop working. 
Apple suggests using a dry, soft, and lint-free piece of cloth to wipe out the dust and dirt away from your AirPods and their charging case.
You can also use a 70% isopropyl alcohol wipe and Clorox wipes to disinfect your AirPods and their case.
Don't use water or any other liquid as it might harm the internal parts of the AirPods and damage it completely. 
Recommended Read: How To Contact Apple Online Live Support
Select AirPods as Output Device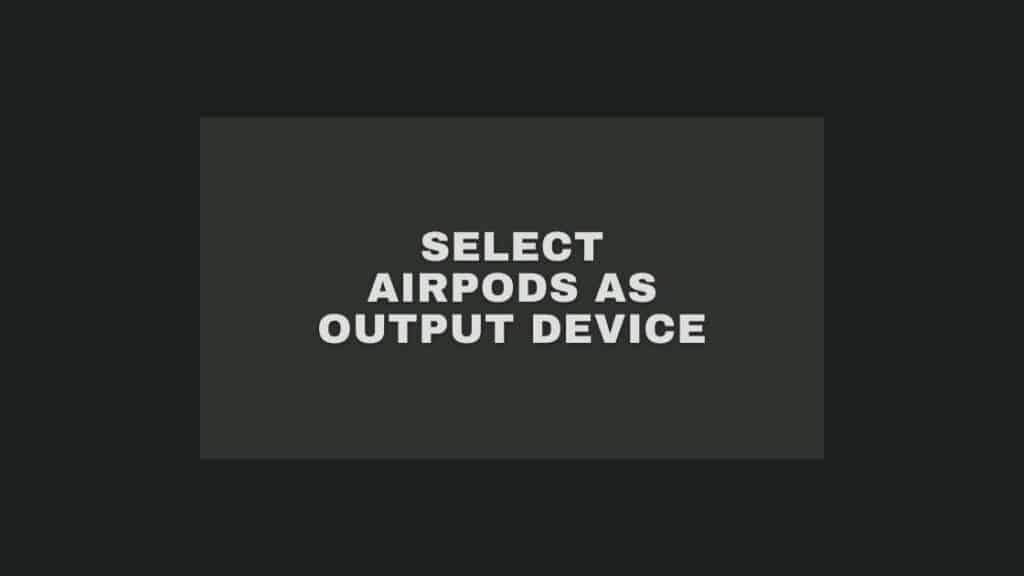 This problem is quite simple and the solution to it is also pretty easy. Sometimes the output device of your Macbook is connected to a different source than AirPods which might cause problems in connecting Mac to your AirPods. 
Confirm that your AirPods are within range of your MacBook and that the charging case of the AirPods is open. If you got AirPods Max, make sure they aren't inside the Smart Case.
Turn on your Mac's Bluetooth. In the upper left-hand corner of the screen, click the Apple logo. 
Select System Preferences from the drop-down menu.
Click on the option- Sound. Select the Output tab there.
You'll then have to determine the name of your AirPods and select it.
Immediately, check if your AirPods are connecting to the MacBook or not. 
Charge Your AirPods and its Charging Case
Charging your AirPods and charging case is important to make sure there's enough battery for it to get connected to the MacBook. Sometimes, when AirPods and charging case don't have enough battery then it doesn't get connected and shows that there's no output device. 
To charge your AirPod's charging case, plug the lightning cable into the lightning connector of your case.
Next, you'll have to plug the lightning cable into a wall charger or USB port. It'll take a few hours (approximately 1-2 hours) to fully charge the case of your AirPods. 
To charge your AirPods, make your charging case has enough charge, and then put the AirPods inside the charging case and close the lid.
You'll see a status light that'll indicate the amount of charge your AirPods have. The status light will turn green when your AirPods are fully charged.
When your AirPods are fully charged, try connecting it to your MacBook through Bluetooth. 
Reset Your AirPods
Resetting your AirPods means giving them a fresh start, it also fixes software problems as well as minor technical glitches.
Don't worry, there's no harm in resetting your AirPods, only that you'll have to pair it again to all the devices you've ever connected it to. This is because resetting your AirPods will forget all the data stored on your AirPods. 
To reset your AirPods, you'll have to press and hold the Settings button behind the AirPods.
Press and hold until the light flickers a few times, till the time you finally find white light flashing.
Voila, your AirPods have been reset.
Now, you'll have to pair the AirPods with the MacBook again, just like you did for the first time. 
Restart Your Macbook
Many Mac users agree that restarting the device can help with a variety of small issues. It's really simple and something you should try as soon as you notice a minor problem, such as poor volume, AirPods not connecting, not charging, etc.
I've restarted my MacBook every time I've had a tiny issue, and it's usually sorted out. It's completely safe and takes very little time.
To restart your MacBook, go to the upper left corner and select the Apple logo, then the Restart option.
You must click Restart again after a window pop up will verify your command.
Your MacBook will immediately shut down and restart in a few minutes on its own. 
I have sought Apple Support help a lot of times for minor glitches and they're extremely helpful and responsive. You'll have to visit Apple's official website to contact the support team or book an appointment. Don't hesitate to contact the team. You can also directly message them on Twitter. 
Repair Your AirPods
If none of the hacks work out for your AirPods, it's possible that your AirPods are damaged or need servicing. Hence, you can seek help with Official Apple Team through offline visits or online support. 
In case you're wishing to seek offline support in Apple Store, make sure to book an appointment at the Genius Bar beforehand. You can seek Apple support online by mail-in repair services.
Your AirPods, as well as MacBook, will be closely examined to find out the issue. You'll not be charged anything if it's covered under the warranty period. 
Takeaway
Hope you got these quick and easy hacks for how to fix AirPods not connecting to Mac and we hope it was helpful. All these methods hardly take any time to perform.
Tell us which one worked out for you in the comments section below.
Cheers!
Also Read: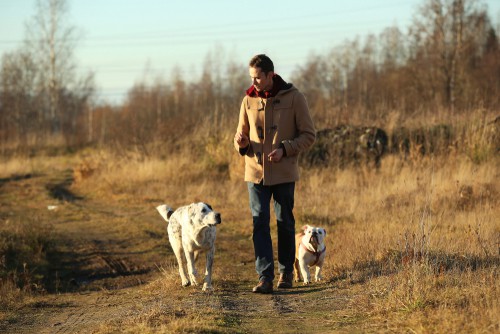 Based out of the UK, Pat is the youngest member of TheMiniBlog family and comes with extensive experience in all things Mini. He has been reviewing products for a while now and is well versed in everything related to mini gear and technology.